Mike D'Antoni says it's possible Steve Nash could return on trip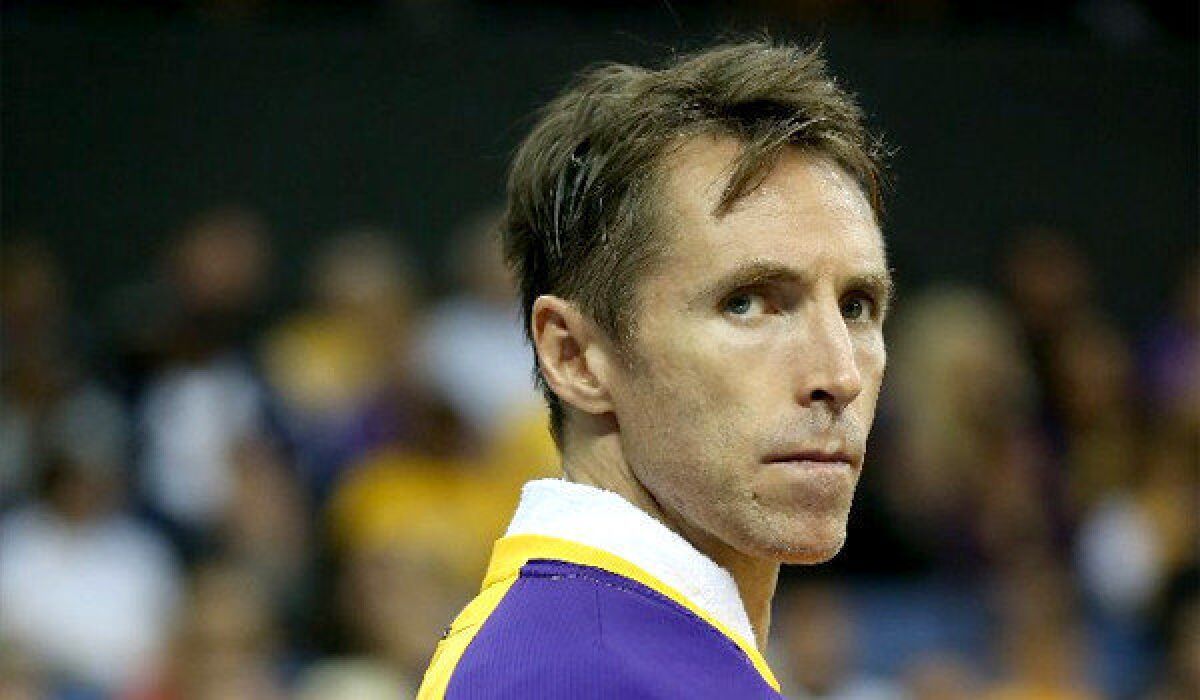 Steve Nash could return during the Lakers' four-game trip that starts Tuesday in Cleveland, Coach Mike D'Antoni said Sunday after his team's shoot-around.
"I wouldn't put my reputation on it. It's possible," D'Antoni said.
The Lakers' trip also includes stops in New York on Thursday, Washington on Friday and Philadelphia on Sunday.
Nash has missed 18 games because of a small fracture in his fibula. He continues to progress in his recovery, completing resistance training Sunday and shooting free throws.
D'Antoni said he's starting to see more of an upbeat attitude from Nash as he gets closer to returning.
"I think so. I hope so," D'Antoni said. "I want it so bad sometimes I think I'm seeing things that might not be there, so I don't know. But obviously he's doing more, but he's got a ways to go yet."
Meanwhile, the Lakers will continue to be without Pau Gasol on Sunday when they play host to Utah at Staples Center. The power forward will sit out a fourth game as he rests his knees, which have been plagued by tendinitis.
D'Antoni said when the struggling Gasol returns it will be as a starter. The coach said he wants to see how Nash and Gasol play together before making any changes to his lineup.
"I'm not going to mess with Pau," D'Antoni said, alluding to the possibility of bringing the four-time All-Star off the bench. "He's too important to the team and he's earned it and he's too good of a player to even go there yet. That would be a last-resort kind of [thing], desperate."
Gasol has averaged 12.6 points and has shot 42%, both putting him on pace for career lows. D'Antoni said part of Gasol's ineffectiveness could be tied to deficiencies in the Lakers' offensive scheme.
"There's times when we're not exploiting him, where he should be and what he's doing and everything," D'Antoni said. "So it's a little bit out of kilter and until we get it all straight and balanced, then I really can't make a decision or he can't feel comfortable."
D'Antoni said Gasol's status would be reevaluated before the Lakers start their trip.
"Probably into Cleveland or someplace he'll start moving a little bit," D'Antoni said, "and if the pain is less or very little, then he'll play."
ALSO:
Jodie Meeks is becoming a factor for the Lakers
---
All things Lakers, all the time.
Get all the Lakers news you need in Dan Woike's weekly newsletter.
You may occasionally receive promotional content from the Los Angeles Times.