Lakers host the Kings as the 'Bernie Bickerstaff Era' continues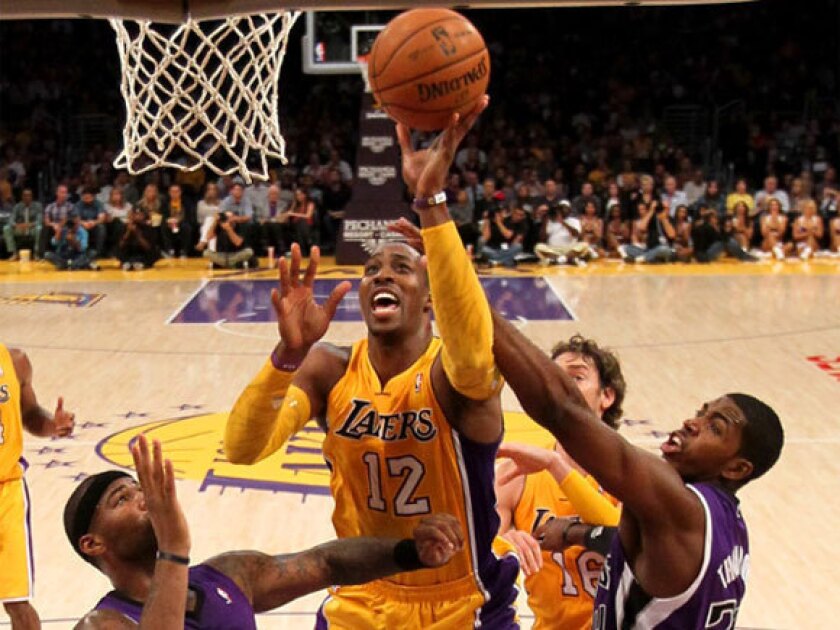 The "Bernie Bickerstaff Era" will continue Sunday night as the Lakers host the Sacramento Kings.
At stake will be Bickerstaff's record as the all-time best coach in franchise history, by percentage. Admittedly the sample size of one game has given Bickerstaff that title.
Bickerstaff is currently holding the head coaching post for Mike Brown's replacement, be it Phil Jackson or another suitor.
The Kings were a handful for the Lakers during the preseason but both franchises find themselves at the bottom of the Western Conference, tied at 2-4 (also with the Portland Trail Blazers).
Once again, the Lakers will be without Steve Nash (non-displaced leg fracture).
Key Matchup
Lakers center Dwight Howard is still finding himself after off-season back surgery. Despite what he admits has been a slow start, Howard is averaging 19.7 points on 64.6% shooting, 9.3 rebounds and 2.3 blocks a game.
Kings forward/center DeMarcus Cousins is one of the league's best, young bigs but he's still growing into his game. So far this year he's at 17.3 points, 9.8 boards and two steals a game.
Cousins needs to bring up his field-goal percentage, which is low at 42.6% (especially for a power player). Against Howard, look for Cousins to give his best game.
X-factor
Sacramento's Tyreke Evans hasn't shot the ball well yet this season but he's capable of more than 11.8 points a game on 36% shooting. Guard Evans plays multiple positions, including small forward. When he gets hot, he can impact the outcome of the game.
Another player to keep an eye on is Aaron Brooks, who always seems to be a problem for the Lakers.
Jordan Hill is the X-factor for the home team, especially against a younger team like the Kings. Hill brings a lot of energy to the floor, especially on the offensive glass where he's pulling down 3.2 offensive boards a game, which rivals starters Pau Gasol and Howard (who double Hill's time on the floor).
Outlook
Based on the preseason outcome and the Lakers slow start, the initial prediction was an upset by the Kings.
Now that Brown has been fired, expect the Lakers to take full advantage of their home-stand of six-straight games (going back to Friday's win over the Golden State Warriors).
It's unclear how long Bickerstaff will be interim head coach, but a win over the Kings should keep his record spotless.
ALSO:
Lakers' coaching job appears to be Phil Jackson's if he wants it
Lakers top the Warriors, 101-77, in first game without Mike Brown
General Manager Mitch Kupchak addresses the firing of Mike Brown
You can email Eric Pincus at eric.pincus@gmail.com and follow him on Twitter @EricPincus.
---
All things Lakers, all the time.
Get all the Lakers news you need in Tania Ganguli's weekly newsletter.
You may occasionally receive promotional content from the Los Angeles Times.