Phil Jackson suggests Shaq wrong about Howard analysis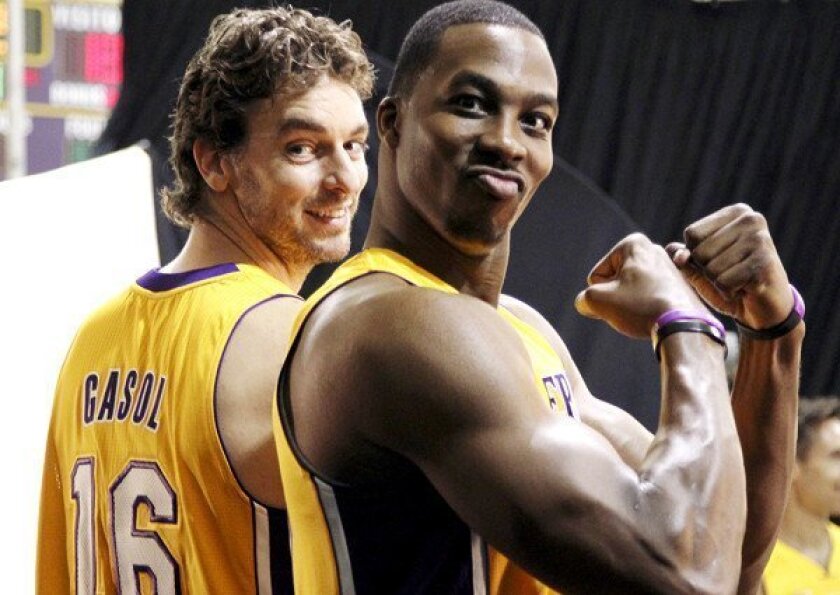 The genius behind Phil Jackson didn't just involve how he won 11 NBA championships. Or how he convinced superstars such as Michael Jordan, Shaquille O'Neal and Kobe Bryant to buy into team concepts.
Jackson also marked his coaching success and increased his mystique by his way with words. He zinged players, reporters and referees alike. Jackson often expressed his opinion on any hot topic around the NBA. And he frequently took digs at opposing team's star players during the playoffs in hopes that would alter their focus.
That continued Friday when Jackson chimed in on the war of words between Shaquille O'Neal and Dwight Howard. He didn't deliver any jabs, but a day after O'Neal suggested Philadelphia's Andrew Bynum and New Jersey's Brook Lopez are the best centers in the NBA, Jackson argued Howard has a more well-rounded game.
"Brooks and Andrew are guys who have good touches," Jackson told an ESPN radio station in Chicago. "They're good scoring players and they have good offensive games. Shaq has a lot to what he says that way.
"Dwight is a guy who has amazing athletic ability, but overall, game, rebounding, defending, blocking shots, running the court, this is the guy who runs with the wolves so to speak. He can get up and down that court as quick as any of the guards and forwards because of his athletic ability. Both Brook Lopez and Andrew Bynum are more plodders as players. They have trouble in their transition game in both directions. This is a big difference in the play of those guys."
E-mail the Lakers blog at mgmedin@gmail.com. Follow the Lakers blog on Twitter.
ALSO:
Kobe Bryant misses two practices with sore right foot
Dwight Howard gets physical with basketball operations assistant
Phil Jackson outlines Mike Brown's biggest challenges with the Lakers
---
All things Lakers, all the time.
Get all the Lakers news you need in Dan Woike's weekly newsletter.
You may occasionally receive promotional content from the Los Angeles Times.