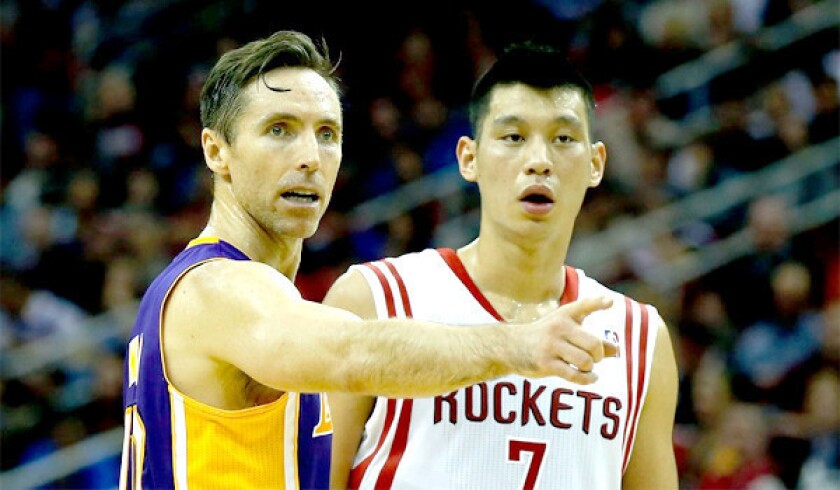 How do the Lakers (44-37) match up at the point guard position Wednesday night when they host the Houston Rockets (45-36) -- in a game that could determine if the Lakers finish in seventh, eighth or ninth place?
Point Guard -- Probable Starters: Steve Blake vs. Jeremy Lin
Steve Nash won't play against the Rockets as he tries to recover from injury (nerve irritation, hamstring, etc.), which once again means Steve Blake will get the start at point guard against Houston's Jeremy Lin.
Blake is a better defender than Nash (and any of the other Lakers reserves). Lin can be an explosive scorer but hasn't fared well against the Lakers so far this season.
Without missing a game all year, Lin is averaging 13.4 points, 6.0 assists and 1.7 steals. In three appearances against the Lakers he averaged just 9.3 points. His season shooting percentages dipped from 44.4% from the field and 34.0% from the arc to 36.7% and 25%, respectively. He even struggled from the line at 57.1%.
Blake has averaged 6.9 points and 3.8 assists a game for the Lakers through 44 appearances while shooting 44.2% from the field and 42.8% from three. Sidelined with an abdominal injury earlier in the season, Blake has yet to play against the Rockets.
Over the last seven starts (in place of Nash), Blake has averaged 11 points and 3.6 assists while shooting 46.6% from the field and 42.9% from three-point range.
If Blake can near the 23 points he scored on Sunday in the Lakers' 91-86 victory over the San Antonio Spurs, the Lakers may get the better of the matchup.
Bench: Darius Morris, Chris Duhon vs. Patrick Beverley, Aaron Brooks
Kobe Bryant played backup point guard behind Blake until his Achilles' tear. Coach Mike D'Antoni is likely to alternate between Darius Morris and Chris Duhon. Morris is the better defender but can play out of control. Duhon is steadier as a playmaker but offers little resistance defensively.
Neither is much of a scoring threat. Morris is averaging 4.0 points a game on 38.2% shooting from the field and 35.4% from three. Duhon is at 2.9 points on 38.2% and 36.3%, respectively.
Patrick Beverley is Lin's primary backup, averaging 5.5 points on 41.8% shooting from the field and 38.3% from three. Aaron Brooks isn't part of the regular rotation and while he has a history as a shot-maker against the Lakers -- he may not hit the floor.
Neither team has an especially explosive bench at the point.
ALSO:
Cavaliers pulling for Lakers to make playoffs, Suns for Jazz
With Grizzlies hosting Jazz, Pau Gasol calls out to brother Marc
Steve Nash out for regular-season finale against Houston Rockets
Email Eric Pincus at eric.pincus@gmail.com and follow him on Twitter @EricPincus.
---