Steve Nash: Lakers' offense will be more fluid without Dwight Howard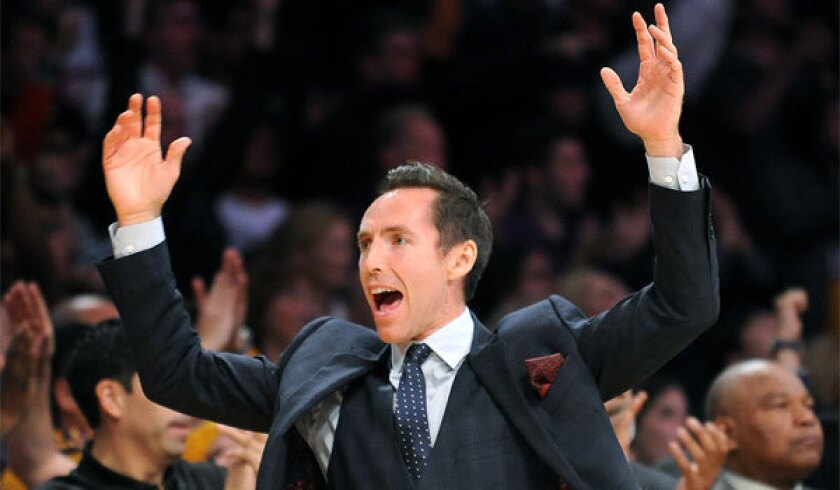 Steve Nash recently tried to sway Dwight Howard to stay. Now that the center is with the Houston Rockets, Nash looks forward to Pau Gasol taking on a bigger role in the offense.
"I think [Gasol] gives a little more fluidity. The ball can move more," Nash said Sunday at his Steve Nash Foundation Showdown/soccer match. "We can use him as a facilitator. He's such a versatile player that it's going to be a lot of fun to have him making plays and scoring inside."
Gasol spent much of the season injured or a spectator in the offense as the Lakers tried to feature Howard. It's no coincidence that when Coach Mike D'Antoni gave Gasol a more prominent place in the offense, the Lakers finished the regular season playing some of their best basketball.
"He chose to go somewhere else, I wish him the best," Nash said of Howard. "If he doesn't want to be here, we don't want someone who is unhappy."
The Lakers have signed center Chris Kaman to either start alongside Gasol or to play behind him off the bench.
"At times I think they'll play together some, but they'll also sub out for each other," said Nash of Gasol and Kaman.
Jordan Farmar is expected to join the team shortly. The Lakers also signed swingmen Nick Young and Wesley Johnson.
"It's great to get some youth and athleticism on our team," Nash said. "I think it was something that was sorely missed last year."
Nash struggled through much of the season with injury. He broke his leg in the second game of the year and finished hurt with hip, hamstring and back issues.
"I'm still rehabbing but I'm getting there and I'm feeling strong," said Nash. "I still have a little bit to go but I'll be ready to go."
Nash recently held his sixth-annual Nash Showdown in New York -- Sunday marked the debut in Los Angeles.
NBA players Jared Dudley, Jeremy Lin and Klay Thomas joined Nash, along with professional soccer players Carlo Cudicini, Robbie Rogers, Kyle Martino, Carlos Bocanegra and Robbie Keane.
Held at the Red Shield Community Center, proceeds from the event will help provide for underserved children in health, personal development, education and enjoyment of life through the Steve Nash Foundation.
Nash's team won 5-4 after the Lakers' point guard hit the game-winner with a minute left in the match. Despite some of the best soccer players in the world on the pitch, it was the NBA contingent who led the scoring, 6-3.
Thompson and Nash both scored a pair while Jared Dudley and ESPN scribe Marc Stein made it six with one each.
ALSO:
Jeremy Lin says Rockets' getting Dwight Howard is 'huge'
Metta World Peace becomes free agent by clearing amnesty waivers
Wesley Johnson: Another quality signing by Lakers at minimum salary
---
All things Lakers, all the time.
Get all the Lakers news you need in Dan Woike's weekly newsletter.
You may occasionally receive promotional content from the Los Angeles Times.