Gasol: 'My preference would be to stay'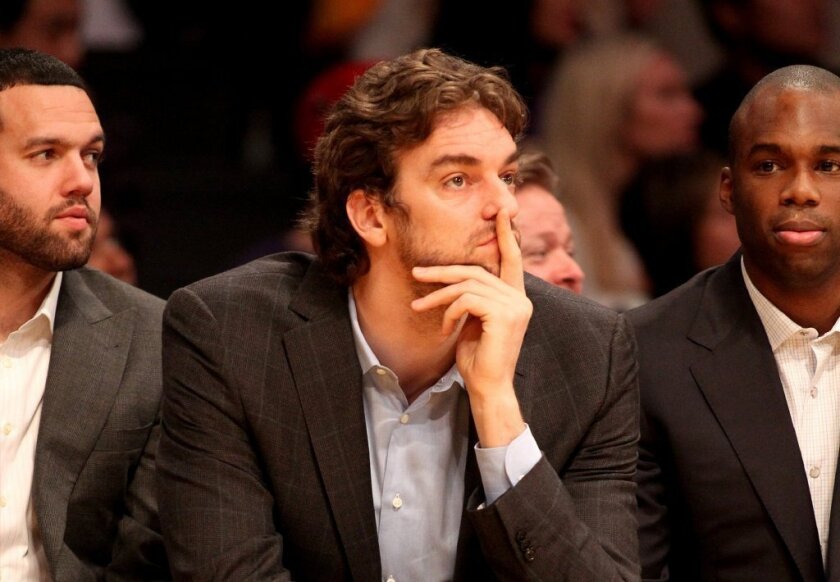 The NBA's trade deadline is next Thursday. Will Pau Gasol still be with the Lakers?
"My preference would be to stay," Gasol said Thursday. "That's what I've been saying all year, though the circumstances are difficult right now for our team and nobody's too happy. But it's still my team and I still want to be here."
But after so many false starts and trade rumors over the years, does he even feel wanted by the Lakers?
"I think I feel wanted. Otherwise I wouldn't be here," he said. "The team would have pulled the trigger with prior opportunities that I'm sure had been on the table. I feel like the team appreciates me. It's just a tough moment, I think, as far as the franchise losses. That always is going to stir things up and you've got to look at options and possibilities to get better as a team, a franchise.
"I don't take it personal. I appreciate that a lot of teams have showed a lot of interest in me and believe in my abilities to make them better and help them be a better team."
The Phoenix Suns broke off trade talks for Gasol last week after thinking the Lakers' asking price was too steep.
The Suns potentially control four first-round picks in the June draft, including relatively high ones from Washington and Minnesota. The Suns also own their own pick, which is surprisingly low because of the their unexpected success, and Indiana's first-rounder, an even lower selection.
"Things are kind of quiet right now," Gasol said, referring to the Suns without mentioning them by name. "But I think there's something potential. But right now the offer would have to change a little to make it considerable."
If the Lakers and Suns make a deal -- or the Lakers and anybody make a deal -- Gasol will be shipped out from the only team he's known since February 2008.
"I've been mentally ready more or less and emotionally ready for a while now ... for three years now," Gasol said, chuckling, not needing to remind everybody that the Lakers were ready to send him to Houston as part of the vetoed three-team Chris Paul trade in December 2011.
"As we get close to it, I'm sure things will heat up at some point and we'll see if they actually fall through or they don't. Either way, I'll be ready and once that date kind of passes, just finish off the season strong and see where I'm at."
Gasol said it was "a possibility" he would play again next Wednesday against Houston, the Lakers' first game after the All-Star break. He will see a doctor Thursday to get an update on the progress of his strained groin. He will not play Thursday against Oklahoma City, the sixth game he's missed with the injury.
"I haven't touched the basketball floor," Gasol said. "Once we get the clearance from the doctor ... I can start doing stuff on the court and really testing out the groin. That's when I'll know."
ALSO:
Derek Jeter will retire at the end of the 2014 season
Michael Sam's father is not thrilled that his son is gay
Richie Incognito blasts Jonathan Martin in series of tweets
---
All things Lakers, all the time.
Get all the Lakers news you need in Dan Woike's weekly newsletter.
You may occasionally receive promotional content from the Los Angeles Times.