Lakers Coach Byron Scott upset with team's play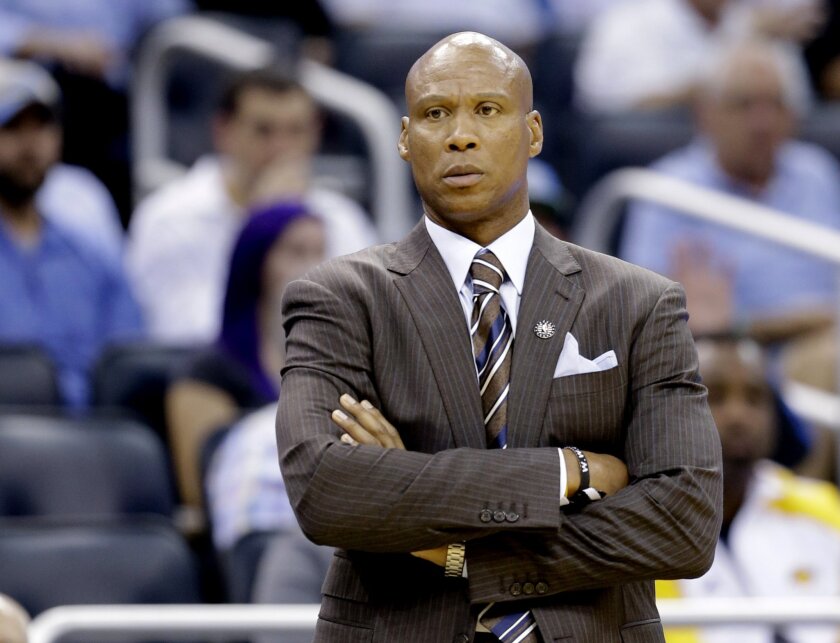 After practice Monday, Lakers Coach Byron Scott sat in a chair while he addressed the media, doing so because he was still weary after watching video late Sunday night of his team's poor performance in the loss against Portland earlier that night.
The video made Scott move beyond challenging this team to play better. He now was threatening to take minutes away from his young team.
He asked the media to "forgive me" for sitting down during his media session, but he had a reason.
"I have to to get some rest. I didn't get a whole lot last night so I'm a little tired," Scott said. "My head was hurting."
And what caused his head to hurt?
"Probably watching the game [video]," Scott said. "I woke up like I had a hangover, and I didn't drink. Seriously. I did not have a drink last night, but I woke up like I had a hangover. So I didn't get a whole lot of rest. But I feel better. And [now we] play the Golden State Warriors."
And that's the undefeated Warriors (15-0), who need a victory over the Lakers (2-11) Tuesday night in Oakland to set the record for the best start in NBA history.
But of more concern for Scott is how his team's poor execution on offense and defense drove him mad.
"Some of the things we talked about today and in the work room, some of it is getting redundant," Scott said. "But when you've got a bunch of young guys, you just got to keep saying it over and over and over and hopefully it's going to start sticking."
Scott said he has been patient with this group the last two months, but that's starting to change.
"I told them today my patience has run thin," Scott said. "So defensively if you're not doing the things that I need you to do, if you're not getting back in transition, if we say we're going to 'red' on pick and roll, which means a trap, if we don't do that, then I'm just going to start taking guys out. They've got to start getting it. That's the bottom line.
"The same thing offensively. If you're not keeping your spacing, setting screens and rolling to the basket, if you're just holding the basketball, I've just got to start making some changes as far as that's concerned."
Scott said it wouldn't be wholesale changes, just one or two players who aren't doing the job correctly.
"I think guys are getting a little too comfortable," Scott said. "They've got to be held a little bit more accountable for their actions out there. Like I said, I've been lenient towards them because they are young and they are learning. But, it's that time right now when you've got to start getting it.
"It's that point and time for me to start saying, 'All right guys, I've given you a lot of leeway and you make mistakes [after] we show you over and over on tape. We talk about it. You continue to make those same mistakes, then I've got to do something about it. And that is taking time away.'"
---
All things Lakers, all the time.
Get all the Lakers news you need in Dan Woike's weekly newsletter.
You may occasionally receive promotional content from the Los Angeles Times.