Mike D'Antoni says basketball has changed; analysts need to adapt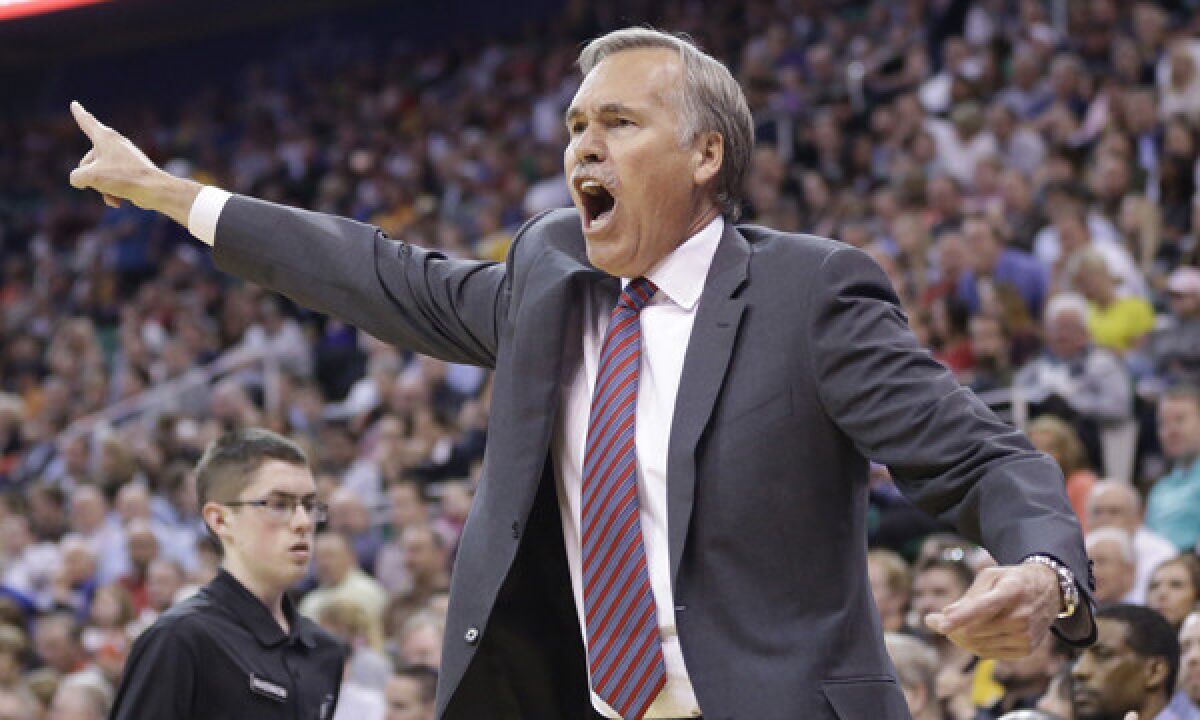 Coach Mike D'Antoni, along with General Manager Mitch Kupchak, met with the team's players over the past 48 hours for exit interviews at the Lakers' practice facility.
The job status of D'Antoni, who is under contract for next season, wasn't discussed.
"We haven't had a meeting yet," said D'Antoni. "We're off for Easter vacation, and then we'll probably get together sometime [after]."
The Lakers finished with a 27-55 record after an NBA-high 319 player games missed due to injury, including Kobe Bryant, who made just six appearances, dealing with Achilles and knee issues.
"No one's happy about the way the season went," said D'Antoni. "I think every coach should be under scrutiny; they're under it even if it goes well. That's part of the job."
The Lakers have yet to announce any coaching change. D'Antoni could be back, despite a general lack of fan support.
How does he win over a very skeptical fan base?
"By winning, that's the only way you can do it. They're right to feel the way they feel, because we didn't have a good year," said D'Antoni. "Opinion is shaped by the record."
D'Antoni is confident in his style of play, citing injuries as the primary reason the "season went sideways."
As far as public opinion, the Lakers coach pointed at television analysts as part of the issue.
"I do think that the game is changing and has changed," said D'Antoni. "Some of the hard part of coaching is to be able to drag people over to the next side. People are comfortable doing business a certain way. When that business kind of shifts, to get people to change is not easy."
"The problem is most people commenting on it, played a different way. And now you're shaping opinion a different way," he continued. "As soon as they embrace it a little bit more, I think they're better off. But basketball has changed. It's not the same basketball that your father played. It's just not it. Teams that adapt to it quicker are going to be more successful."
How exactly has the game changed?
"I do think the league is going to a more open style, and a faster style," continued D'Antoni. "That doesn't mean there's no place for a post-up player, there's no place for a mid-range game. There is a place, but it's just not what is dominant today."
"The league now is dominated by point-guard play, three-point shots and smart players," said D'Antoni. "Unless the NBA changes the rules again, like the three-point line and no hand checking, then basketball is going a certain way."
D'Antoni doesn't believe his fast-paced style of basketball contributed to the Lakers' injury woes.
"To me it's ludicrous. To me, the pace of play and the way you spread the floor leads to less injuries," he said. "Just because you don't pound and hit [as much]."
D'Antoni has few regrets over his two seasons as coach of the Lakers, although he wishes he had a healthy squad to work with.
"Anytime the Lakers call, anyone would take this job," he said.
Does he expect the Lakers to keep him on?
"Yeah, I've got one or two years left, and I'm their coach," said D'Antoni.
It remains to be seen if the Lakers' front office still has faith in D'Antoni's vision.
ALSO:
Duke's Jabari Parker declares for NBA draft
Chris Kaman acknowledges frustration with Lakers Coach Mike D'Antoni
Pau Gasol: 'This could be my last day, maybe' with the Lakers
Email Eric Pincus at eric.pincus@gmail.com and follow him on Twitter @EricPincus.
All things Lakers, all the time.
Get all the Lakers news you need in Dan Woike's weekly newsletter.
You may occasionally receive promotional content from the Los Angeles Times.