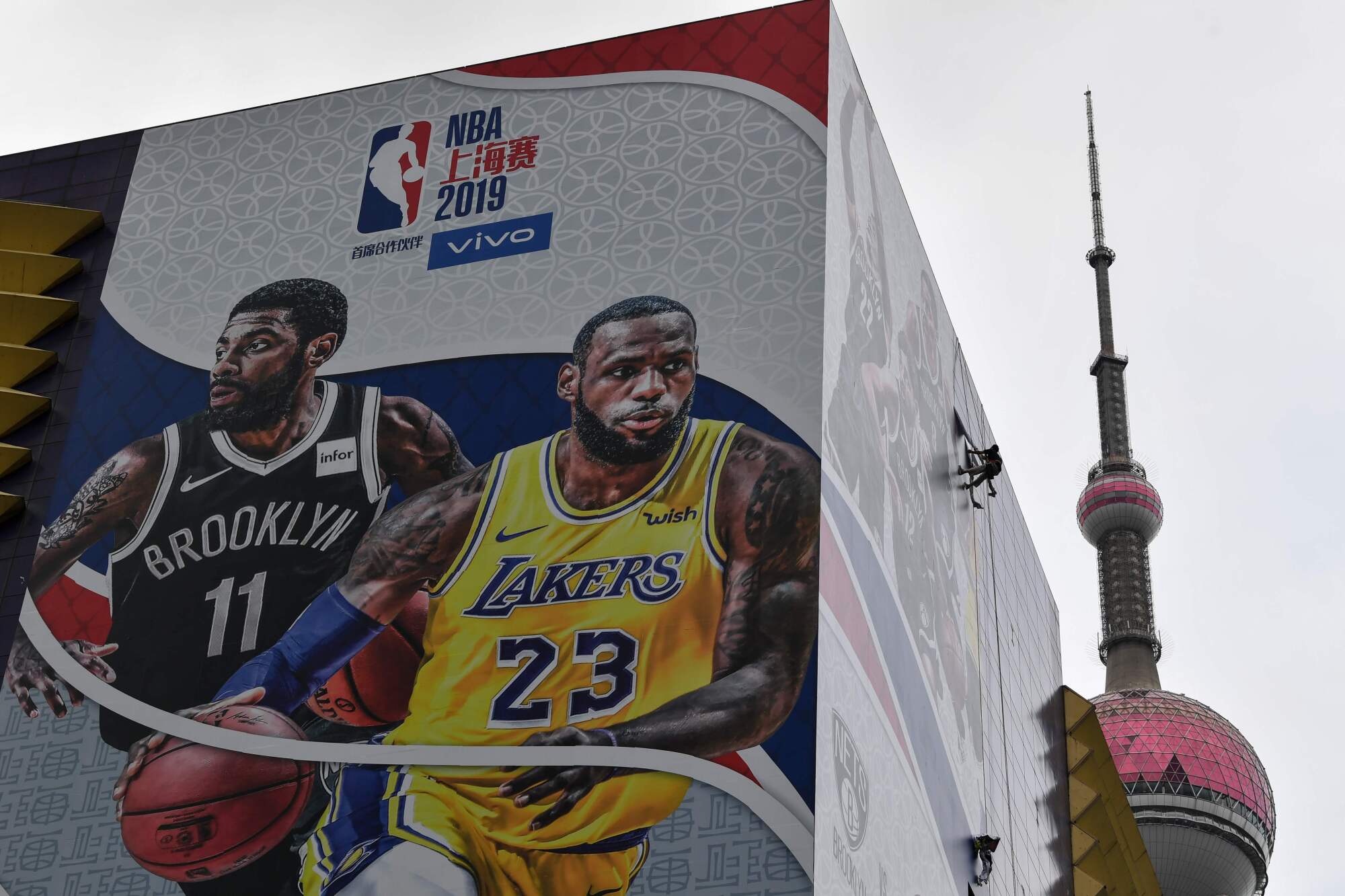 SHANGHAI —
Under normal circumstances, when NBA players come to China they are treated like rock stars. Throngs of fans wait for their buses outside hotels, wearing their jerseys, screaming for photos and desperately trying to get a glimpse of these athletes they idolize from thousands of miles away.
That is especially true for the Lakers.
This week what was normal has been upended by a controversy that began with a since-deleted tweet from Houston Rockets general manager Daryl Morey in which he supported pro-democracy protesters in Hong Kong who are demonstrating against the Chinese government. As the Lakers made the trans-Pacific flight from Los Angeles to Shanghai, the situation intensified.
By the time the Lakers landed in Shanghai, their plans had been completely disheveled. They didn't know what their schedule for the week would be. They didn't know if they would play either of their two scheduled games against the Brooklyn Nets in Shanghai on Thursday and Shenzhen on Saturday. Meanwhile, throughout China, NBA fans grappled with the conflict between the sport they love and their enraged country.
The Lakers flew without wireless internet on their charter plane, watching movies or TV shows, chatting among themselves, sleeping if they could.
On the ground in Shanghai, the front page of the English language Shanghai Daily on Tuesday morning led with a headline that read "Rockets in flames over HK comments." The paper is targeted to foreigners but must comply with the Chinese government regulations that all media must operate as propaganda for the government. Its story noted that the NBA, while having issued a statement Monday expressing regret for the impact of Morey's comments, didn't apologize.
Clippers coach Doc Rivers applauded NBA commissioner Adam Silver, who said he will protect employees' freedom of speech amid NBA-China fallout from a tweet.
At an NBA exhibit in Beijing, a Lakers jersey hung next to a bare patch on the wall. Employees had been instructed to remove all Rockets references Monday, an employee said, even images of Yao Ming when the Hall of Fame center from China played for the Rockets.
The exhibit was so popular that organizers had announced an extension past its ending date in mid-October into November.
Seven hundred to 800 visitors had come daily during last week's national holidays, said the employee, who didn't give his name because he wasn't authorized to speak with media. On Tuesday, there were less than 10.
"It's because of that 'free speech' incident," he said, pulling out his phone to scroll through trending topics on Weibo, a Chinese social media platform similar to Twitter. Several were about state media and companies cutting ties with the NBA.
"This doesn't happen just because one person was upset. Many people must be following if something trends," he said. Whether the NBA would come back into China's good graces was uncertain, he said. "But at the very least, Morey will have to resign. That's for sure."
At a nearby NBA Style store, an employee gasped when she realized several Rockets caps were still on display. She snatched them away, saying all NBA stores had been given orders not to sell any Rockets merchandise since Monday.
Sign up for our free Lakers newsletter >>
Rockets star James Harden is an Adidas athlete. His image still adorned every screen in an Adidas store in Shanghai, even some where he wore his Rockets uniform. But their merchandise doesn't include Rockets apparel and searches for Rockets gear on Taobao and JD.com, China's two biggest e-commerce websites, came up empty.
Then on Tuesday, a Rockets fan in China was arrested for posting a photo of himself about to burn a Chinese flag with a comment: "I live and die with the team." Local police posted about his arrest, which became a topic of discussion on Weibo, saying he had desecrated the national flag and was under investigation.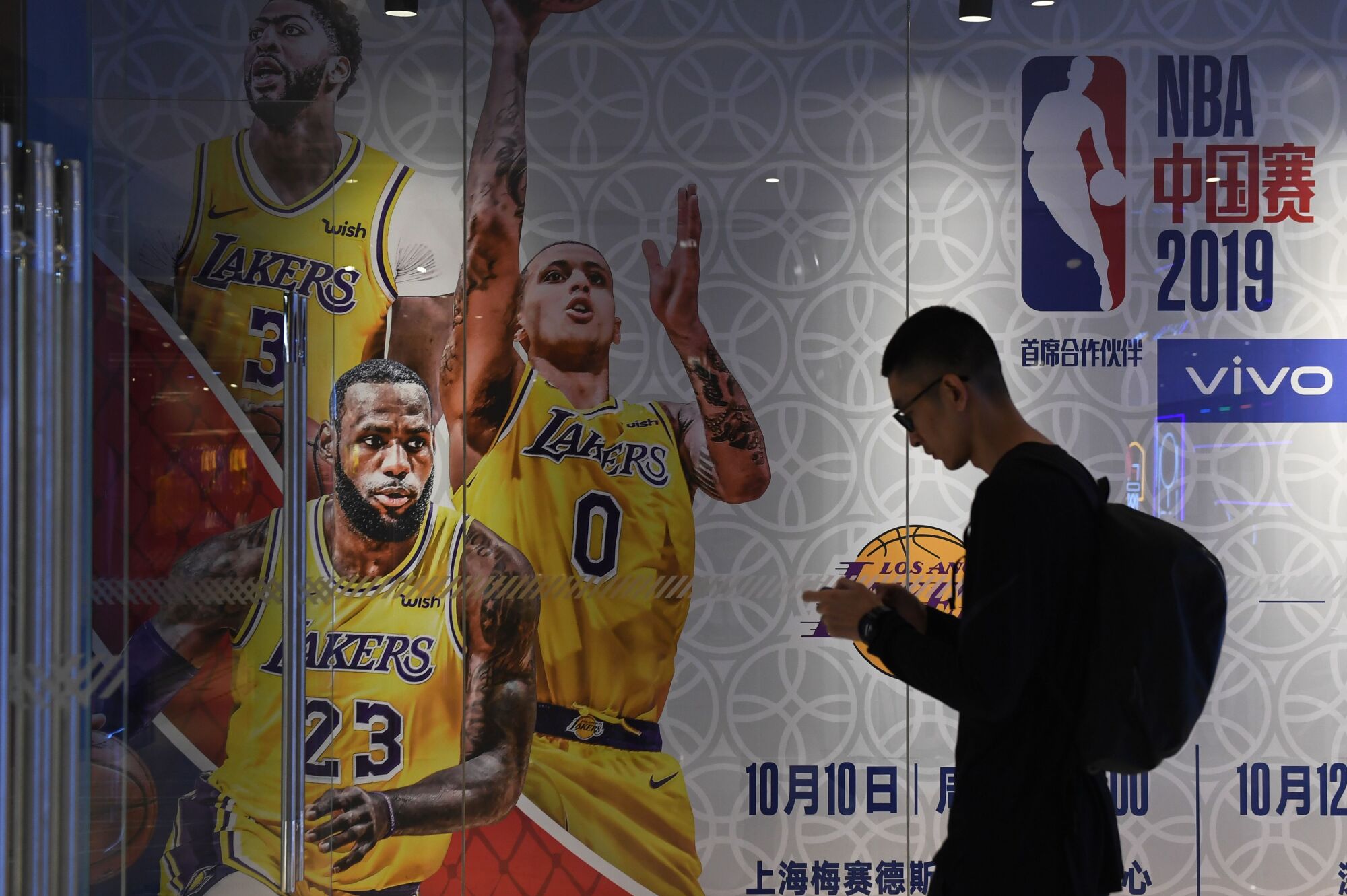 "He has committed crime of splitting the state, he deserves a life sentence, he will keep creating troubles to the society even he was released," wrote user Tiaotiaohu198802.
Wrote user Miaoxingren sanmiao: "To be honest, we are forcing you to be patriotic and love being a Chinese, just leave if you don't want to be patriotic and don't want to be Chinese."
Another user expressed caution.
"it's terrifying to see all these comments below!" wrote a person with the username anlian qiuchang. "He will face what he deserves according to relevant laws, why are some of you proposing he should be exiled to borderland? Why are you so supportive of the concentration camp culture?"
Sponsors began abandoning the games and several players either canceled or had canceled their sponsor-related events. China's state television, CCTV, canceled plans to broadcast this week's games.
The Nets arrived earlier in the week with plans to attend an NBA Cares event at a Shanghai elementary school. About 90 minutes before the scheduled start time, a league official said the Chinese government had canceled the event. The same fate awaited a Lakers appearance at an NBA Cares event the next day, which was scheduled to be at the Special Olympics Center.
The NBA's relationship with China was an issue even before Houston Rockets general manager Daryl Morey's tweet in support of the Hong Kong protests.
Tuesday afternoon, NBA Commissioner Adam Silver held a news conference in Japan, where the NBA champion Toronto Raptors were playing the Rockets. Harden had apologized to Chinese fans earlier in the day, but Silver refused to do so.
"We are not apologizing for Daryl exercising his freedom of expression," Silver said. "I regret … that so many people are upset including millions and millions of our fans. At the end of the day, we come with basketball as an opportunity to sell dreams, sell hopes. That we are causing disruption in people's lives and that we are causing disharmony, that's something I regret."
Silver was scheduled to arrive in Shanghai on Wednesday afternoon.
"We're strongly dissatisfied and oppose Adam Silver's claim to support Morey's right to freedom of expression," CCTV in a statement. "We believe that any remarks that challenge national sovereignty and social stability are not within the scope of freedom of speech."
The statement also said CCTV will not broadcast NBA preseason games and will investigate their NBA partnerships.
The NBA has no plans to cancel their games, but it might not be up to them.
With all this unfolding, the fallout awaited the Lakers as they landed from a 13-hour flight, cut off from the rest of the world.
They touched down at about 4 p.m. Shanghai time. This time, there were no screaming masses waiting at their hotel. Just a handful of people greeted them, many in Lakers jerseys, but they shielded their faces from cameras.
Su reported from Beijing. Gaochao Zhang of the Times' Beijing bureau contributed to this report.
---
All things Lakers, all the time.
Get all the Lakers news you need in Dan Woike's weekly newsletter.
You may occasionally receive promotional content from the Los Angeles Times.