Jeff Bagwell, Tim Raines and Ivan Rodriguez are elected to the Hall of Fame
If the last strike killed baseball in Montreal, Rick Monday wounded it.
Get to the World Series, and a town falls in love with its team — not just the diehards, but the citizens more interested in civic pride than Curtis Pride. Before the 1994 Expos — the best team in baseball when the strike hit — there were the 1981 Expos.
They were one win from the World Series. On what will forever be known as "Blue Monday" in Montreal, the outfielder named Monday hit the ninth-inning home run that propelled the Dodgers into the World Series and dashed the dreams of a province.
What might not have been fully apparent until Wednesday is how talented those Expos were. The Dodgers had the household names — Valenzuela, Garvey, Lopes, Russell, Cey and Baker among them — but the Expos had Hall of Famers.
Of the first four batters in the Montreal lineup on Blue Monday, three are in the Hall of Fame: Gary Carter, Andre Dawson, and now Tim Raines.
Raines — in his 10th and final year on the ballot — joined Houston Astros first baseman Jeff Bagwell and Ivan Rodriguez in being elected to the Hall of Fame on Wednesday. Rodriguez, a 14-time All-Star best known as a star for the Texas Rangers, joined Johnny Bench as the only catchers elected on the first ballot.
The Baseball Writers Assn. of America did not elect anyone in 2013, but the writers have elected 12 players in the four years since then, the most in any four-year period since the 13 players selected in the first four years of balloting, from 1936-39.
Bagwell got 86.2% of the vote, Raines 86.0% and Rodriguez 76%, with 75% required for election. San Diego Padres closer Trevor Hoffman got 74% — five votes shy of election — and Angels and Expos outfielder Vladimir Guerrero got 72%.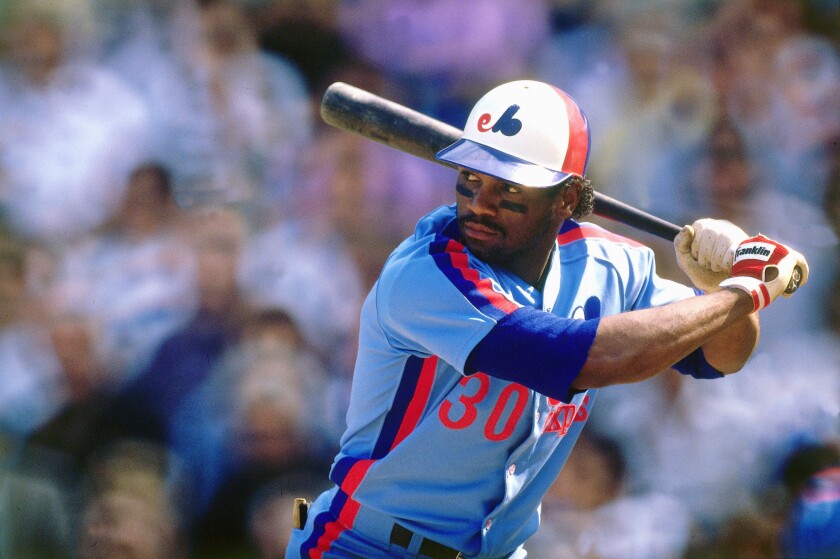 The elected players will be inducted in July, in a class that includes former commissioner Bud Selig and Atlanta Braves executive John Schuerholz, both of whom were selected last month by a Hall of Fame committee.
Barry Bonds and Roger Clemens, each of whom has been shunned by the BBWAA because of ties to steroid use, took another step toward election. Each got 54% of the vote, jumping from 35% two years ago and 45% last year.
Bonds, the only seven-time MVP in major league history, and Clemens, the only seven-time Cy Young winner, have five years left on the ballot.
That topic remains delicate, even on an otherwise celebratory day. Bagwell, on a conference call, left no doubt about where he stood on Guerrero and the Hall of Fame.
"I think Vladdy is a Hall of Famer," Bagwell said.
And Bonds? "Barry Bonds is the best player I ever played against in my entire life. … I'm a fan. Let's put it that way."
Rodriguez said he spoke with Guerrero on Wednesday, and the two men congratulated one another.
"I'm sure he is going to easily be in the Hall of Fame," Rodriguez said. "Next year, for sure."
Montreal could have had double its fun Wednesday had Guerrero been elected. Guerrero, like Raines, had his best years in Montreal. However, Guerrero could wear the cap of the Angels into Cooperstown, as he won his only MVP award and made five postseason appearances in Anaheim.
Still, for a city that played host to a major league team for only 35 years, Montreal has a surprisingly robust baseball history, as the home city for three and maybe four Hall of Famers and for the minor league team for which Jackie Robinson made his debut.
"I really loved playing in Montreal," Raines said. "I felt like I was part Canadian. I still do."
The feeling was mutual, so much so that the prime minister of Canada tweeted congratulations to Raines on Wednesday.
However, at a time when Montreal is trying to woo Major League Baseball back to town, Raines suggested his long wait for election might have been caused in part by the relative invisibility of the Expos beyond their borders.
"Outside of Canada, we weren't as exposed to the major leagues as much as big-market teams. We didn't have the national TV exposure," said Raines, who played for the Chicago White Sox and New York Yankees after leaving Montreal.
"Really, the only time I was exposed was when I was in big-market cities. A lot of people didn't get the full pleasure of watching and noticing all of the things I was able to do on the baseball field."
Raines played 13 years in Montreal, his first in 1981. That would be the Expos' lone postseason appearance.
They lost the first game of the best-of-five National League Championship Series, but Ray Burris beat Valenzuela in Game 2. The Expos won Game 3, the Dodgers Game 4.
The final game was tied, 1-1, through eight innings. In the ninth, with closer Jeff Reardon battling a bad back, the Expos turned to ace Steve Rogers, on two days' rest.
Garvey popped up. Cey flied out. Monday homered.
No World Series for the Expos, that year or ever. Now, no Expos. And, on the day he was elected to the Hall of Fame, Raines could not help but wonder.
"I really feel," he said on MLB Network, "we were a closer away."
Follow Bill Shaikin on Twitter @BillShaikin
---
Get our high school sports newsletter
Prep Rally is devoted to the SoCal high school sports experience, bringing you scores, stories and a behind-the-scenes look at what makes prep sports so popular.
You may occasionally receive promotional content from the Los Angeles Times.