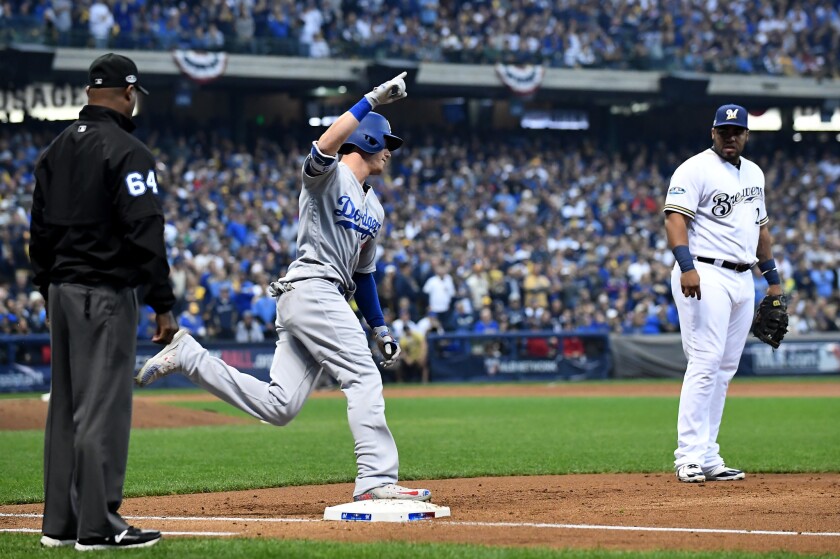 Reporting from las vegas —
The most impactful player the Dodgers can acquire this offseason could be free-agent outfielder Bryce Harper. It could be Cleveland Indians ace Corey Kluber or Miami Marlins catcher J.T. Realmuto.
Or it could be a player meeting with the team's hitting coaches this week at Dodger Stadium. Because few players offer a more tantalizing combination of cost efficiency and dynamic ability than Cody Bellinger — if he can recapture the form he displayed during significant chunks of his rookie-of-the-year campaign in 2017. The first step of that process started in meetings between Bellinger and new hitting coach Robert Van Scoyoc and assistant hitting coach Brant Brown.
"He's very hungry to continue to improve," Andrew Friedman, president of baseball operations, said in his winter meetings suite at the Mandalay Bay hotel. "He's in a great frame of mind, going into this offseason, to make adjustments here and there, just like all young players do. To keep the strengths that are in place, and to build on some of the challenges."
Dodgers officials have painted the work to be conducted with Bellinger this offseason as more of a refurbishing than an overhaul. His sophomore season cannot be considered a failure: Bellinger hit 25 home runs with an .814 on-base-plus-slugging percentage. He proved himself to be a capable center fielder, as well as a sure-handed first baseman. Justin Turner was the only Dodger worth more wins above replacement, according to Baseball-Reference.com.
Yet, the season for Bellinger still classified as a "tough year," manager Dave Roberts said Tuesday. His slugging percentage dipped 111 points. His production against left-handers sagged. He was the most valuable player of the National League Championship Series and still finished the postseason with a .115 batting average and a .192 slugging percentage. He performed like a useful cog in the Dodgers platoon machine, rather than the consistent force he was for much of 2017.
"If you look at the way that he fared against left-handed pitching this year, [that] was a little surprising to all of us," Roberts said. "And Cody was disappointed in that. Just making the adjustments, I don't think he was synced up all year with his mechanics. There were spurts when he was really good, but just looking at the overall production speaks to how talented he is."
The observations from Roberts matched the opinions of rival officials. One National League talent evaluator said Bellinger made few adjustments in two-strike counts; Bellinger hit .201 with a .611 OPS after two strikes. Another NL official described how Bellinger's approach wavered from at-bat to at-bat, sometimes selling out for pull-side power, while other times attempting to slap balls into the opposite field. It is difficult to make decisions, the executive explained, when you are not sure what you're trying to do.
The discombobulation manifested most against left-handers. After producing a .903 OPS against left-handers as a rookie, Bellinger's OPS faded to .681 in 2018. With Bellinger struggling, the Dodgers acquired veteran first baseman David Freese late in the season. Freese will be back in 2019, capable of mashing against left-handers as he did in October.
"But the goal is to have Cody out there every day," Roberts said. "Just the way he can defend and impact the game with his legs, with the bat. So the goal is to have him be out there and handle lefties and righties."
As the Dodgers continue their now-annual tussle with the competitive balance tax — an offseason-long pursuit that could lead to dumping the salaries of outfielder Yasiel Puig and pitcher Alex Wood — Bellinger's contract adds to his value. He will be paid the league minimum again in 2019, before entering his first year of arbitration in 2020. With Harper aiming for a contract in excess of $325 million, consider this: Bellinger has been worth 8.3 wins above replacement since 2017, and Harper has been worth 7.5 since 2016, according to Baseball-Reference.com.
Despite his promise and pedigree, Bellinger did not resemble a star in October. He could not crack the starting lineup when Boston started left-handers Chris Sale and David Price during the World Series. The Dodgers hope to avoid that in 2019 while stabilizing Bellinger's intentions in each at-bat.
"There's a mechanical piece," Roberts said. "There's an approach piece. I think that with two strikes, using the whole field, I think when he did that he was better. But he's aware of all that."
Elite hitters possess the ability to correct platoon splits, evaluators say. Chicago Cubs first baseman Anthony Rizzo muddled to a .599 OPS against left-handers as a 22-year-old in 2012 and a .625 OPS in 2013. He posted an OPS greater than .830 against left-handers in each of the next four seasons. Colorado Rockies outfielder Charlie Blackmon made a similar correction after 2016.
Can Bellinger join that group? The answer will not arrive until the summer. But he will spend his offseason with that aim in mind.
"He's got ideas and thoughts, as well, but we want to get him focused on different aspects," Friedman said. "He is very hungry."
Twitter: @McCulloughTimes
---