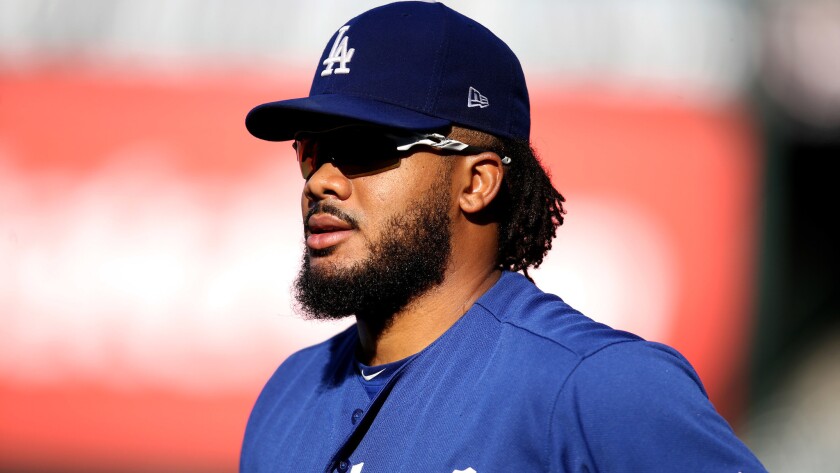 Kenley Jansen repeatedly proclaimed his love for Dodgers fans Tuesday, two days after blaming them for failing to elect teammates Corey Seager and Justin Turner into the starting lineup for the All-Star game.
It would be one thing if Dodgers fans did not care much for voting. But they do: More voters identified themselves as Dodgers fans than as fans of any other National League club except the Chicago Cubs, according to data provided to the Los Angeles Times by Major League Baseball Advanced Media.
MLBAM declined to disclose exactly how many votes were cast by each fan base. However, more voters were fans of the Dodgers than of the Cincinnati Reds or Colorado Rockies.
Zack Cozart of the Reds beat out Seager at shortstop; Nolan Arenado of the Rockies beat out Turner at third base.
Seager was elected by the players as a reserve. Turner was not, but the Dodgers have mobilized on his behalf as he competes in a five-man race for the final spot on the NL roster. As of Tuesday, Turner was in first place.
That voting extends through Thursday. Manager Dave Roberts, broadcaster Alanna Rizzo and all the players wore "Vote JT" T-shirts in batting practice and pregame interviews Tuesday. Broadcaster Orel Hershiser, also wearing a "Vote JT" shirt, told fans to take out their phones for a between-innings voting session.
The Dodgers also invited members of the Pantone 294 fan club to staff a Dodger Stadium voting command post that will be in operation for 24 consecutive hours starting Wednesday afternoon.
"That's the first time I've voted — I got on my phone and my computer — in maybe 20 years," Roberts said.
On Sunday, after the All-Star rosters were announced, Jansen said that Seager and Turner should have been elected as starters.
"I'll say it loud and clear again," the Dodgers closer said then. "It's the Dodger fans' fault."
On Tuesday, Jansen said he was simply standing up for his teammates and had no regrets about his comments.
"I've never ripped my fans," he said. "I've just got to say what I say as a leader in this clubhouse. Is it a risky thing? Yes, it is. At the end of the day, man, I know we have the best fans in the world. We want J.T. to be in there. He deserves to be in there."
Before Jansen talked with reporters Tuesday, a Dodgers public relations executive spoke with him. In the 5 1/2 minutes of Jansen's group interview, monitored by three team publicists, he said "we have the best fans in the world" four times and spoke of his "love" for the fans seven times.
"It's Independence Day today," Jansen said. "It's an independent country. We have the right to say what we want to say. I love my fans. They are the best. That's why I returned. That's why I turned down more money to come [back] here, because I know we have the best fan base.
"It's just one thing they didn't do is vote. So now J.T. is leading, so I'm happy about that. The fans are showing they are coming through."
The MLBAM balloting data suggests that Dodgers fans, raised on the nonpartisan broadcasts of Vin Scully, might vote for a player they perceive best at a certain position, rather than reflexively voting for every Dodgers player.
Turner is worthy of a vote, outstanding on the field and in the community, but could a Dodgers fan really be faulted for voting for Arenado, a perennially elite player?
"If a Dodger fan feels that way, then he or she has the prerogative, absolutely," Roberts said. "But I do think that, as a fan, there are definitely some biases, and that's OK too. I would expect Dodger fans to put their best foot forward and vote, which they have been."
Might Jansen's comments Sunday have pushed Dodgers fans to vote for Turner on Monday and Tuesday?
"Might have," Roberts said.
Follow Bill Shaikin on Twitter @BillShaikin
---