Report: Miami Marlins to be sold to group led by Derek Jeter and Jeb Bush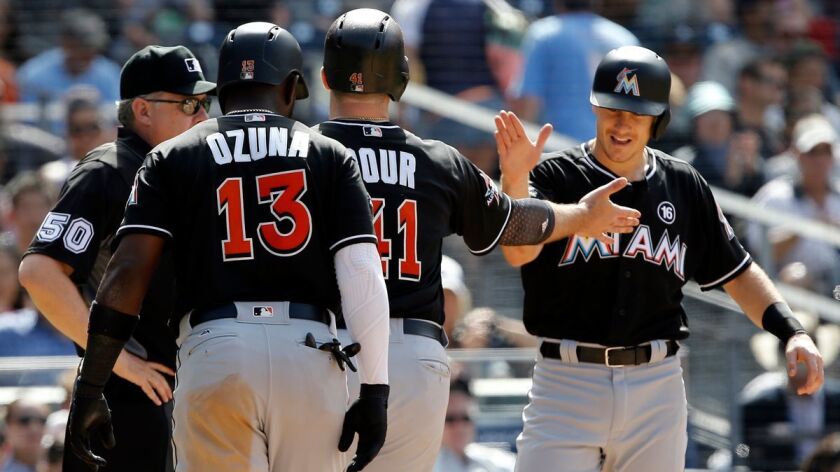 Could Derek Jeter do for the Miami Marlins what Magic Johnson did for the Dodgers?
In 2012, as the face of a Dodgers ownership group that had bought the team from Frank McCourt, who had taken the team into bankruptcy, Johnson stood at a Dodger Stadium news conference and proclaimed: "Frank is not here. He's not a part of the Dodgers anymore. We should be clapping just for that."
Jeter might stand at a Marlins Park news conference someday soon and say much the same thing, substituting the name of Jeffrey Loria for McCourt.
A group led by Jeter and former Florida Gov. Jeb Bush has won the bidding for the Miami Marlins, Bloomberg first reported Tuesday.
If the Marlins finalize a deal with the Jeter-Bush group, it could take weeks or months for MLB to scrutinize the financing and approve the deal. The winning bid was $1.3 billion, according to the Miami Herald, and it is unclear where the Jeter-Bush group is getting its money.
MLB commissioner Rob Manfred said the league must be assured a new ownership group has the money to buy the team and additional money to operate it successfully.
"There are multiple groups interested in acquiring the Marlins," Manfred said at the Chicago Cubs-Pittsburgh Pirates game in Pittsburgh. "One of those groups is the Bush-Jeter group. When we have a resolution as to which bid is going to be accepted, we will announce that."
Jeter, who lives in Florida, could be the face of a baseball revival in South Florida, in the same way Johnson was the face of a Dodgers revival after his group — with Guggenheim Partners' Mark Walter as the money man — bought the team from McCourt.
At the time, the Dodgers had fallen out of the top 10 in the major leagues in payroll and attendance. The Dodgers have led the majors in both categories in each of four full seasons under Guggenheim ownership.
The Marlins have not reached the playoffs since 2003 and have not had a winning season since 2009.
Loria is not well regarded in Miami, in part because of the Marlins' poor performance and in part because he persuaded Florida legislators to use tax dollars on the Marlins' ballpark based on what were later shown to be misstatements about the financial condition of the team.
Bush is expected to be the controlling partner of the Marlins if the group is approved, according to the Herald. Bush's brother, President George W. Bush, once owned the Texas Rangers.
The Associated Press contributed to this report.
Follow Bill Shaikin on Twitter @BillShaikin
---
Get our high school sports newsletter
Prep Rally is devoted to the SoCal high school sports experience, bringing you scores, stories and a behind-the-scenes look at what makes prep sports so popular.
You may occasionally receive promotional content from the Los Angeles Times.