MLB's most popular jerseys: Cubs, Clayton Kershaw, more Cubs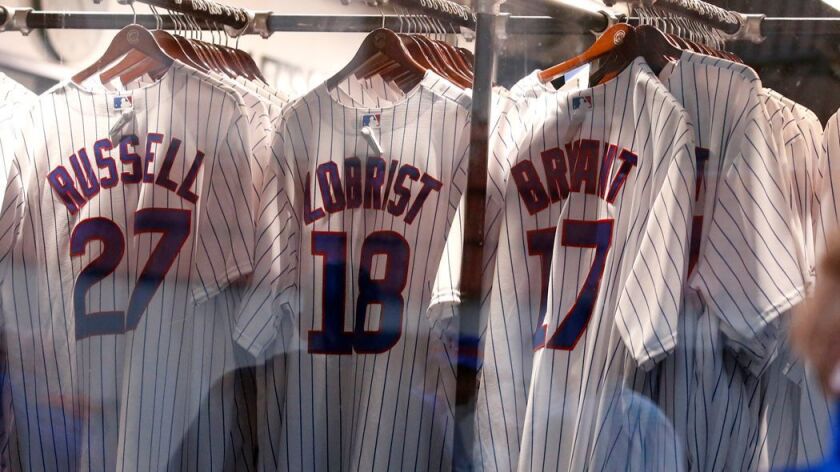 If you measure popularity by jersey sales, four of the five most popular players in the major leagues play for the Chicago Cubs.
The other one is Clayton Kershaw.
To sell jerseys, apparently, it helps to play for the team that just won its first World Series in 108 years, or to be baseball's best pitcher.
Cubs third baseman Kris Bryant ranked first, followed by Cubs first baseman Anthony Rizzo, Kershaw, Cubs second baseman Javier Baez and Cubs left fielder Kyle Schwarber.
Kershaw is not the only Dodgers player on the list. Shortstop Corey Seager, the reigning National League rookie of the year, ranked seventh. Angels center fielder Mike Trout, the reigning American League MVP, ranked 10th.
No other Dodgers or Angels player ranked among the top 20.
The average age of the players on the list is 26.5, according to Major League Baseball. The lowest previous average age had been 28, a heartening sign for a sport trying to promote a new generation of stars.
The list, announced Friday by Major League Baseball and the players' union, is based on jerseys sold at the league's online store since the end of the World Series.
The list:
1. Kris Bryant, Chicago Cubs
2. Anthony Rizzo, Chicago Cubs
3. Clayton Kershaw, Dodgers
4. Javier Báez, Chicago Cubs
5. Kyle Schwarber, Chicago Cubs
6. Noah Syndergaard, New York Mets
7. Corey Seager, Dodgers
8. Buster Posey, San Francisco Giants
9. Gary Sánchez, New York Yankees
10. Mike Trout, Angels
11. Yadier Molina, St. Louis Cardinals
12. Madison Bumgarner, San Francisco Giants
13. Yoenis Céspedes, New York Mets
14. Mookie Betts, Boston Red Sox
15. Bryce Harper, Washington Nationals
16. Francisco Lindor, Cleveland Indians
17. Freddie Freeman, Atlanta Braves
18. Dustin Pedroia, Boston Red Sox
19. Jose Altuve, Houston Astros
20. Josh Donaldson, Toronto Blue Jays
Follow Bill Shaikin on Twitter @BillShaikin
---
Get the latest on L.A.'s teams in the daily Sports Report newsletter.
You may occasionally receive promotional content from the Los Angeles Times.