MLB imposes stricter mound limits, defers on pitch clocks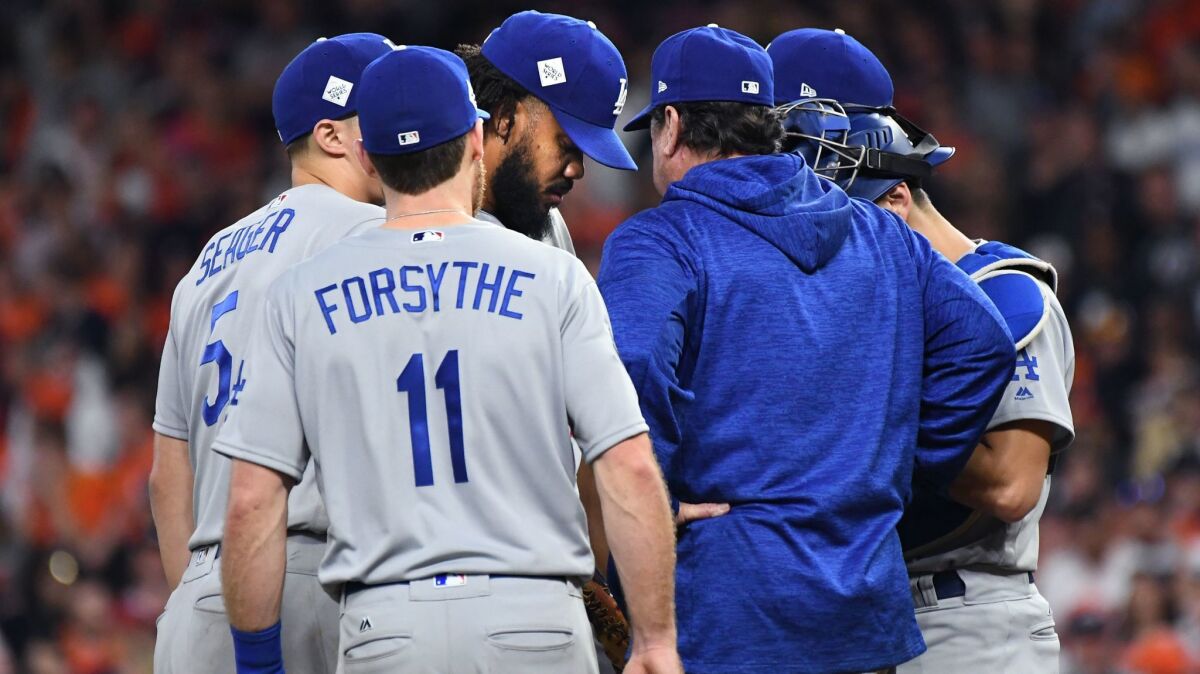 Major League Baseball imposed stricter limits on mound visits in an effort to speed up games but decided against 20-second pitch clocks for 2018.
After more than a year of negotiations, the Major League Baseball Players Assn. refused to agree to the changes but also signed an agreement that it will not oppose the new rules.
The new amendments to the playing rules announced Monday include a general limit of six mound visits per nine-inning game without a pitching change, whether by a manager, coach or player.
At Dodgers camp at Camelback Ranch in Phoenix, catcher Austin Barnes said the prevalence of sign stealing in recent seasons had resulted in additional mound visits.
"Limiting the mound visits seems like a detriment to the quality of play nowadays with what's going on in the game," Barnes said, adding, "We're not just going out there to see how they're doing. There's a reason why we're going out there."
To assuage players' concerns about sign stealing, MLB will install new telephone lines from dugouts to video replay rooms. MLB said the lines would be monitored, and a person familiar with the decision told the Associated Press all conversations on the lines would be recorded. The person spoke on condition of anonymity because that detail was not announced.
MLB has the right to make changes to playing rules without an agreement (with one year's notice) and made both proposals during the 2016-17 offseason.
At Angels camp in Tempe, Ariz., third baseman Zack Cozart said he wasn't convinced the new rule would do much to speed up the games. "I mean, what do you do with baseball?" he said. "There's no shot clock."
Shortstop Andrelton Simmons chimed in: "That's coming."
Said Cozart: "Yeah, I think so. It's going to eventually get where they put a two-and-a-half-hour time up there and say, 'Whoever is winning when this thing is done, that's the game.' I feel like that's where it's going.
"It's going to be weird. But what can you do? The commish wants to do it. It's going to happen. He has the power; right now at least."
In a statement, commissioner Rob Manfred said he was "pleased that we were able to reach an understanding with the players association."
"My strong preference is to continue to have ongoing dialogue with players on this topic to find mutually acceptable solutions," he added.
Union head Tony Clark noted the sides technically did not reach a deal.
"The focus on mound visits and/or the level of commitment on the other pieces simply didn't focus enough attention on the areas the players wanted to address — so no agreement was reached," he said in an email to the AP.
"While a number of pitchers will acknowledge that some mound visits are unnecessary, a limitation combined with what the experience has been of late in regard to technologically enhanced sign stealing means that there are concerns about how this will work or not work."
Until now, the only restriction on mound visits was a second visit to the same pitcher during an inning by a manager or coach resulted in an automatic pitching change. The number of visits by catchers during games has increased in recent years, contributing to the average time of a nine-inning game stretching to a record three hours and five minutes last season, up from 2:46 in 2005.
Under the new rule, each team would get an additional mound visit without a pitching change for each extra inning. Trips will not count against the limit following an offensive substitution, to check on potential injuries or to clean spikes on wet fields. If a team is out of visits, the plate umpire may give permission for additional trips by the catcher in the event of a cross-up on pitch signals.
MLB is eliminating the rules guaranteeing eight warmup pitches before a half-inning in an effort to keep between-inning breaks to 2:05 for most games, 2:25 for regular-season games on national television and 2:55 for tiebreaker and postseason games. There are exceptions relating to injury and if the pitcher or catcher finishes the previous half inning on base, at bat or on deck.
Times staff writer Andy McCullough, from Phoenix, and correspondent Jeff Miller, from Tempe, Ariz., contributed to article by the Associated Press.
---
UPDATES:
10:50 a.m.: This article has been updated with further details and background information, including comments from the baseball commissioner and a union official.
This post was originally published at 10:05 a.m.
---
Get our high school sports newsletter
Prep Rally is devoted to the SoCal high school sports experience, bringing you scores, stories and a behind-the-scenes look at what makes prep sports so popular.
You may occasionally receive promotional content from the Los Angeles Times.