Why the Hall of Fame said no to Pete Rose (again)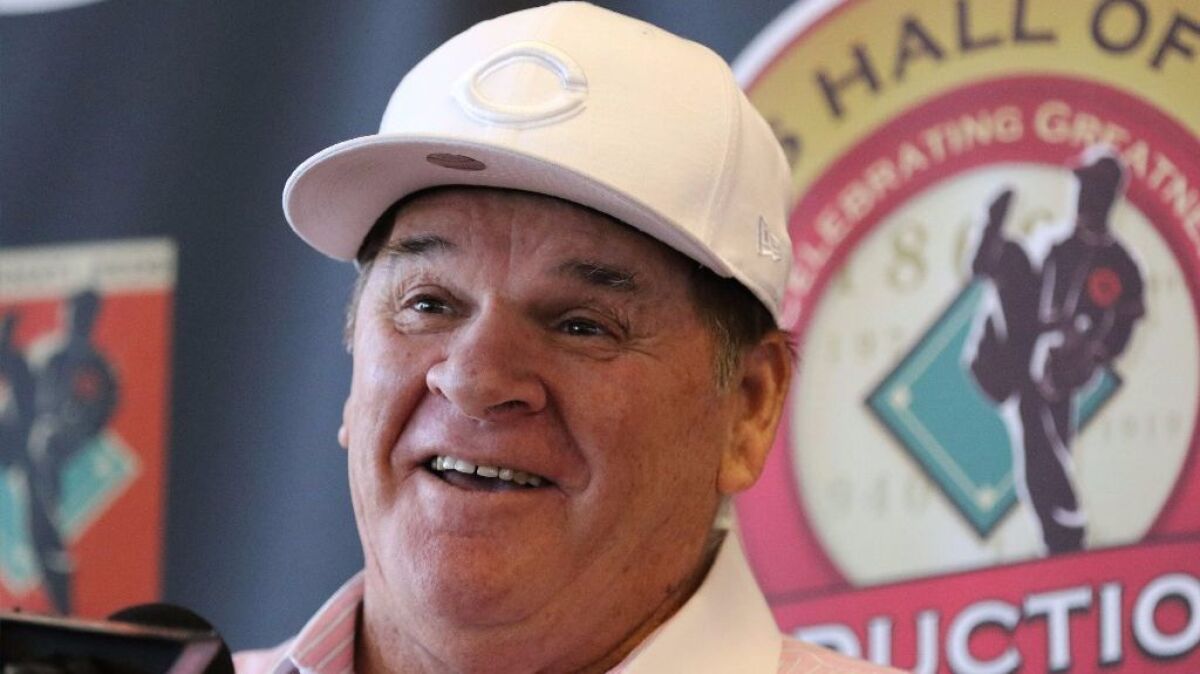 As the Cincinnati Reds prepare to dedicate a statue to Pete Rose this weekend, the Hall of Fame has affirmed its prohibition on banned players.
In response to a request from Rose to lift the ban, the Hall of Fame's board of directors voted in December to affirm the rule that keeps anyone "deemed permanently ineligible by Major League Baseball, including Pete Rose," from consideration for Cooperstown.
That decision was not made public until now, after a Los Angeles Times inquiry about the request Rose made last September.
In his second month as commissioner, in February 2015, Rob Manfred received Rose's request for reinstatement. Rose had been permanently banned since 1989 because he had bet on baseball. In 1991, the Hall of Fame had ruled that a banned person could not stand for election.
In December 2015, Manfred denied the request. However, in his five-page ruling, Manfred wrote that his sole concern was whether there was reason to believe lifting the ban might jeopardize the integrity of the game.
"It is not a part of my authority or responsibility here to make any determination concerning Mr. Rose's eligibility as a candidate for election to the National Baseball Hall of Fame," Manfred wrote. "In fact, in my view, the considerations that should drive a decision on whether an individual should be allowed to work in baseball are not the same as those that should drive a decision on Hall of Fame eligibility."
In September 2016, Rose's attorneys cited that language in a seven-page letter to the Hall of Fame, asking that voters be allowed to consider Rose. They said Rose's negotiated ban did not specify he could not stand for election to the Hall.
The attorneys also noted that Shoeless Joe Jackson appeared on Hall of Fame ballots even after his lifetime ban from the sport.
"No one associated with the game other than Pete has ever been categorically denied eligibility from day one after the conclusion of his career for actions having nothing to do with the way they played baseball," the attorneys wrote.
The statement from the Hall of Fame:
"The National Baseball Hall of Fame and Museum's Board of Directors met by conference call in December and deliberated the ineligibility clause that is part of the Hall of Fame's Rules for Election. The Directors discussed the validity of the rule, whether it was still relevant and appropriate, and whether its alteration or removal should be considered.
"After extensive discussion, a vote was taken in which the Board ratified the resolution that was passed on February 4, 1991, known today as Rule 3(E) in the [Baseball Writers' Assn. of America's] election rules. As such, anyone deemed permanently ineligible by Major League Baseball, including Pete Rose, may not be considered for election to the Baseball Hall of Fame."
Follow Bill Shaikin on Twitter @BillShaikin
Get our high school sports newsletter
Prep Rally is devoted to the SoCal high school sports experience, bringing you scores, stories and a behind-the-scenes look at what makes prep sports so popular.
You may occasionally receive promotional content from the Los Angeles Times.