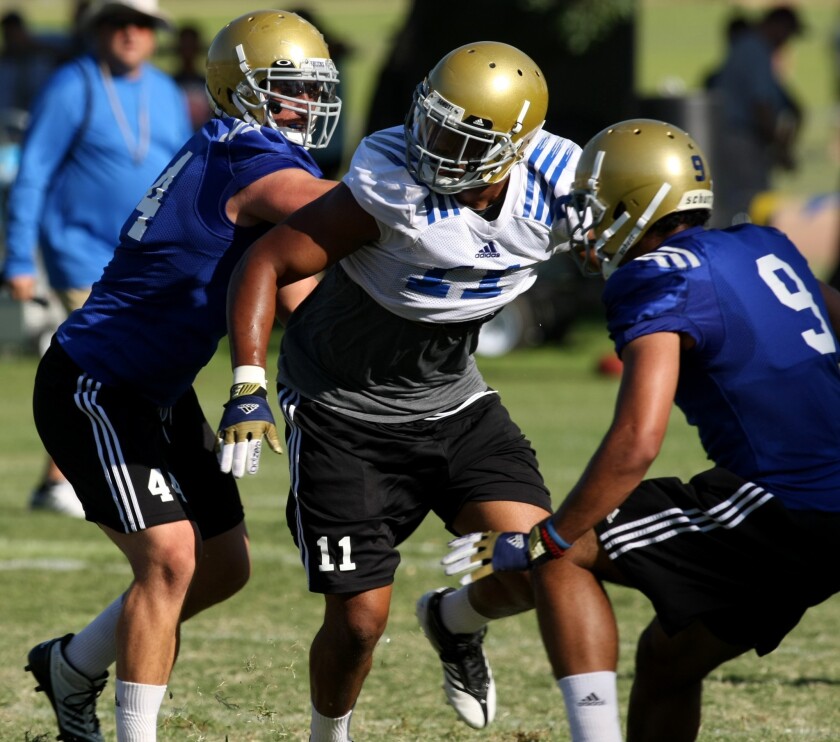 UCLA football Coach Jim Mora greeted reporters Monday with an announcement: "I'm going to give you my first and last in-season injury report. You ready? Everybody is fine; everybody is good."
Mora laughed, but then actually did read off a list. Most important was who was not mentioned.
All-American linebacker Anthony Barr and starting left tackle Simon Goines weren't on the list. Both are expected to be in the Bruins' lineup when UCLA opens against Nevada on Saturday at the Rose Bowl.
Barr, whose 13.5 sacks last season were second in the nation, left practice Aug. 20 because of an undisclosed injury after taking a hit to the head. Goines, who protects quarterback Brett Hundley's blind side, suffered a hyperextended knee on Aug. 15.
Both practiced Monday for the first time since their injuries.
Goines' return means Xavier Su'a-Filo can move back to guard and only one first-year freshman, guard Caleb Benenoch, will start on the offensive line.
Goines "did everything today," Mora said. "He's fine.... He moved around good."
The tackle said he was still undergoing treatment. "I'm waiting to see how it feels this week, how confident I am," Goines added. "Right now, I'm feeling pretty confident."
Barr, who is allowed to talk to the media only once a week, was not available for interviews.
Mora's injury list: guard John Lopez and fullback Luke Gane (concussion symptoms), cornerback Johnny Johnson (shoulder surgery), linebacker Aaron Porter and defensive end Ian Taubler (concussions), defensive end Zach Vinci (hamstring) and defensive back Michael Carlson (knee surgery).
None are starters. Gane, Vinci and Carlson are non-scholarship players.
"If they are not on that list, then they should be good to play, unless something comes up this week … which I will not let you know about," Mora said jokingly.
Work rewarded
Mora handed out four scholarships this week. Running backs Malcolm Jones and Melvin Emesibe, fullback Tre' Hale and receiver Logan Sweet will have this year of school paid for.
Jones, a senior, is a former Gatorade national player of the year. He quit after one game last season, giving up his scholarship and looking to transfer. He came back as a walk-on this spring.
"What Malcolm has gone through, the way he came back with a great attitude and the way he worked and the way he humbled himself in front of his teammates, everyone has a lot of respect for him," Mora said.
Mora said he is still deciding what to do with the one scholarship left for this season.
Lawn care
UCLA will use its off week to replace the grass at its practice facility. A year ago, new artificial turf and grass were installed at Spaulding Field.
Twitter: @cfosterlatimes
---