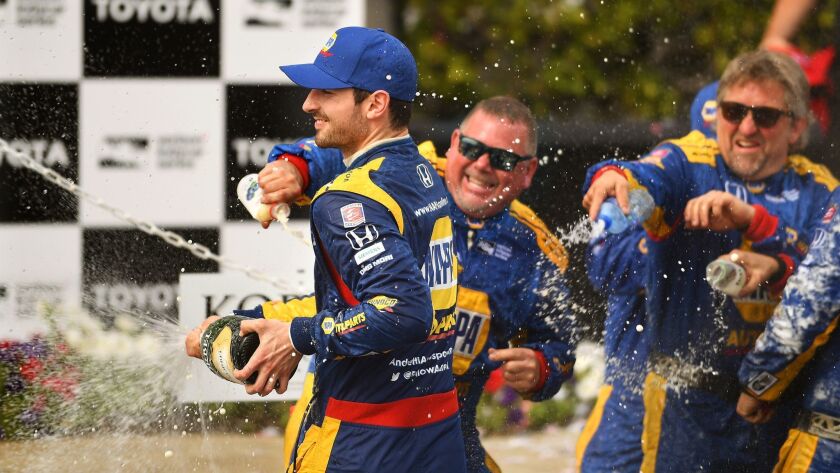 One of Alexander Rossi's fans recently described the IndyCar driver on Twitter as "a class act with an edge." It's not hard to see why.
Since jolting the racing world by winning the Indianapolis 500 as a rookie in 2016, Rossi has become one of the leading drivers in the NTT IndyCar Series with a low-key confidence and steady cool regardless of how he finishes a race.
"I'm excited when I win. I don't really care about anything else, honestly," Rossi said in an interview.
The Californian is hoping to get excited again Sunday at the Acura Grand Prix of Long Beach, a race he won last year from the pole position in his No. 27 Honda-powered car prepared by the Andretti Autosport team.
Rossi will lead the field again this year after winning the pole for the second consecutive year Saturday with a lap of 106.569 mph around the 11-turn, 1.97-mile street course.
Scott Dixon qualified second, followed by two-time Long Beach winner Will Power and Power's Team Penske teammate Josef Newgarden.
"He's fast and going to be tough to beat," Dixon said of Rossi.
Last year's Long Beach victory was one of five career IndyCar wins for Rossi and, given that he's now won arguably the top two races on the IndyCar circuit — Indy and Long Beach — Rossi naturally has his sights on the sport's other grand prize: his first series championship.
Rossi came close last year by finishing second in points to Dixon, who captured his fifth championship for Chip Ganassi Racing.
"There's no reason why we're not expecting to go out of the box and win races," said Rossi, who's currently fourth in this year's title standings after three races. "It's how we manage to make our bad days still okay days" to stay in title contention, he said.
The 27-year-old Rossi lives in Indianapolis but grew up in Nevada City, Calif., about an hour northeast of Sacramento, and initially planned a career in the Formula One series.
He moved to Europe at 17 to pursue his dream and, in 2015, finally competed in Formula One by racing in the season's final five races for the now-defunct Manor Marussia team.
But after he failed to secure the seat for the 2016 season, he shifted to the IndyCar series, just in time for the 100th running of the iconic Indy 500.
Competitive all day in that race, Rossi inherited the lead in the closing laps when other contenders had to pit for fuel, and even Rossi was running out of fuel when he crossed the finish line at the Indianapolis Motor Speedway.
Rossi was emotionally overwhelmed in victory lane as he soaked in the win, and today he has even more respect for what he accomplished.
"I have a much bigger appreciation for the sport as a whole, for the significance of the 500 and the history of it and how special that race is," Rossi said. "When I was in it for the first time, it also was my first time even attending it."
Now, with three-plus years of IndyCar experience, "you have a more comfortable idea of where you need to be in terms of executing the best you can, how to achieve the most out of your team and the people around you," he said.
One of those people is teammate Ryan Hunter-Reay, who won the IndyCar championship in 2012 and has seen Rossi grow into one of IndyCar's stars.
"We work together the whole race weekend, so we talk a lot," Hunter-Reay said. "He has a great outlook. He focuses on what he can control and doesn't let the rest of it bother him. That's key in racing.
"Now, he's very comfortable in IndyCar and much more relaxed," Hunter-Reay said. "He's just more laid back."
That's apparent with Rossi's even temperament, though he also has a ready smile and quick wit.
"Growing up, my dad, [Peter], taught me from a very young age that in racing, when you have a bad day, outwardly you don't show anyone" your anger, Rossi said.
"You wait until you're behind closed doors and then you can go punch whatever wall you want," he said. "But there's a way to conduct yourself.
"In my personal life, I still have emotions but, going into an event, I think that's just my personality," he said. "I'm not an extroverted personality, and that plays into it."
Like any driver, Rossi — who sometimes on Twitter refers to his blue and yellow car as "babygirl" — bursts with emotion when he wins. Otherwise, no.
"If I finish third, it doesn't really mean anything to me," Rossi said. "It's good for the team, it's good for points, but it's not what we're here to do. The crew guys, the engineers, they don't wake up at 6 a.m. every day and go to the shop to finish second."
Rossi, who enjoyed skiing in Colorado during the off-season, said he doesn't plan to live in Indianapolis forever, but "I will never move back to California," he said. "It's unaffordable. I love California. I won't spend the money, no way."
But he's delighted to visit Long Beach again to defend his race win last year, when he led 71 of the event's 85 laps.
"Words don't really capture my excitement of getting back to Long Beach," he said. "It's a flagship event on the calendar, my first home race of the year and a place with a lot of special memories."
Rossi's behavior likely won't capture that excitement Sunday, either — unless he wins.
Twitter: @PeltzLATimes
---