Anothertwistafate has a shot at bringing Preakness glory to Bay Area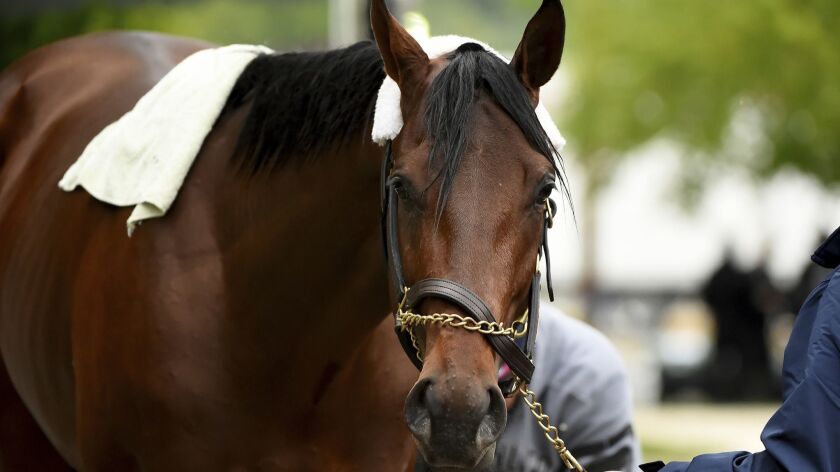 Reporting from baltimore —
It seemed like an easy enough promotion for The Stronach Group. Win the El Camino Royal Derby at Golden Gate Fields and receive an all-expenses paid trip and entry into the Preakness Stakes, the second leg of the Triple Crown.
It's not as if the race hasn't been a launching point for some good horses, but just not this century. Charismatic, after winning the race in 1999 when it was run at Bay Meadows, went on to win the Kentucky Derby and Preakness. And Tabasco Cat won the Preakness and Belmont Stakes in 1994 after winning the race.
But now, in an era where Triple Crown horses are determined by a back-end-loaded points system, as opposed to a win in February, it's unlikely that a Bay area horse has a legit shot to win one of the biggest races of the year.
Until now.
Anothertwistafate, who won the El Camino Real on Feb. 16 by seven lengths, is the third favorite at 6-1 in Saturday's race.
The job of getting this3-year-old colt ready belongs to 44-year-old Blaine Wright, who shuttles between stables at Golden Gate and Emerald Downs in Washington. He has six graded stakes wins in a little more than a decade of training.
Is he excited or scared?
"I think both but at different times," Wright said. "I've been waiting to run this horse. I was disappointed to not be able to run him in the [Kentucky] Derby. But at the same time, I do have trouble sleeping at night. I just wake up [thinking about the Preakness]."
Anothertwistafate only got 10 Derby qualifying points by winning the El Camino Real and then finished second in both the Sunland Derby and Lexington Stakes, both second-tier Derby preps, leaving him short of making the field of 20 at Churchill Downs. Still, the horse was shipped to Louisville after the Lexington.
"We could have entered as an also eligible," Wright said. "But, who wants to pay $50,000 for a speed horse to enter and then be put in the 20 hole. (Also, eligibles are put in the most outside posts.) Why not go home and get five weeks [rest] to the race. If he doesn't run good [in the Derby], we wouldn't run back in two weeks [for the free trip to the Preakness]."
As with any horse from Golden Gate Fields there is the concern about switching from a synthetic racing surface to a dirt one. Golden Gate remains one of the few tracks that still has a synthetic surface, in this case Tapeta.
The colt's first race was at Santa Anita, where he finished ninth. His next three, all on synthetics, were wins. His final two, on dirt, he finished second.
"I'm not disappointed in his dirt races," Wright said. "It never fazed me a bit. … His first race wasn't that bad. We had missed a few works with a foot issue. He wasn't supposed to be in a sprint (six furlongs). He's a natural route horse. I thought he was good enough, but the sprinters kicked on at the 3/8ths poll. If you watched the head-on, he had a terrific gallop out."
His next three races, all wins, were at 11/16 miles, 1 mile and 11/8 miles. The Preakness is the shortest of the three Triple Crown races at 13/16 miles.
It was that third win, in the El Camino Real, that started to turn some heads and stir up some dreams.
"I never said a word to anybody," Wright said. "But I knew he was sitting on a tremendous performance. We just needed to do it. I was nervous [because I knew how good he could be]. You don't see a performance like that at Golden Gate."
Golden Gate has embraced this horse, even to the point of declaring it "our" horse.
"Going to the Preakness means so much to us," said Matt Dinerman, race caller at Golden Gate Fields. "You don't see it very often when one of our horses travels to face other horses on the country's biggest stage. He's helped build a community that is squarely behind him.
"You should have seen his last two races. The bars [at the track] were going wild during his race. The grandstand was going crazy. To have a representative running at this level is not only humbling but very exciting."
The success will also have a profound impact on Wright's business. He has about 100 horses between Golden Gate and Emerald Downs and more good performances can only lead to him getting better horses.
"[Wright] knows each and every one of his horses, regardless of it's a $5,000 claimer or Anothertwistafate" Dinerman said. "That helps him identify each horse's strengths and allows him to place them accordingly."
On Saturday, the horse racing community in the Bay area knows where he's got his best horse placed.
---
Get our high school sports newsletter
Prep Rally is devoted to the SoCal high school sports experience, bringing you scores, stories and a behind-the-scenes look at what makes prep sports so popular.
You may occasionally receive promotional content from the Los Angeles Times.