Alabama remains at the top in this week's top 25 poll while the top 10 welcomes Notre Dame and Stanford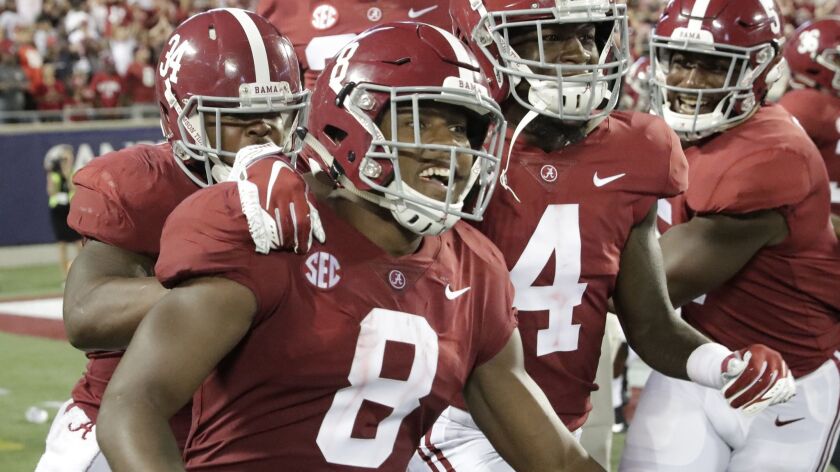 The latest Associated Press top 25 football rankings showed little movement within the top five with Ohio State and Wisconsin flipping spots while the top 10 welcomed new members to the club.
Alabama repeated again at the top spot, receiving 48 first-place votes, followed by Clemson at No. 2 with 12 first-place votes, Georgia, Ohio State, and then Wisconsin receiving one first-place vote.
Washington's loss to Auburn this weekend dropped them only three spots to No. 9 while Auburn gained two spots, up to No. 7. Notre Dame's win over Michigan impressed pollsters, moving them into the top 10 at No. 8. while Michigan fell from No. 14 to No. 21.
The biggest gainers where Louisiana State and Virginia Tech. The Tigers' win over the University of Miami impressed voters enough to jump them from No. 25 to No. 11 while the Hokies' win over Florida State vaulted them from No. 20 to No. 12.
On the other hand, the University of Miami's loss to Louisiana State dropped them from No. 8 to No. 22 while Florida State dropped out completely from the poll.
Newcomers to the poll include Southeastern Conference rivals South Carolina and Florida.
Pollsters seemed not to be impressed with USC's 43-21 win over Nevada Las Vegas as they dropped the Trojans two spots to No. 17.
Other Pac-12 teams ranked in this week's poll include Stanford at No. 10 and Oregon at No. 23. Utah received 71 votes.
1. Alabama
2. Clemson
3. Georgia
4. Ohio State
5. Wisconsin
6. Oklahoma
7. Auburn
8. Notre Dame
9. Washington
10. Stanford
11. Louisiana State
12. Virginia Tech
13. Penn State
14. West Virginia
15. Michigan State
16. Texas Christian
17. USC
18. Mississippi State
19. Central Florida
20. Boise State
21. Michigan
22. University of Miami
23. Oregon
24. South Carolina
25. Florida
The next poll will be released on Sunday.
Twitter: @edmgonzalez
---
Get the latest on L.A.'s teams in the daily Sports Report newsletter.
You may occasionally receive promotional content from the Los Angeles Times.