Players skipping bowl games isn't the big issue it was only recently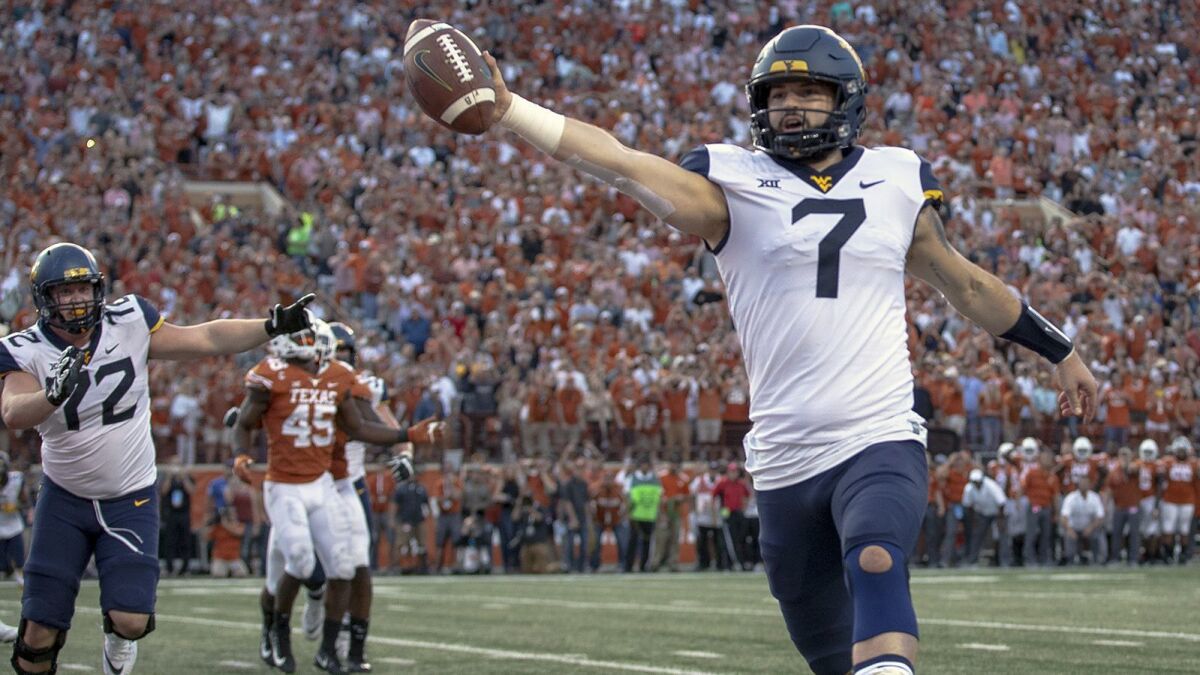 There was no hint of vitriol in the statement released by Dana Holgorsen. No disapproval. Not even disappointment.
The West Virginia coach seemed comfortable with the idea that his team will head for the Camping World Bowl minus star quarterback Will Grier, who has decided to skip the game as he prepares for the NFL draft.
"Will and I spoke at length about the bowl game," Holgorsen said. "And I am fully supportive of his decision."
Which pretty much summarizes the mood around college football as bowl season begins Saturday.
Just two years ago, running backs Christian McCaffrey and Leonard Fournette prompted widespread consternation when they decided to bypass the postseason for fear of injury.
This fall, with no less than a dozen top-shelf players making the same decision, the response has been muted, if not accepting.
At Arizona State, where All-Pac-12 receiver N'Keal Harry has opted out of the Las Vegas Bowl, coach Herm Edwards praised his player's clear thinking.
"This was his choice and I told him it was his choice," Edwards said. "It was the right decision because he made it on his own, which is good."
Not that everyone is falling in line with the trend. Ohio State defensive lineman Dre'Mont Jones has vowed to stick with his team through the Rose Bowl. At Missouri, quarterback Drew Lock harbors similar feelings about the Liberty Bowl.
"To back out and not play this last game, I think it would put a bad taste in peoples' mouths, including my own," Lock told reporters. "I'd look back at it a couple years later and I'd probably regret it."
But across the nation, the list of teams that will play at less than full strength through December and January has continued to grow.
In addition to losing Grier, who finished fourth in the recent Heisman Trophy balloting, West Virginia will be without offensive lineman Yodny Cajuste. Oklahoma State won't have running back Justice Hill and offensive lineman Larry Williams.
Michigan defensive lineman Rashan Gary will sit out, as will Houston defensive lineman Ed Oliver, Louisiana State cornerback Greedy Williams and South Carolina receiver Deebo Samuel.
These players have issued statements giving thanks to their programs and the fans. They have spoken about praying over the matter and holding discussions with family members.
"As much as I would love to suit up one last time for the Gamecocks," Samuel said on Instagram, "having those extra weeks to better prepare for the NFL will be crucial."
Consider it another step in college sports' relentless march toward professionalism, not unlike players leaving school early to turn pro.
Skirting the postseason makes a certain amount of sense if only because the young men are so close — just one game — from the prospect of signing a multimillion-dollar contract.
They also have some frightening history to consider.
Every once in a while, a projected high-round pick is badly injured in his final game. The 2015-16 season served as a tipping point, with Notre Dame linebacker Jaylon Smith tearing knee ligaments and suffering nerve damage in the Fiesta Bowl; he subsequently dropped to the second round of the NFL draft and signed for millions of dollars less.
The following season, Fournette of Louisiana State and McCaffrey of Stanford left their teams at the conclusion of the regular season. Both ended up as top-10 picks.
"Very tough decision," McCaffrey tweeted at the time.
Among those skipping bowl games this fall, Gary has battled a sore shoulder and Samuel is being cautious, perhaps, after missing most of 2017 with a broken leg. Williams, the LSU cornerback, has talked about needing to support his young daughter.
College athletes can purchase insurance policies against injuries that might cost them in the draft, but the premiums are not cheap. Also, a lump-sum check offers limited compensation to a young man who has been working for years toward a goal.
As Gary spoke about in a social media video, playing in the NFL would be "a dream come true."
As for coaches, the trend has forced them to tread lightly.
Certainly they want their best athletes on the field for the biggest game of the season. But railing against skippers could hurt their chances of recruiting blue-chip prospects, who are already thinking ahead to a pro career.
So their public responses tend to fall in the "supportive" category. That applies to LSU coach Ed Orgeron, who was caught off guard by Williams' announcement.
"We were going to have a final meeting," Orgeron said, "But if that's what him and his family wants …."
The only coach to express even modest displeasure was Kirk Ferentz at Iowa.
"We are disappointed Noah will not be finishing the season with his teammates," he said in a statement after tight end Noah Fant backed out of the Outback Bowl.
Fant will miss a relatively prestigious game. The same goes for LSU's Williams with the Fiesta Bowl and Michigan's Gary with the Peach.
Can others be blamed for not wanting to risk their professional futures on the Quick Lane Bowl? The Armed Forces Bowl? The Belk Bowl?
Reluctant players underscore the impression of a postseason grown bloated with games created solely for television content. This has added fuel to demands for an expanded College Football Playoff that would make a larger portion of the bowl schedule meaningful.
Like a lot of coaches, Edwards seems to accept the new reality of players deciding to end their seasons a game early. Asked about losing his best receiver at a recent news conference, the Arizona State coach chose to look on the bright side.
"We're fortunate that the quarterback is playing," he said, referring to senior Manny Wilkins. "I'm glad he's with us."
And that might be the consensus in college football from now on. At least until the first time a star player decides to skip the national championship.
Follow @LAtimesWharton on Twitter
---
Get our high school sports newsletter
Prep Rally is devoted to the SoCal high school sports experience, bringing you scores, stories and a behind-the-scenes look at what makes prep sports so popular.
You may occasionally receive promotional content from the Los Angeles Times.