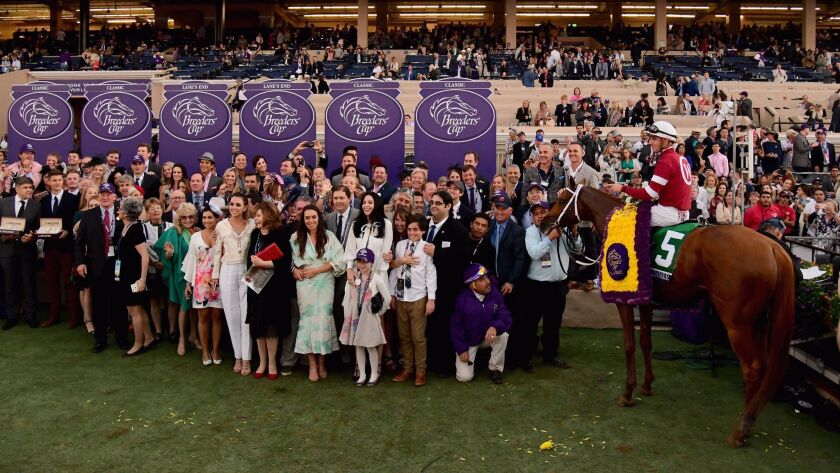 Reporting from DEL MAR —
Over the weekend of the Breeders' Cup, Joe Harper heard it often.
"Why don't they have the Breeders' Cup here every year?"
That pleased and also raised the hair on the back of the neck of the chief executive and president of Del Mar Thoroughbred Club.
Holding the 34th Breeders' Cup had been the biggest undertaking in the history of the club. The thought of turning it all around in 12 months could have sent Harper into early retirement.
As Harper points out, horse racing's world championships were meant to travel around to produce excitement among various racing communities. As it is, the event will go to Churchill Downs in 2018 for the ninth time.
However, the enthusiastic questions for Harper confirmed what he had hoped: Many people involved in this year's Breeders' Cup, from owners to fans to area merchants, want to see the event come back.
It appears very likely that will happen.
"My preliminary read is that it's a place we have to come back to," Craig Fravel, chief executive and president of the Breeders' Cup, said Sunday. "I got 20 emails from people saying that it was a home run. The overall experience was great.
"So many people hadn't been here before. And to have that kind of sunshiny day [Saturday], that was the icing on the cake. It couldn't have been a more beautiful day at Del Mar."
When the Breeders' Cup returns will depend on how the next few years' schedules shake out. After Churchill Downs, the event could return to Santa Anita. Then it might go back East, possibly to New York if some political issues are worked out. New York hasn't had a Breeders' Cup since 2005 at Belmont Park. Or it could return to Keeneland, in Kentucky, which had a successful first hosting in 2015.
What clearly is coveted is the West Coast television time, which put Saturday's Classic on NBC in prime time in the East and Midwest. So if the Breeders' Cup wants to return to the West Coast in, say, 2021, Del Mar would be happy to have it. (That would make for a big event year in San Diego, with Torrey Pines hosting the 2021 U.S. Open.)
"I would think somewhere around that would work, if they still like us," Harper said. "Obviously, we'll be honored to put in on any year they want."
Fravel said he heard almost all positives from around the track, with the biggest glitch being a bottleneck at the entry gates Friday because of security measures. Those were addressed and the wait was reduced Saturday, he said.
4-year-old son of Candy Ride takes $6 million race at Del Mar
From the trainers and various workers on the backstretch, "I didn't hear a single complaint from anybody," Fravel said.
Betting is the lifeblood of racing, and in that regard the Breeders' Cup was never more successful than at Del Mar.
According to Breeders' Cup officials, the two-day, on-track wagering total was $25,181,317 — the highest ever for the event, which was expanded from one day to two in 2007. That handle was a 21.4% increase over the two-day total at Santa Anita in 2016.
The total combined handle of on- and off-track betting for the two days was $166,077,486 — an increase of 5.9% over last year and the highest since the 2010 Breeders' Cup at Churchill Downs, when there were two additional races.
The numbers are particularly impressive considering Del Mar attendance was capped at about 37,500 each day [Saturday's crowd was announced at 37,692]. Of the attendees, Fravel said more than 70% were from out of town.
"Probably the one thing I worried about last week was if the on-track handle could match last year's numbers," Fravel said. "The fact that we grew by 21% is a huge tribute to the people who came, to their enthusiasm for the sport. That couldn't have turned out any better."
Fravel credited the Del Mar vibe with being a factor in the wagering.
"One of the things people said a lot is that everybody seems to be relaxed here," he said. "People were having a good time and enjoying it. … The people who come to Breeders' Cups, they're horse racing fans. They save up for this."
The handicapping at Del Mar turned out to be quite the puzzle, with only two favorites over 13 races winning. The first three winners Saturday paid $36.60, $62.40 and $135.40 on $2 win tickets.
"The Breeders' Cup always has long shots win. They are incredibly hard races to predict," Fravel said. "They're a challenge because every horse in there is a quality contender. It doesn't surprise me."
---