Storylines to look for in this weekend's Breeders' Cup at Del Mar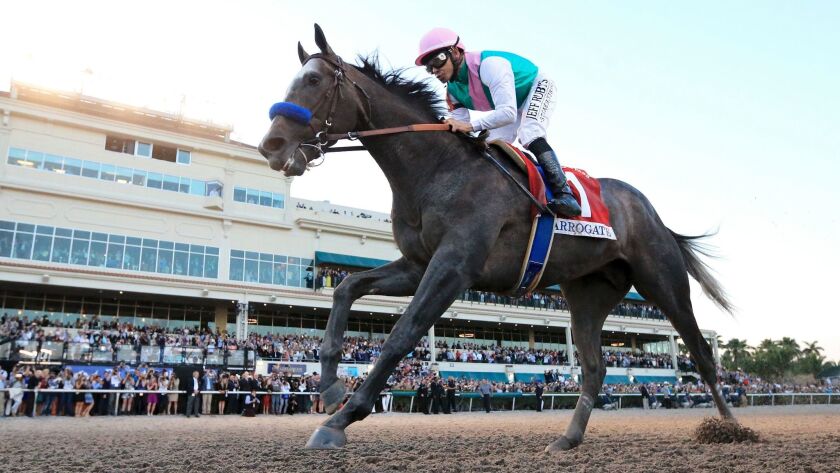 Last year's Breeders' Cup was filled with anticipation over a couple of magical matchups. There was Arrogate, the superstar on the rise, against California Chrome, the most popular horse in the world. And then there was retiring Beholder against unbeaten Songbird.
It's unlikely we'll see an epic stretch duel like there was in the Distaff and there certainly won't be 70,000-plus roaring during the final strides of the Classic. Del Mar, host of this year's equine world championships, is capped at 37,500 because the location of the track just isn't conducive to massive crowds.
The best thing about the where-the-turf-meets-the-surf racetrack is that there seems to be little talk about the safety of the racing surface. During last year's summer meeting, 17 horses died, a very high number.
Joe Harper, Del Mar president, knew he had a problem. So he hired Santa Anita track superintendent Dennis Moore to fix the track. In this year's summer meeting, six horses died: four racing, one during training and one had a heart attack.
"The fatalities were way down, and that's what we wanted," Moore told Tod Leonard of the San Diego Union-Tribune. "I'd rather not have any fatalities, but some things you can't control. Horses are going to break down."
With that question hopefully not a factor, here are five storylines you can expect to see Friday and Saturday at the Breeders' Cup.
Who's going to win the $6-million Classic?
That's easy, Bob Baffert … or Steve Asmussen. Well, not them, but their horses and that's where Baffert has the edge. It looks as if he will have four starters in the Classic: Arrogate, West Coast, Collected and Mubtaahij. Arrogate is the defending champion and the third straight Classic winner for Baffert.
Asmussen has Gun Runner, who has five wins in his last six starts. The only loss among those races is a second to Arrogate in the Dubai World Cup.
"I feel that he's at a very high level in the way that he's running, as fast as he's running," Asmussen said. "As far as Del Mar and never running over the racetrack, he has accepted quite a few racetracks. … [I have] nothing but respect for a deep and quality field in this year's Classic."
Isn't it true that Arrogate doesn't like the Del Mar surface?
You can make a case for that. He ran a lackluster fourth in the San Diego Handicap and then finished second to stablemate Collected in the Pacific Classic.
Here's how Baffert explained it to The Times a few weeks ago.
"When we first got in there it was a totally different kind of surface," Baffert said. "A lot of horses were struggling with it. The last couple weeks it started playing like the old Del Mar.… We don't know what's it's going to be like but you can't worry about that."
Baffert, unnecessarily, then fell on his sword about Arrogate's less-than-impressive summer.
"I think a lot of it was backing him up to 1-1/16 in the San Diego, he said. "I went into waters that are uncharted. If I had to do it over, I would have stuck to my plan and pointed him to the [Pacific Classic at 1¼ miles]. I really threw his psyche completely off by shortening him up. You learn from your losses. I learned more from American Pharoah when he got beat at Saratoga."
What is this year's feel-good story?
Another easy one—Lady Eli in the Filly & Mare Turf race. By everything logical, this mare is lucky to be alive, nonetheless racing at such a high level. As a 3-year-old two years ago she stepped on a nail and developed laminitis in her front two legs. Some of the best horses such as Secretariat and Barbaro have died from this foot and weight-bearing disease.
But she didn't.
She missed more than a year from racing but came back strong. In seven races, she has four wins and three seconds.
"I think for the sport, it's been a great story on many fronts about what horses can overcome," trainer Chad Brown said. "It makes a lot of people more aware about what laminitis is and the possible treatments now with advanced technology. And just the will to win."
Will the next Kentucky Derby winner be in the Juvenile?
History would tell you no. Only two horses have ever won the Juvenile and the Kentucky Derby – Street Sense (2007) and Nyquist (2016). In fact, in the last five years, only one of the Derby winners has even raced in the Juvenile (Nyquist).
This year's hot horse is Bolt D'Oro, trained and owned by Mick Ruis. Early indications are this colt is the real deal. Ruis seems to have a Midas touch with whatever he does, as he was a multimillionaire from the scaffolding business before rejoining the training ranks.
Bolt has blown away the West Coast competition, going undefeated in three starts. But, he has yet to face the best from the East, which includes Free Drop Billy, winner of the Grade 1 Claiborne Breeders Futurity, and Firenze Fire, who won the Champagne Stakes, once the springboard for Seattle Slew.
Is there a budding Zenyatta on the female side?
There will never be another Zenyatta. But we may be seeing the swan song of Stellar Wind, who spent part of her career being overshadowed by now retired Beholder.
Stellar Wind, for trainer John Sadler and Hronis Racing, has won 10 of 15 races lifetime, including wins this year in Grade 1s in the Apple Blossom at Oaklawn, the Beholder Mile at Santa Anita and Clement L. Hirsch at Del Mar.
Forever Unbridled should prove to be formidable in the Distaff and if Paradise Woods can return to top form, she too could be a force.
---
Get the latest on L.A.'s teams in the daily Sports Report newsletter.
You may occasionally receive promotional content from the Los Angeles Times.