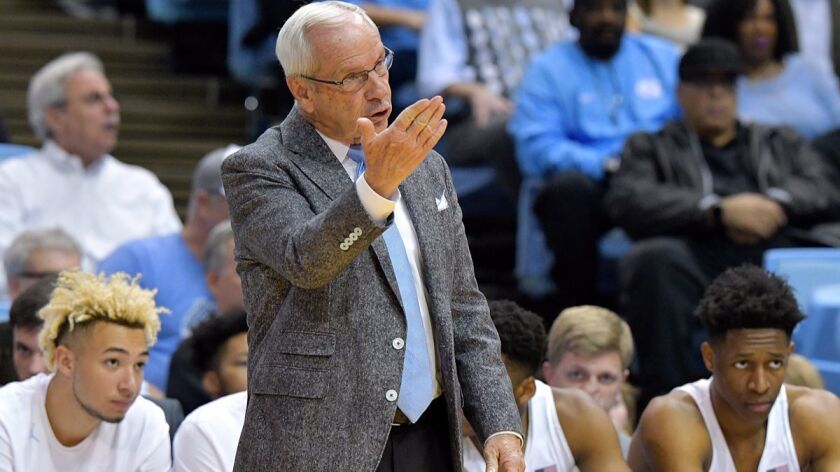 North Carolina's Joel Berry came back. So did Bucknell.
The ninth-ranked Tar Heels held on to beat the feisty Bison 93-81 on Wednesday, giving coach Roy Williams his 400th victory at his alma mater.
Luke Maye scored 20 points and hit an important three-pointer down the stretch and Theo Pinson added a career-high 19 points for North Carolina (2-0) in the on-campus round of the PK80.
The Tar Heels shot 47% and welcomed back Berry — the Final Four's most outstanding player — on the same day Cameron Johnson was lost for 4-6 weeks following knee surgery.
at No. 14 Minnesota 107, Niagara 81: Amir Coffey, Reggie Lynch and Jordan Murphy all scored 18 points for the Golden Gophers (3-0). Lynch and Murphy posted double-doubles, with Lynch grabbing a team-high 12 rebounds and Murphy 11.
Creighton 92, at No. 20 Northwestern 88: Khyri Thomas had a career-high 24 points and 11 rebounds for the Bluejays (3-0) in a Gavitt Tipoff Games matchup. The Wildcats (2-1) rallied from a 15-point first-half deficit to take the lead in the second half but couldn't maintain the momentum.
at No. 22 Seton Hall 84, Indiana 68: Desi Rodriguez scored 23 points, keying a balanced scoring attack for the Pirates in the Gavitt Tipoff Games. Angel Delgado scored 15 of his 19 points in the second half and also grabbed 11 rebounds for the Pirates (3-0).
at No. 24 West Virginia 98, American 64: Jevon Carter and Daxter Miles each scored 20 points for the Mountaineers (1-1), who shook off a poor-shooting first half to get the win.
SOUTHLAND
MEN
at No. 21 St. Mary's 76, Cal State Fullerton 57: Calvin Hermanson scored 22 points for the Gaels (3-0), who used a big second half to pull away from the Titans. Fullerton shot 66.8% in the first half but trailed 39-31 at halftime in large part because of 13 turnovers. The Titans (0-2) were outscored 31-5 off turnovers in the game.
at Pittsburgh 70, UC Santa Barbara 62: Ryan Luther had 13 points and 10 rebounds to help the Panthers get their first win of the season. The Panthers were outplayed for much of the game but made seven of eight free throws in the final minute to seal the victory.
at Loyola Marymount 76, UC Riverside 64: Freshman Eli Scott scored 21 points and grabbed six rebounds, and 7-foot-3 sophomore Mattias Markusson added a career-high 14 points for the Lions. Trailing 12-8, the Lions took the lead for good with a 14-3 run.
---