As college football prepares to kick off a new season, a new kickoff rule has people talking
It isn't hard to fathom why Deebo Samuel likes returning kicks.
Just watch highlight video of the South Carolina star flashing a quick move, breaking free and finding another gear as he sprints down the sideline. Three times in the last two seasons, he has raced the length of the field for touchdowns.
So when Samuel was asked about college football's new kickoff rule, he ducked his head and laughed.
"I mean, we didn't really pay that no attention," he said. "Because I don't think we're going to be fair-catching any kick returns."
This season, a fair catch anywhere inside the 25-yard line will be treated as a touchback, with officials blowing their whistles and automatically placing the ball at the 25.
NCAA leaders are hoping to discourage returns, taking the sting out of a play that can be electrifying but produces an outsized share of concussions. Think about it — when you have 11 defenders charging downfield, high-speed collisions are inevitable.
Reaction to the change has been mixed.
Though injuries, especially those to the head, remain a major concern, coaches and returners must now wrestle with a new kind of decision over when to stay and when to go. Kickers might need to change their strategy, too.
Purists have a broader concern. They worry about fundamentally altering the game.
"I think it's a precursor to doing away with kickoffs altogether," Utah coach Kyle Whittingham said, adding "the normal kickoff return is going to become a dinosaur."
::
A few weeks have passed since North Carolina coach Larry Fedora declared: "I believe the game is under attack."
Speaking to reporters at the Atlantic Coast Conference media days, Fedora questioned widely accepted studies that link concussions to a degenerative brain disease known as chronic traumatic encephalopathy, or CTE.
"I blame a groundswell of data that is tweaked one way or the other," he said.
Fedora also denounced adjustments to the rule book.
"I fear that the game will get pushed so far to one extreme that you won't recognize the game 10 years from now," he said. "That's what I worry about. And I do believe that if it gets to that point, that our country goes down, too."
College football quickly shot back, ACC Commissioner John Swofford insisting "we have to respect the science." At Florida Atlantic, coach Lane Kiffin said, "The changes in the game that continue to come are going to help people's concerns" about CTE.
NFL statistics have shown that concussions are five times more likely on kickoffs than on the average play, a league executive told ESPN last spring. Independent studies have similarly found a higher incidence of severe injuries.
"Plays that result in a touchback, there's still blocking going on, but the injury rate on kickoffs comes down significantly," said Steve Shaw, head of officiating for the Southeastern Conference.
As one of the oldest and most basic plays in football, the kickoff is delineated in rule books dating to the late 1800s. It has been adjusted numerous times since then, with the tee moved from midfield to the 40-yard line, then to the 30.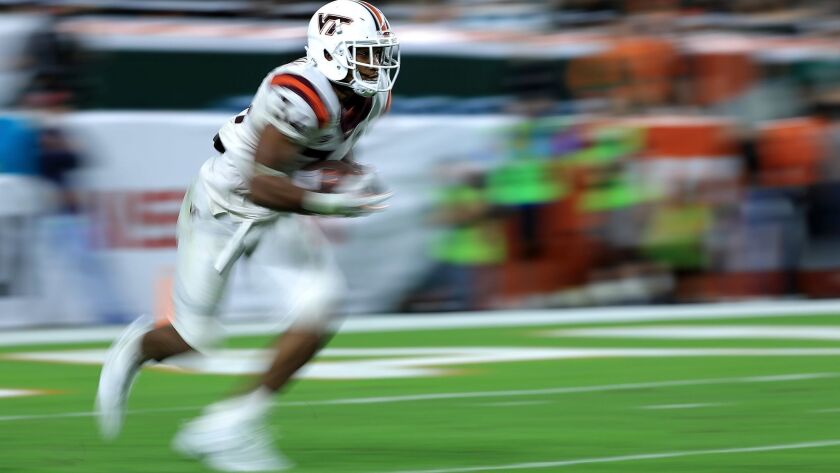 Before the 2012 season, concerned NCAA officials reversed this trend by moving kicks to the 35 so more balls might sail through the end zone. They put touchbacks into play at the 25 instead of the 20.
Last spring, the Playing Rules Oversight Panel announced the further modification "in hopes of making the play safer."
The practical effects might seem minimal, shifting the starting point of an ensuing drive a few yards in either direction, but coaches tend to obsess over such minutiae.
Speedy returners might be instructed to gamble and, conversely, teams that struggle with returns "will probably fair catch as many balls as they can," said Georgia Tech coach Paul Johnson, whose Yellow Jackets averaged only 19 yards a return last season.
The choice ultimately rests with players who aren't accustomed to raising a hand unless they are standing deep in the end zone. They need to "be schooled up when to make that fair catch, how to do it," Whittingham said.
"If you have a ball that hangs up pretty good, drops at the five-yard line, do you want to give that guy a chance to get the ball in his hands or do you want to take the safe play and put it on the 25?" the coach asked.
This uncharted territory has people in and around the game wondering what might happen in the fall. Echoing a widespread sentiment, Washington State coach Mike Leach expects that kickers will try to force returns with squibs and low line drives.
"I'm kind of curious how it goes," Leach said. "I think you'll see a lot more kicks on the ground."
::
Fiddling with the kickoff doesn't bother Duke coach David Cutcliffe.
"We're going to continue, if we're smart, to see the game morph," Cutcliffe said. "I'm excited to see what the future brings as opposed to these people that want to act like it's doomsday."
At Stanford, coach David Shaw said he and many of his colleagues still love the play and its capacity for thrilling, open-field runs. He characterized the new rule as "an attempt to see how can we salvage this."
Much will depend on the next few months. Will the change, like those that came before, reduce injuries?
"We'll have to see the results … to see what's best for the health of our players and the health of the game," Shaw said.
Some returners appear to have already made up their minds. Fedora's top guy, Anthony Ratliff-Williams, ranked 12th in the nation with an average of 26.3 yards last season.
"Definitely when I get the opportunity to return it, I'm definitely trying to go for six," the junior said. "I feel like any returner in the country would do the same."
Even though Samuel's 2017 season was cut short by a fractured leg — on a pass play — he affected the first two games on kickoffs.
In the opener against North Carolina State, he ran 97 yards to the end zone. The next week, at Missouri, he broke another return for a second-quarter score that Gamecocks coach Will Muschamp called "a huge momentum swing in the game."
Heading into summer camp, a fully recovered Samuel is looking forward to his next chance at making something happen.
"Every time I see the ball kicked off the tee, I'm wondering," he said. "I'm like, where's the hole going to be that I'm going to see the crease and score another touchdown?"
Nothing in the rule book, it seems, can change that.
Follow @LAtimesWharton on Twitter
---
Get our high school sports newsletter
Prep Rally is devoted to the SoCal high school sports experience, bringing you scores, stories and a behind-the-scenes look at what makes prep sports so popular.
You may occasionally receive promotional content from the Los Angeles Times.