Bubba Wallace is making a name for himself on the NASCAR circuit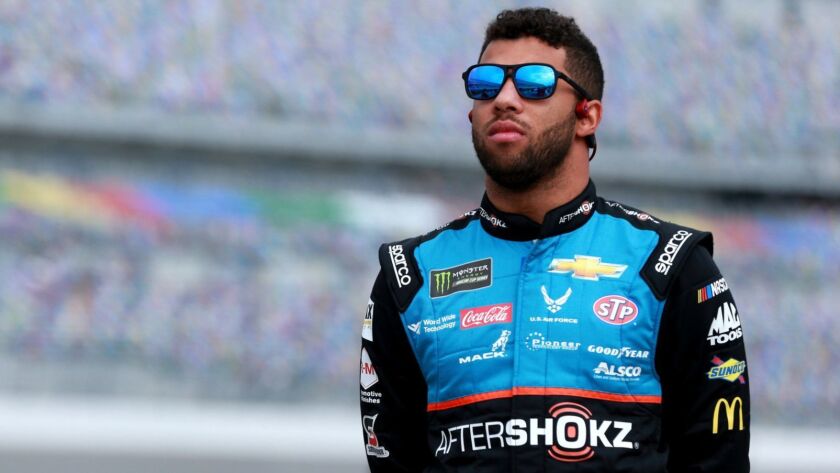 Reporting from daytona beach, fla. —
Desi Wallace was sitting around the pit area with her son Darrell, known better by his nickname Bubba, unusual for an African-American man in the South. He had just won a K&N development series race at Richmond (Va.) Raceway and they were watching his crew load equipment onto the truck. Mom thought this would be a good time to give her then 17-year-old son a teachable moment.
"I'm looking up in the stands and I'm seeing all these people cleaning up the trash," Desi Wallace said. "I say, 'Bubba, come here for a minute. I want you to look and tell me what you see.' "
"People cleaning up the stands, Ma," he said. "Where are you going with this?"
"What color are they?" she asked.
"Black," he said.
"You should have a problem with that," his mother said. "You're a black man and you're going to be the guy that changes the face of NASCAR. Instead of cleaning the stands, they need to be in the stands cheering you on."
He gets that now. Last year he became the first full-time African-American driver on NASCAR's top circuit in 45 years, following in the lone footsteps of Wendell Scott. And when he was second in last year's Daytona 500, it was the highest finish by an African American in the sport's signature race.
NASCAR realizes the potential of Wallace, now 25. He recently was on the "Today Show" driving Al Roker around the Charlotte (N.C.) Motor Speedway. Before he arrived at Daytona, NASCAR dispatched him to the Overtown neighborhood of Miami, originally called Colored Town, as part of Black History Month.
"Don't get me wrong, it's a lot," Wallace said of his out-front role in NASCAR's attempt to market to minorities. "But it's all part of it. In the end you have to see who does it reach? Who does it touch? You've got to look at all the things you do and how to reach someone special. Now, it's a matter of if they act on it or not. We'll see."
Wallace could not be a better ambassador for the sport. He's extremely engaging, quick-witted and can talk more than horsepower. He often punctuates his conversation with sarcasm and enjoys exchanging barbs with his audience.
He says he doesn't like to be on a pedestal, but that's where he's found himself.
"Because you have to watch what you say and what you do," Wallace said about the pitfalls of his position. "It's almost as if you get molded into somebody you don't want to be. That's when I say, 'Nah, forget it.' "
But he doesn't forget it. Pinned to the top of his Twitter page is this message: "There is only 1 driver from an African American background at the top level of our sport. I am the 1. You're not going to stop hearing about 'the black driver' for years. Embrace it, accept it and enjoy the journey."
It has not been a short journey.
Wallace has had the nickname Bubba almost since birth, given to him by his sister Brittany. The son of an interracial couple, his father, Darrell Sr., ran an industrial cleaning company and his mother, Desi, was a social worker.
Wallace first got into racing when his father would take him to race go-karts when he was 9.
"I went to a couple of his races and I didn't think he did that well," Desi Wallace said. "I didn't know if I was all that onboard with the crashing. … But it was either I had to get onboard or not let him compete like he wanted. In the end, I had to support him in whatever he wanted to do."
You have to watch what you say and what you do. It's almost as if you get molded into somebody you don't want to be. That's when I say, 'Nah.'
Bubba Wallace
In 2005, Wallace moved to Bandoleros, an entry-level cross between a kart and a car, where he won 35 of 48 races. From there he graduated to the Legends circuit, where he won 11 of 38 starts before moving to late models. In 2010, he joined the K&N Pro Series East and in two years was signed by Joe Gibbs Racing. While he was primarily in the beginner series, he ran four races in the Nationwide (now Xfinity) series.
He certainly put in his time in the lower divisions, winning six times in 36 races at K&N and six times in 27 races on the truck level mostly for Kyle Busch Motorsports. But things got tough when he started to run regularly in the Xfinity series. In five years he didn't win a race in 85 starts, mostly for Roush Fenway Racing.
In 2017, Aric Almirola, the regular driver for Richard Petty Motorsports, suffered a compressed fracture in his back and missed part of the season. Petty tapped Wallace to drive the iconic No. 43 in four of those races. Almirola left RPM and it was announced that Wallace would get the ride full time for the 2018 season.
"In those four races, I was very impressed with how he ran," Petty said. "Every race he was getting better and better. We knew Aric was going to leave, so I just said let's just stick with him."
Almirola came back to finish the season and Wallace's first race as a full-time driver for Petty was in the Daytona 500 last year. No one saw what was coming.
"That was definitely a surprise," Petty said of Wallace's second-place finish. "Everything just flowed his way. But mostly, he was able to stay out of the big wrecks. It sure was a good start but everything went downhill from there."
Wallace was still looking stunned after the race when he arrived at post-race news conference. Desi and sister Brittany came to join him on the stage and he broke down in tears at the sight of his family. It was the best kind of emotion.
"I was shedding a few tears for the TV ratings, trying to get them up," Wallace said jokingly this week. "It was all part of the plan and it worked out. I got a lot of people on my side after that. I've got to pump up the waterworks again."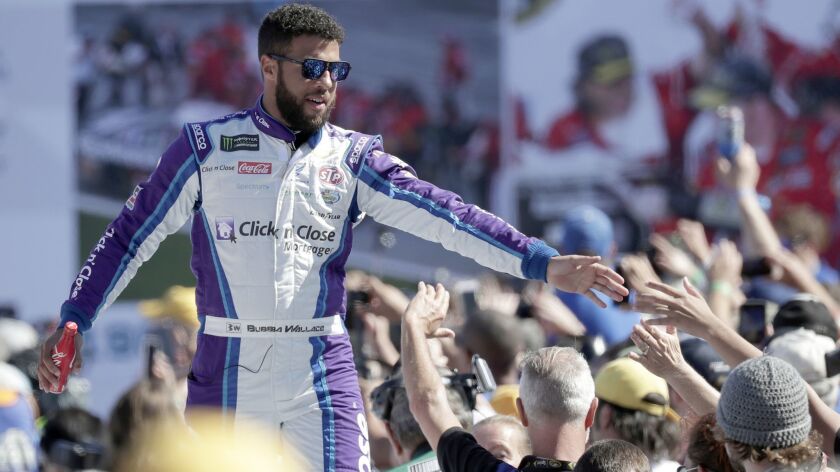 It was the highlight of his season. Wallace is still looking for his first win on the big NASCAR circuit. He ended the year with three top-10 finishes and was 28th in the standings.
Despite the august name of Petty, the operation is considered on the lower end of the spectrum, without the resources of the mega-teams. Wallace is the only driver at RPM and there is no major sponsorship for the entire season. AfterShokz, an open-ear headphone company, is the sponsor for the Daytona 500.
"We finished second. To be able to do that again, I don't know what the odds are, but they might be slim to none," Wallace said with a smile. "We just have to go out there and try our best and run our own race. … I don't know what the hell I did last year, but I'm going to try and do the same thing this year."
Petty's goal for the race is a bit more modest.
"My main deal for Sunday is to have him bring back four wheels and a steering wheel and then we'll be in good shape," Petty said.
No doubt, NASCAR has loftier goals for Wallace this year.
---
Get the latest on L.A.'s teams in the daily Sports Report newsletter.
You may occasionally receive promotional content from the Los Angeles Times.