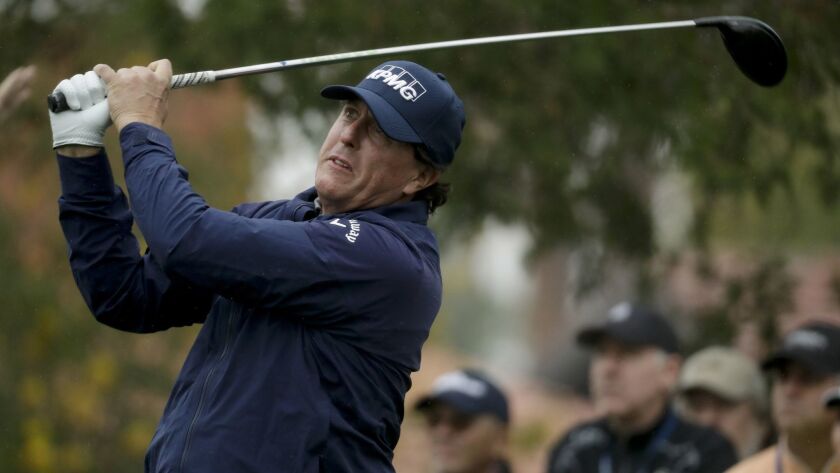 Phil Mickelson hadn't played a competitive round of golf since Thanksgiving weekend, when he collected a $9-million paycheck after outlasting Tiger Woods in their one-on-one made-for-pay-per-view showdown. That came on the heels of another frustrating season in which he failed to finish in the top 10 in his final 16 events and went winless in the U.S. Ryder Cup team's loss to Europe.
Thursday in the California desert, Mickelson rediscovered the million-dollar swing and putting stroke that have produced 43 victories over his Hall of Fame career.
In his first start of 2019, the 48-year-old left-hander was nearly flawless in shooting a 12-under-par 60 at La Quinta Country Club in the opening round of the Desert Classic. He had 10 birdies, an eagle and a broad smile that showed just what an unexpected pleasure a four-hour walk in a light rain could produce.
"I came in with very low expectations," Mickelson said afterward. "I haven't had a lot of time to practice and prepare …
"It was kind of a lucky day for me in the sense that I did not feel sharp heading in … but I felt like all parts were OK and it just clicked."
Mickelson birdied his first two holes, went birdie-eagle on the short par-five fifth and sixth holes and closed with another birdie to shoot six-under 30 on the front nine. His fifth birdie of the back nine, on No. 16, meant that a birdie-birdie finish would leave him at 59, matching the tournament-record score set by David Duval and equaled by Adam Hadwin. His 18-foot birdie putt on 17 slid past the hole and effectively ended that possibility.
Still, Mickelson is now the only player in tour history to have shot three competitive rounds of 60 or lower. (He did it twice in Phoenix, most recently in 2013.)
Sign up for our daily sports newsletter »
Wet weather is rarely a feature in this tournament; only three rounds have been called because of rain in the previous 59 years in the desert. A drizzle fell through most of the round at La Quinta, which is just enough closer to the Santa Rosa Mountains to generate a bit more moisture in the air than at PGA West. But as far as the couple of hundred spectators following Mickelson's every move were concerned, the weather was warm, clear and filled with optimism that one of the most popular players in golf history had found his game again.
Jeff Sanders, executive director of the tournament, walked with Mickelson for the last few holes and had the beaming look of a guy who had just won the lottery.
"There's nothing better than Phil Mickelson," he said. "This really sets us up the rest of the week. He's my favorite player, a friend; I hope he finishes strong.
"It's unbelievable, you wave your magic wand and this is what you get."
Tour rookie Adam Long made five birdies in a row in one stretch to shoot 63 on the Nicklaus Tournament course and is in second place, a shot ahead of Australian Curtis Luck, who shot 64 at La Quinta. Fourteen others were at least six under on a day the greens were softened a bit by the rain and conditions were ideal for scoring.
Defending champion Jon Rahm shot 66 at La Quinta. World No. 1 and reigning FedEx Cup champion Justin Rose birdied the last three holes on that course to finish at 68. Hadwin shot 65, the low score of the day on the tougher Stadium Course, where Sunday's final round will be played.
One reason for Mickelson's success Thursday was that his missed shots were never bad enough to cost him. He made birdies on the second and fifth holes after errant tee shots.
"Those two bad swings I got away with," he said, "made birdies on both holes, and that was kind of the key to the round."
On the 14th, after his approach shot fell short, he chipped in for birdie.
"That was an interesting shot," he said. "I could have easily lost one and I ended up picking one up."
The question now is whether Mickelson can build on this start. Recent history is against him. He won a World Golf Championship event in Mexico last March but faded the rest of the year and hadn't won a tournament the previous four years.
"It's very difficult to start a round and go low like this and then follow it up, because the expectations are anything short of a victory is a failure," he said.
"And yet we have three full rounds on some challenging golf courses with a lot of potential birdies. So, it's a tough position to be in, but it's one that I thoroughly enjoy."
---