Phil Mickelson still leads Desert Classic because of ability to recover from poor shots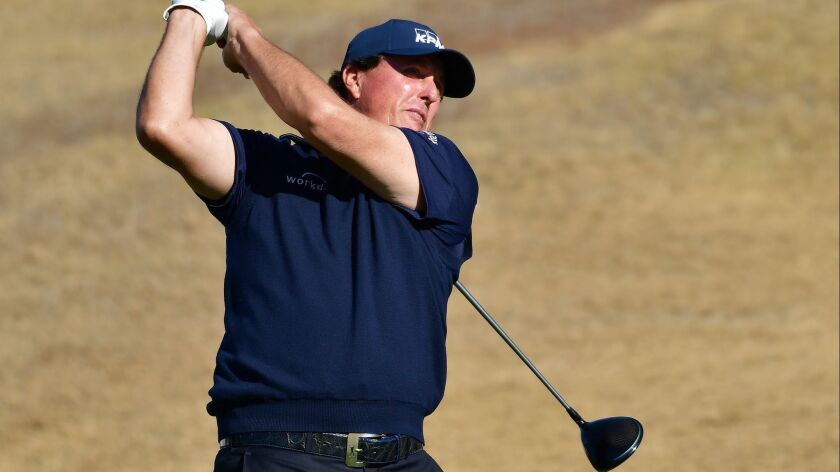 Phil Mickelson held on to his lead in the Desert Classic on Saturday by being, well, Phil Mickelson.
He sprayed his tee shots at the difficult Stadium Course at PGA West into areas that were more suited to roadrunners and other desert creatures, then recovered as only Mickelson seems to do to shoot a six-under-par 66 and take a two-stroke lead at 22 under into Sunday's final.
Adam Hadwin, a 31-year-old Canadian who plays these desert courses as if he designed them for his own game, shot a 65 on the Nicklaus Tournament course and, two shots behind in second, will be in the final group with Mickelson.
He couldn't have taken a more different route to the final group than Mickelson. Hadwin split fairways all day, hit greens, made plenty of routine birdies and went about his game calmly and efficiently.
They'll be joined by 31-year-old PGA Tour rookie Adam Long in the final group. Long had two eagles on the way to a 63 at La Quinta Country Club, leaving him in third at 19 under.
Hadwin, who shot 59 in this tournament two years ago, hasn't finished worse than sixth in the event in the last three years. He loves the layouts, plays very similar courses frequently near his home in Arizona and seemed to waste no energy in picking apart the Nicklaus course Saturday. He missed only two fairways and two greens.
"It was very kind of, I don't want to say ho hum because golf can never really be like that, but it was as stress free as possible," Hadwin said.
Is he as calm on the course as he appears?
"I certainly don't feel as comfortable as it's looking sometimes," he said.
"When you get up into a position near the top of the leaderboard, you know, nerves kick in and adrenaline and all that. So it's just a matter of controlling that and so far … I've been doing a good job of it."
Steve Marino, after a 67 on the Nicklaus course, is alone in fourth at 18 under.
Patrick Cantlay, the former UCLA standout, shot a 66 at La Quinta and is tied for fifth with 33-year-old journeyman Michael Thompson (65 on the Stadium) at 17 under.
Defending champion Jon Rahm, who shot 68 on the Stadium Course, heads a group of five players tied for seventh at 16 under.
Sign up for our daily sports newsletter »
World No. 1 Justin Rose shot his third consecutive 68 and is 10 shots off the lead. Charlie Reiter, a 19-year-old freshman at USC from Palm Desert, shot a 63, a tournament record for the Stadium course, but failed to make the cut by one at eight under.
It has long been said that Mickelson may be many things, but boring is not one of them. He took that to extremes Saturday.
The day before, he experimented on one putt with the flagstick in the hole, as is now allowed under revised rules, but said he didn't like it and wouldn't do it again. On his first putt Saturday from about 30 feet, he left the pin in again, ran his putt by the hole and didn't go back to that practice.
He hit only six of 14 fairways, but still hit 14 of 18 greens. Four of his six birdies came on putts of more than 21 feet, but no hole offered a more dramatic display of Golf the Phil Mickelson Way than the par-five 16th, a hole called the San Andreas Fault with its famous bunker 19 feet below the left side of the green.
Mickelson pulled his drive so far to the right that a spectator nearly picked it up, apparently figuring no one could possibly put a tee shot there. Faced with a 250-yard four-iron past a camera tower to the green, he blocked it to the left and ended up in the bunker, almost two stories below the green. (That as a spot where most amateurs hit a couple of shots into the bank, then pick the ball up and go to No. 17.) He spun his shot to nine feet from the pin and narrowly missed the birdie putt. That's what amounts to a routine par for Mickelson.
He couldn't make anything work in the opening holes Saturday. After missing his first four fairways and failing to convert birdie putts of 12 feet on No. 3 and five feet on No. 4, he finally made birdie by chipping in on No. 6.
"Yeah, every once in a while you just need that little putt, chip, something to fall and give you a little momentum," he said. "I followed that with two more birdies, so that was kind of the shot that ignited that little run and got the round going."
Don't look for Mickelson to back off Sunday.
"I think that the way I like to play, which is to swing hard, try to rip driver, get it down there by the greens and see if I can get some short irons and make birdies, is how it's going to play in tomorrow's round," he said.
"It's just fun to be in the final group … feel the nerves and the butterflies that comes with it."
---
Get our high school sports newsletter
Prep Rally is devoted to the SoCal high school sports experience, bringing you scores, stories and a behind-the-scenes look at what makes prep sports so popular.
You may occasionally receive promotional content from the Los Angeles Times.