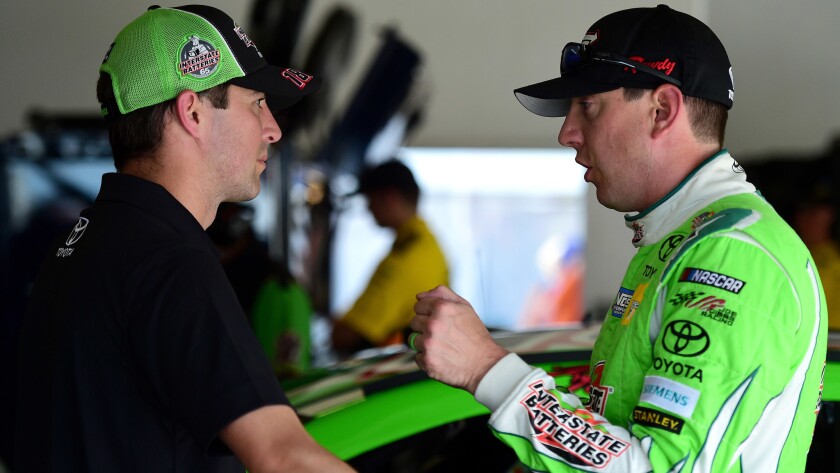 Kyle Busch should be a happy man. He is rolling along, with the fourth-most points in the Monster Energy NASCAR Cup standings, a reason to celebrate. Or not.
Instead, he is Pouty Face.
Busch has yet to win a points race despite six top-five finishes. It's a disappointing look for a driver who has won nine times over the last two seasons, which includes a championship run in 2015.
But there's more negative "juju." Busch, a volatile sort over the years, seems to be at war with the world.
He ripped Goodyear tires after crashing at Daytona to start the season. He started a brawl with Joey Logano and his crew members after a wreck in Las Vegas. He threw shade at Talladega by implying that it wasn't a real race track. He was then dismissive of Austin Dillon's victory at Charlotte in a video snippet that went viral in the NASCAR community.
These are not highly egregious offenses, but if you stitch them together they reflect badly on a man whose superb driving skills are often overshadowed by temperamental issues. Take the Charlotte example, where he could not pass Dillon in the closing laps.
He was then asked to put Dillon's victory in perspective.
"I'm not surprised about anything," Busch said. "Congratulations."
And then he dropped the microphone. No more questions. #Soreloser.
"There are some really funny bounces in life, especially in this motorsports world," said Brad Keselowski, a frequent antagonist with Busch. "But your desire to win is not connected to how angry you get.
"That's one way of expressing it, but it's not the only way to win. So when people go out and write articles or the media comes out and says that's a reflection of him having the most desire to win makes me want to throw up. Not only is that a terrible message to send to anyone who's aspiring to be a part of the sport, it's a terrible message to send to anybody in general in this world — that it's a reflection of your desire to win."
Busch has a chance for a reset at Daytona International Speedway on Saturday night. He has a chance to send another message to the world by winning — or at the very least, not coming across as an ungracious loser.
Either or, the hope is that nobody wants to get sick afterward.
sports@latimes.com
---