NCAA tournament, East Regional: Duke routs North Dakota State; Liberty upsets Mississippi State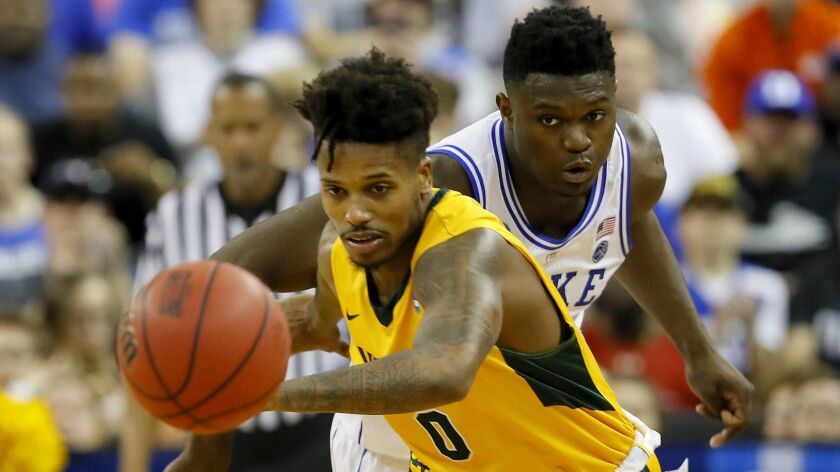 Zion Williamson had an explosive NCAA Tournament debut with 25 points and a can't-miss second-half showcase to lead top-seeded Duke to an 85-62 win over North Dakota State on Friday night.
RJ Barrett led Duke with 26 points and 14 rebounds and combined with Williamson for a prolific showing for the freshmen stars. But it was Williamson who could not be contained in the second half and he turned a tight early contest into a Duke runaway in the first round of the East Region.
Duke led just 31-27 at halftime but Williamson took over after the break. He opened the half by driving on two defenders for a layup that drew a foul. He missed the free throw but Williamson answered with a monster slam.
The highlight, though, came moments later on Williamsson's breathtaking dribble-behind-his-back-after-chasing-down-his-own-steal layup.
The 6-foot-7, 285-pound freshman outran 5-foot-11 190-pound Vinnie Shahid of North Dakota State for the ball after he tipped it for a steal. Williamson then dribbled behind his back, briefly losing and regaining his balance with a hand on the floor. That cleared room for Williamson to get to the lane and go up and under for a layup.
Just like that, the Blue Devils were up 40-27 and cruising.
The Bison (19-16) never recovered.
Barrett and Williamson gave Duke two players with 20 or more points in their NCAA Tournament debut for the first time since Mark Alarie and Johnny Dawkins did it in 1984.
The Blue Devils (31-5) will face either eighth-seeded VCU or No. 9 seed UCF on Sunday for a spot in the Sweet 16.
No. 12 Liberty, No. 5 Mississippi State: Caleb Homesley scored 22 of his 30 points in the second half and Lovell Cabbil hit a go-ahead 3-pointer with 1:16 to play to send 12th-seeded Liberty to its first NCAA Tournament win in school history, 80-76 over fifth-seeded Mississippi State on Friday night.
The Flames (29-6) were making their fourth tournament trip in school history, but lost twice as a No. 16 seed and once in the play-in game. This year's team had more respect, a higher seeding and capitalized on the opportunity.
Homesley helped rally Liberty from a 10-point deficit in the second half by scoring 14 points in a span of less than five minutes. Cabbil then hit from long range to make it 72-70 and celebrated with an enthusiastic fan section that made the cross-country trip from Virginia for the game.
Liberty did the rest at the foul line to spoil the first tournament trip for Mississippi State (23-11) in a decade.
The Flames advanced to the second round of the East Region to play the winner of the game between Saint Louis and Virginia Tech.
Quinndary Weatherspoon scored 27 points to lead the Bulldogs and Reggie Perry added 21.
Cabbil finished with 18 points and Myo Baxter-Bell added 13.
Mississippi State appeared poised to take control when Peters started a 10-0 run with a 3-pointer and ended it with a layup that made it 63-53 midway through the second half.
The Bulldogs had used their superior size to control the paint on both ends and had broken open a tight game before the Flames responded. Homesley was fouled on a 3-pointer and made all three foul shots. He then hit two from long range to cut it to 67-64.
Homesley also hit a backdoor dunk on a feed from Cabbil to make it a one-point game before hitting a long 3-pointer late in the shoot clock to put Liberty back on top 69-67 with 2:34 to play.
After three free throws from the Bulldogs, Cabbil's 3 provided the final lead change of the night.
No. 9 Central Florida 73, No. 8 Virginia Commonwealth 58: Tacko Fall had 10 points, 18 rebounds and five blocks as ninth-seeded UCF won its first NCAA Tournament game, a 73-58 victory over No. 8 seed VCU on Friday night.
The 7-foot-6 Fall barely left his feet to haul in some rebounds as the Rams helplessly swiped at missed shots and struggled to find open space on drives to their baskets when the Knights' towering center was nearby.
VCU tried many things to keep him from getting involved, including sending two people to face guard Fall — or come as close as possible to a player who stands more than a half-foot taller than anyone on the Rams' roster.
The win, UCF's first in five NCAA appearances, sets up an intriguing matchup with overall top seed Duke between the game's tallest player in Fall and its most dynamic star in Blue Devils' freshman Zion Williamson on Sunday for a spot in the Sweet 16.
UCF (24-8) built a 21-point lead in the second half. The Rams (25-8) narrowed the margin to 62-55 on De'Riante Jenkins' 3-pointer with 4:53 to go, but could get no closer.
Fall sealed things when he fought through two defenders and threw up a perfect bank shot while falling to the ground to put the Knights up 70-56 with less than three minutes to play. Fall sat for a moment on the court, fist clenched in celebration that for UCF had been a long time coming since its first NCAA appearance in 1994 and its last in 2005.
It was Fall's 25th career double-double and seventh of the season.
BJ Taylor led UCF with 15 points while Aubrey Dawkins had 14.
No. 4 Virginia Tech 66, No. 13 Saint Louis 52: Nickeil Alexander-Walker scored 20 points, Kerry Blackshear added 15 and fourth-seeded Virginia Tech earned its first NCAA Tournament win in 12 years by beating No. 13 seed Saint Louis 66-52 on Friday night.
The Hokies (25-8) had lost in the first round the past two years under coach Buzz Williams before finally breaking through and earning a second-round matchup against No. 12 seed Liberty in the East Region.
Virginia Tech got a big boost to go along with the lopsided win with the return of star point guard Justin Robinson. The Hokies had been without their floor leader the past 12 games because of an injured left foot but he came in off the bench and scored nine points in 27 minutes as he works his way back into game shape. He got a hug from Williams on the sideline after he came out of the game in the final minute.
Javon Bess scored 14 points and D.J. Foreman added 12 for the Billikens (23-13), who lost in their first tournament game since 2014.
After three double-digit seeds won to start the day in San Jose, the Hokies wasted little time in imposing their will and making sure there wouldn't be another upset.
They used a 10-0 run early in the first half to open a 13-point lead and didn't slow down. Virginia Tech built a 40-18 lead at the half, forcing 12 turnovers and allowing the Billikens just one 3-pointer on nine attempts.
Saint Louis tried to make it a game with back-to-back 3-pointers from Tramaine Isabell Jr. to cut the deficit to 10 points midway through the second half. But that was as close as the Billikens got the rest of the way.
SATURDAY'S REGIONAL GAMES
All times Pacific, with TV (*approximate time; game will start 30 minutes after the completion of the previous one):
at Des Moines, Iowa
2 Michigan State (29-6) vs. 10 Minnesota (22-13), Channel 2*, 4:45 p.m.
at Jacksonville, Fla.
3 Louisiana State (27-6) vs. 6 Maryland (23-10), Channel 2*, 9 a.m.
---
Get the latest on L.A.'s teams in the daily Sports Report newsletter.
You may occasionally receive promotional content from the Los Angeles Times.