NCAA tournament, South Regional: Iowa rallies past Cincinnati; Virginia holds off upset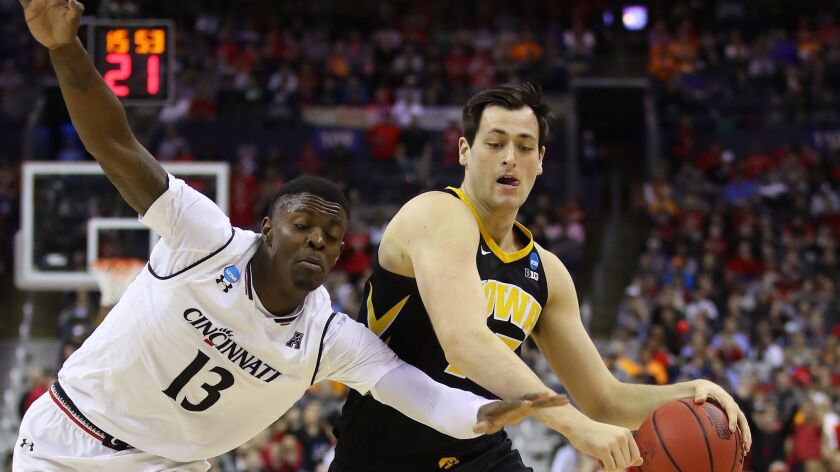 Iowa kept up the Big Ten's blitz through its first six games in the NCAA tournament.
Luka Garza scored 20 points, Jordan Bohannon made a three-point play during the Hawkeyes' closing surge, and the No. 10 seed in the South Regional kept its league unblemished by rallying for a 79-72 victory over No. 7 seed Cincinnati on Friday.
Win by win, the league is backing up its brag.
"We've been saying all year long that it's the most competitive league in the country, top-to-bottom," Iowa coach Fran McCaffery said. "And you sort of expect Big Ten coaches to make those kinds of statements, but the reality is we actually believe it.
"And so I think it's proving it."
Count the Bearcats as the latest believers.
UC Irvine opens its Cinderella bid with upset over Kansas State in NCAA tournament »
Cincinnati (28-7) won the American Athletic's tournament and had the league's player of the year in Jarron Cumberland. The Bearcats also had what amounted to a home-court advantage, with Nationwide Arena packed with fans that made the two-hour drive up Interstate 71.
None of it could stop the Big Ten's tournament landslide.
"It's tough," said Cincinnati point guard Justin Jenifer, who had a career-high 19 points. "I didn't picture that we were going to lose this game today."
After trailing most of the way, the Hawkeyes (23-11) rallied late for their first NCAA tournament win in four years. Bohannon's big play with 1:07 left put Iowa up 73-64, and the league's most accurate foul shooter made one of two with 18 seconds left to help finish off another shining Big Ten moment.
No. 1 Virginia 71, No. 16 Gardner-Webb 56: Virginia avoided the biggest upset in NCAA Tournament history.
The Cavaliers rallied from 14 points down Friday to beat Gardner-Webb.
Virginia was the top overall seed last year but lost 74-54 to 16th seeded UMBC. It was the first — and still the only — time in 35 years one of the top four teams in the tournament has fallen in their opening game.
The Cavaliers trailed 30-16 with 6:42 left in the first half but rallied and cut the Runnin' Bulldogs lead to six at halftime. Virginia then opened the second half with a 25-5 run that ended any ideas of another 1-and-done.
The Cavaliers used their trademark stifling defense to force 11 Gardner-Webb turnovers in the first 12 minutes after the break.
Virginia coach Tony Bennett told his team all season they needed to turn last year's disaster into something positive.
No. 9 Oklahoma 95, No. 8 Mississippi 72: Nine days off, a few good practices and shootarounds, and suddenly Oklahoma looks like a new team.
The ninth-seeded Sooners used a balanced attack, with four players scoring at least 18 points, to beat Mississippi 95-72 on Friday.
The Sooners (20-13) scored on eight of their first nine possessions — the only miss was an alley-oop — and led 12-0 less than three minutes in.
Oklahoma didn't let up. The Sooners led by 17 at halftime and their 95 points were the most this season.
"The ball felt good today," said Christian James, who along with Rashard Odomes led Oklahoma with 20 points each.
The Sooners weren't expected to be in the tournament after losing one-and-done phenom Trae Young, now playing for the Atlanta Hawks. They lost five in a row in the middle of the season, went 4-8 in their final 12 games and lost the Big 12 Tournament opener to 15-20 West Virginia.
But Oklahoma shot 58 percent (34 of 59), its second-best mark all season.
Kristian Doolittle had 19 points and matched a career-high with 15 rebounds.
The Rebels (20-13) have looked like a tired team for more than a month, and eight days off didn't appear to help. Mississippi lost five of its last six and let four of those opponents shoot better than 50 percent.
"Oklahoma totally outclassed us and out-toughed us," Mississippi coach Kermit Davis said.
Terrence Davis led Mississippi with 17 points.
No. 2 Tennessee 77, No. 15 Colgate 70: Admiral Schofield had 19 points and No. 2 seed Tennessee held off a second-half rally by Colgate.
Jordan Bone added 16 and Jordan Bowden 14 for Tennessee (30-5), which advances to play Iowa — winner of a first-round game over Cincinnati — on Sunday.
The Raiders (24-11) erased Tennessee's 42-30 halftime lead with an 11-2 run, tied the score midway through the second half, and kept the game close after that.
Schofield hit back-to-back 3-pointers to give Tennessee a cushion with 45 seconds left, and Bone and Schofield followed with a pair of foul shots each to extend the lead as Colgate ran out of time.
Jordan Burns had 32 points for Colgate, the most allowed by a single Tennessee opponent this season. The Raiders' 15 3-pointers matched the most allowed by the Vols.
This was a good start and a relief for Tennessee, which lost in the first round last year. The Volunteers were a No. 3 seed last year and 11th-seeded Loyola of Chicago got a basket off the glass with 3.6 seconds left and a 63-62 win.
No. 12 Oregon, No. 5 Wisconsin: Payton Pritchard scored 19 points, Kenny Wooten protected the rim with four blocks and 12th-seeded Oregon extended its surprising March run by beating No. 5 seed Wisconsin 72-54 Friday in the first round of the NCAA Tournament.
The Ducks (24-12) won four games in four days to win the Pac-12 tournament last week just to make the NCAAs then followed it with an impressive victory over a higher-seeded opponent. Oregon advanced to play No. 13 seed UC Irvine (31-5) on Sunday in the second round of the South Region.
Louis King added 17 points, Paul White scored all 14 points of his points in the second half and Wooten had nine points, six rebounds and the tone-setting blocks to give the Ducks their ninth straight win.
Ethan Happ and Khalil Iverson each scored 14 points to lead the Badgers (23-11).
The game was tied early in the second half when the Ducks used their athleticism to take over. Wooten scored on back-to-back dunks and White followed with a 3-pointer as the shot clock expired to make it 42-35.
Wooten then blocked a shot by Happ on one end and converted on an impressive alley-oop slap from Pritchard on the other to make it 46-37 with 12:31 to play.
The Badgers tried to cut into that deficit but King made a 3-pointer and two free throws to build the lead to 10 points with less than five minutes to play. Wooten then put the exclamation point on the victory with two blocks on one trip before Pritchard's layup made it 59-47.
SATURDAY'S REGIONAL GAME
All times Pacific, with TV (*approximate time; game will start 30 minutes after the completion of the previous one):
at Hartford, Conn.
3 Purdue (24-9) vs. 6 Villanova (26-9), TNT*, 5:30 p.m.
---
Get the latest on L.A.'s teams in the daily Sports Report newsletter.
You may occasionally receive promotional content from the Los Angeles Times.