Another horse fatality at Santa Anita; 23 thoroughbreds have died since Dec. 26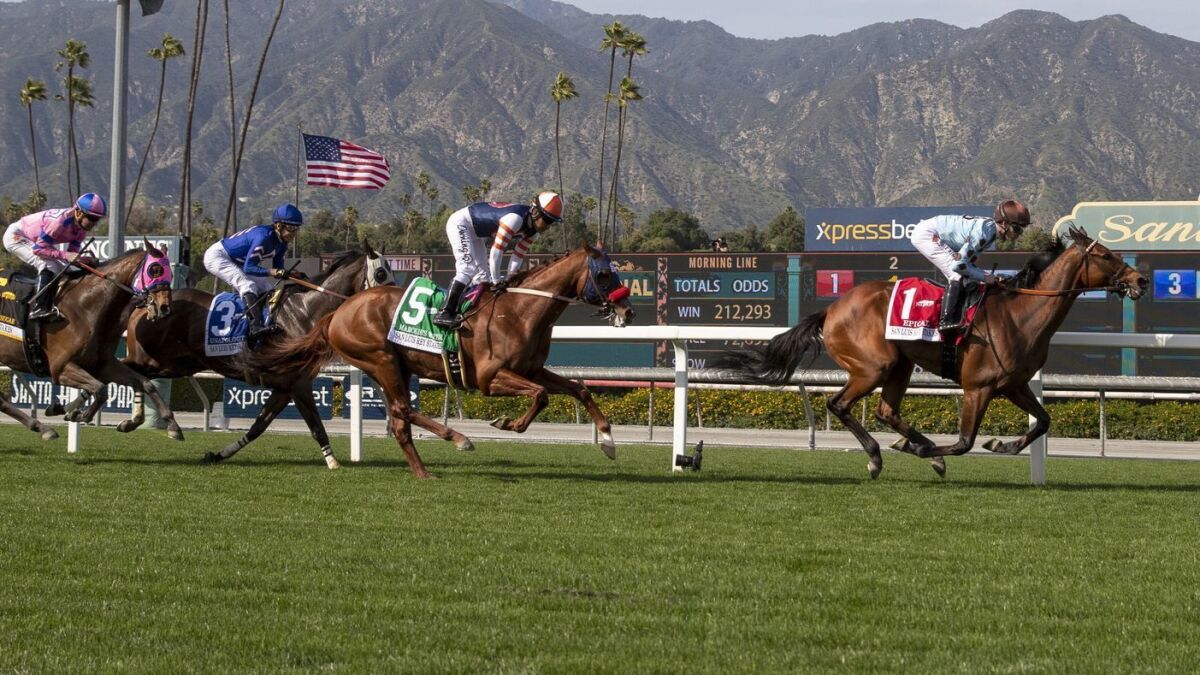 Santa Anita, fearing for its future after the spike of recent equine deaths, was dealt another blow when a 23rd horse died Sunday on the track. It came on only the third day of racing after the track shuttered its doors from racing on March 4.
Arms Runner, a 5-year-old gelding, fell on the dirt track crossover of a 6 1/2-furlong race on the hillside turf course. He appeared to suffer a catastrophic injury to his right front leg. After he went to the ground, La Sardane, who was trailing Arms Runner, tripped over the fallen horse but got back up unhurt.
Arms Runner was euthanized, according to Dr. Rick Arthur, equine medical director of the California Horse Racing Board (CHRB).
Jockeys Martin Pedroza, aboard Arms Runner, and Ruben Fuentes suffered minor bumps and bruises. Fuentes was taken off his remaining mounts but Pedroza returned to riding.
"While this incident happened during competition on a track that has been deemed by independent experts to be safe," Santa Anita said in a statement, "we are working closely with the [CHRB] to understand if there was anything additional that we could have done to prevent [Sunday's] tragedy."
The accident occurred on a unique grass course, which starts at the top of a hill, includes a slight right turn and at the bottom has an 80-foot dirt crossing over the dirt track before returning to grass. Arms Runner was a few strides from returning to the grass when he fell.
Arms Runner is trained by Peter Miller and owned by Rockingham Ranch in Sherman Oaks.
Santa Anita had reopened Friday after closing from its four-day-a-week racing schedule as track operators tried to figure out what was causing the deaths. Despite extensive testing of the dirt course, no known cause was found for the increase in breakdowns, although there was speculation that excessive rain might have played a role.
Sign up for our horse racing newsletter »
Ten of the fatalities have occurred during training on the main dirt track. There have been seven deaths racing on the dirt. Even though this fatality occurred on dirt, it would be categorized as a turf, or grass, fatality.
Since the day after Princess Lili B became the 22nd fatality on March 14, when she broke both front legs in training, there had been 2,483 timed workouts without a life-ending breakdown. There were no incidents in Friday's racing when 62 horses ran or on Saturday when 84 ran. Sunday's incident was in the fourth of a nine-race card. There were no other accidents the rest of the card, although a rider was unseated in the eighth race.
Not just Santa Anita, but the entire sport has been under siege from animal rights advocates who have gotten the attention of the general public because of the number of equine deaths.
In an effort to boost public confidence, Belinda Stronach, chief executive officer of the Stronach Group, which owns Santa Anita, Golden Gate Fields and other tracks, announced an initiative that would eventually eliminate race-day medication, including Lasix, which helps horses breathe. The measure was approved by the CHRB on Thursday and implemented Friday.
The United States and Canada are the only countries that allow race-day medication. The newest rule cut in half the amount of Lasix that can be given on race day. Horses that start racing next year will not be allowed to use Lasix on race day.
Stronach Group also put into motion a rule that would outlaw the use of a riding crop, or whip, except in the cases where a horse or jockey's safety was involved. It has many regulatory hurdles to clear before it can be enacted, although it should happen by the end of the year.
However, neither of these measures can be directly tied to having caused any of the recent deaths.
"Over the past two weeks, thoroughbred owners and trainers and the [CHRB] have argued about medications, whipping and the public perception of horse racing," said Kathy Guillermo, senior vice president of People for the Ethical Treatment of Animals. "But they did not take every measure needed to protect the horses.
"All drugs need to banned entirely, and the known safest racing surface — a synthetic track — must be used."
Guillermo also called upon Gov. Gavin Newsom to form an independent panel to investigate training and veterinary practices.
"If the CHRB does not take every possible action to protect the horses, then racing should not be allowed to continue," Guillermo said.
Santa Anita's sister track, Golden Gate Fields in the Bay Area, uses a synthetic surface called Tapeta. According to the latest records available, Golden Gate has had five deaths compared to the 23 at Santa Anita.
Santa Anita had a synthetic surface called Cushion Track from 2007 to 2010. It was beset with drainage problems; the summer weather would heat the surface to well more than 100 degrees, and particles were often seen floating in the air after horses ran on it. Del Mar also had a synthetic track but dropped it, too.
Tim Ritvo, chief operating officer of the Stronach Group, was asked earlier in the week if synthetics were in Santa Anita's future because of the much lower mortality rates.
"Statistically they are better, but there are other kind of injuries people have told us," Ritvo said, such as soft-tissue injuries. "But by getting to [international standards] we should be able to bring those [fatality] numbers down even below synthetics."
It's unclear how much Sunday's death will ratchet up the already high amount of animus toward the sport.
Both Ritvo and Rick Baedeker, executive director of the CHRB, have publicly talked about the concern of a possible ballot initiative to end horse racing.
The public are "the ones that go to Sacramento, and they are the ones that come out and vote and can end our sport," Ritvo said last week. "There are more of them than there are customers, unfortunately. … If there is a ballot initiative, "the people who do want to end us will come out and vote in droves and the ones that don't care just won't show up at the ballot box.
"We need to do a really good job of getting into that outside bubble" of the public "and tell people the truth of how people really love and care for these horses."
Workouts will resume Monday, but racing won't return until Thursday. Saturday is the biggest day of the meeting, which extends until June 23. There will be seven stakes races on that card, including three Grade 1s, or the races with the highest quality horses.
There is the $1-million Santa Anita Derby, which could determine the favorite for the Kentucky Derby, the $400,000 Santa Anita Oaks for 3-year-old fillies, and the $600,000 Santa Anita Handicap, which was originally scheduled for March 9.
Get our high school sports newsletter
Prep Rally is devoted to the SoCal high school sports experience, bringing you scores, stories and a behind-the-scenes look at what makes prep sports so popular.
You may occasionally receive promotional content from the Los Angeles Times.