Another horse death forces Santa Anita to take drastic steps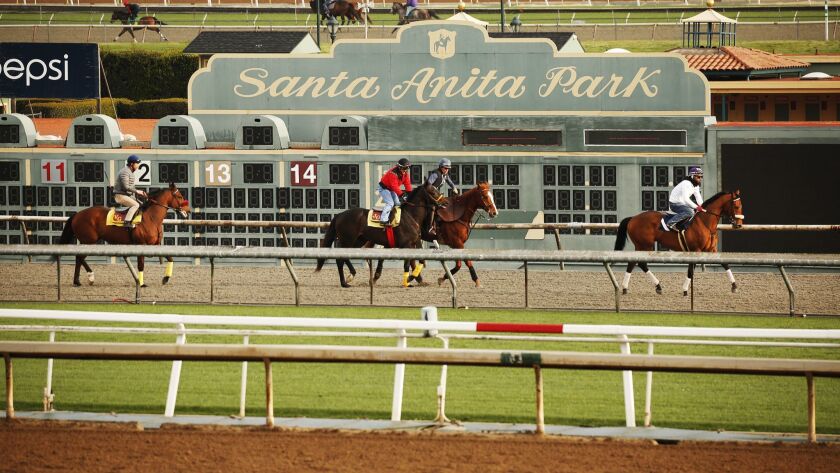 They faulted Southern California's unusually cold and wet winter.
They wondered if something was wrong with Santa Anita's mile-long dirt track.
They brought in two experts to study the mixture of sand, silt and clay. They tweaked safety rules in an effort to identify at-risk horses. They suspended racing and training last week.
But horses continued dying.
The surge in catastrophic breakdowns by horses at Santa Anita that have defied explanation and roiled the sport continued on a cloudless Thursday morning.
The day after the track reopened for training, Princess Lili B broke both front legs at the end of a half-mile workout and was euthanized.
The loss of the 3-year-old filly was the 22nd racing- or training-related horse death at the track since Dec. 26.
A few hours after the death, the track's owners banned the use of all race-day medication and restricted whip use in the latest attempt to stop the deaths. The medication decision, which will bring the track into alignment with standards established by the International Federation of Horseracing Authorities, is believed to be without precedent in North American racing.
"We have arrived at a watershed moment," Belinda Stronach, chairwoman and president of track owner the Stronach Group, wrote in an open letter.
"There are some who will take a stand and tell you that it cannot be done," Stronach continued. "To them we say 'the health and welfare of the horses will always come first.' … The time to discuss 'why' these advancements must take place is over. The only thing left to discuss is 'how.'"
The new rules will also be used at Stronach-owned Golden Gate Fields in Berkeley.
Rick Baedeker, executive director of the California Horse Racing Board, expects other tracks in the state to follow the lead of Santa Anita, where racing is scheduled to resume March 22, and Golden Gate Fields. Any new requirements passed by the CHRB wouldn't take effect until the summer at the earliest.
Virtually every country outside North America bans the use of medication on race day. That includes furosemide, better known as Lasix, which is supposed to lessen the risk of exercise-induced pulmonary hemorrhage. The drug is so common at U.S. tracks that results sheets note which horses were injected.
According to data compiled by the Jockey Club, only 3.6% of the 279,774 starts in the U.S. last year were made by horses without Lasix.
"American racing is a bit of a lone ranger internationally," said Kenny McPeek, a thoroughbred trainer in Kentucky whose 19 wins with non-Lasix horses last year were the most in the U.S.
The drug is a potent diuretic that causes a horse to urinate 15 to 20 liters in the hours before a race.
At least nineteen of the 22 horses who have died at Santa Anita in the recent spike used Lasix, according to Equibase. Records for the three remaining horses weren't available because they hadn't participated in a race.
Lasix has been the subject of ferocious debate in the sport for several years. Some view it as enhancing performance and potentially damaging horses while others see it as harmless and essential to protecting equine health.
"It's almost as if they think horses need drugs to race, and they're unwilling to open their minds," said Sid Gustafson, a Montana veterinarian who has worked at Santa Anita and other California tracks. He is a longtime opponent of race-day medication.
In addition to banning Lasix, the Stronach Group said it would strengthen rules on a variety of issues including legal painkillers, anabolic steroids and shock wave therapy. The company also pledged "complete transparency" in veterinary records and increased drug testing outside competition.
"Some of the changes are going to be significant adjustments," said Henry Williamson, who owns horses at Santa Anita and Golden Gate Fields.
As the drama played out at Santa Anita on Thursday, members of Congress moved to bring increased oversight to the sport. Rep. Andy Barr (R-Ky.) and Rep. Paul Tonko (D-N.Y.) reintroduced the Horseracing Integrity Act, a measure that would ban the use of medication in the 24 hours before a race and introduce national standards for horse racing to replace the hodgepodge of regulations from the 38 state racing commissions.
The bill was first introduced in 2017. During hearings last year by the House Subcommittee on Digital Commerce and Consumer Protection, some industry stalwarts railed against the ban on race-day medication.
"Lasix use is not doping, and no one, to my knowledge, can reasonably conclude otherwise," Eric Hamelback, chief executive of the National Horsemen's Benevolent and Protective Assn., testified at the time.
The Stronach Group supported the bill, and Rep. Judy Chu (D-Monterey Park), whose district includes Santa Anita, cosponsored it.
Twenty horses died as a result of races at Santa Anita in 2017, according to the latest figures collected by the Equine Injury Database, for a rate of 2.4 deaths per 1,000 starts. That exceeded the national rate of 1.61 deaths per 1,000 starts the same year.
The figures don't include deaths during training and from other causes. While the database showed 150 deaths at Santa Anita from 2009 to 2017, CHRB data put the total at 502 deaths during the same period. That included a high of 71 deaths in 2011-12.
None of those deaths prompted the kind of change announced Thursday.
"We recognize that for real change to result from this difficult situation we must engage those stakeholders quickly and dedicate time and other resources," the Breeders' Cup said in a statement in response to the medication ban. "We must, as an industry, press forward on implementing existing best practices and rapidly proceed with the consideration of further reforms.… It is vital that we all do so."
Times staff writer Eric Sondheimer contributed to this report.
---
Get our high school sports newsletter
Prep Rally is devoted to the SoCal high school sports experience, bringing you scores, stories and a behind-the-scenes look at what makes prep sports so popular.
You may occasionally receive promotional content from the Los Angeles Times.