Column: Venus makes it past Serena; sisterhood shines after match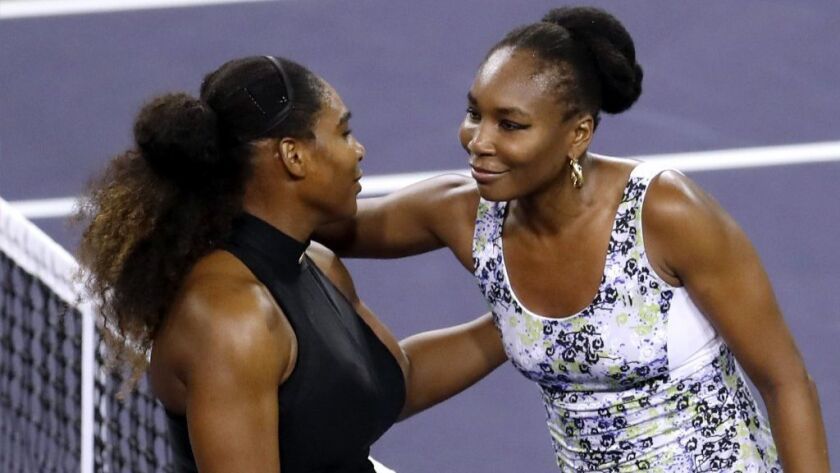 Reporting from indian wells —
The opponent Serena Williams least wanted to face in the third round of the BNP Paribas Open — or any round, for that matter — was the person she knows best. Venus Williams is Serena's role model as well as her older sister, the grown-up version of the sensitive and generous 10-year-old who soothed an unhappy 8-year-old Serena by handing her the trophy from their first competition even though Venus had earned it.
Because they have been so good for so long, Serena with 23 Grand Slam event singles titles to her credit and Venus with seven, they had not faced each other this early in a big tournament since their first professional meeting in the second round of the 1998 Australian Open.
But because Serena is newly back from maternity leave and playing her first competitive event since the 2017 Australian Open, she was not seeded here, and the draw put them on a collision course that led them to Stadium 1 on Monday on a warm, spring-like night.
When their 29th professional head-to-head meeting was over, after Venus had quashed a valiant comeback attempt by her sister and had completed a 6-3, 6-4 victory, they met at the net and embraced briefly. They had studiously avoided eye contact or any signs of sisterly affection during the match but they were no longer bound by that unspoken agreement.
Venus did her trademark pirouette and waved to the crowd. Serena, carrying her gear and a mental list of the improvements she intends to make, walked to the locker room and waved to a crowd that rose to its feet in full-throated tribute.
"She played so well," Venus said in admiration after she ended Serena's three-match winning streak against her and narrowed Serena's lead in their career confrontations to 17-12. "She just kept roaring back. I'm just lucky that I've played more matches than her right now."
In Serena's first two matches here, against Zarina Diyas and Kiki Bertens, she was rusty but managed to win thanks to pure muscle memory and raw power that had never vanished. Venus, seeded No. 8 here despite being the oldest woman in the singles draw at 37, was a far better opponent.
Against Diyas and Bertens, Serena could get away with errors in placement and timing and a lack of the mental sharpness that comes only with competing in pressure situations. She couldn't get away with those failings against her sister.
"I think it's just match [play]," Serena said to explain what was lacking in her game. "You know, you're out there, and I can't really replicate the situation no matter how much I do in practice, or I make those shots 10 times out of 10 in practice. It's just the nerves, the anticipation you feel naturally. You know, it's a little bit of everything that comes in a match that just doesn't normally happen."
Yet, Serena displayed occasional flashes of her old brilliance, enough of them to persuasively argue that she can again be a top-10 or top-five player. She has already convinced Venus of that.
"I think she's going to be speeding back to the seedings and to winning tournaments sooner than later," Venus said. "That's all I see. I think that's what everybody sees."
Serena fended off Venus' first match point, in the eighth game of the second set, with a brilliant passing shot and gained a break when Venus double-faulted to end the game. With Venus leading 5-3, Serena held serve with a game highlighted by a couple of nifty forehands and an ace.
Serena had a break point in the 10th game but came undone by a succession of faulty returns and Venus' solid resolve.
"I think this is the best she's played in a while," Serena said. "She didn't make a lot of errors. She served very consistently. You know, she just did everything great."
This was the first time they met in this tournament. They were supposed to face each other in the 2001 semifinals but Venus withdrew shortly before the match because of a knee injury. Fans took out their disappointment on Serena two days later in the final, relentlessly jeering her. Their father, Richard Williams, said he heard racist taunts.
Serena didn't come back here until 2015 and was greeted warmly; Venus stayed away until 2016. Both have been cheered and cherished since they came back. Venus said Monday "it never crossed my mind" that playing her sister Monday represented any sort of closure.
Both are resolutely looking to the future. For Venus, that means a round-of-16 match Tuesday against No. 21 seed Anastasija Sevastova of Latvia, who was a surprise 6-3, 6-3 winner over No. 12 seed Julia Goerges of Germany. Before the last cheers had faded on Monday she had already shifted her focus in that direction.
"Every match is hard. Nobody gives it to you," she said. "It's all a new challenge, each and every match. Gotta earn it."
For Serena, the immediate future holds a tournament at Miami next week and as many chances to improve as she's willing to create through hard work.
"You know," she said, "it's good that I don't have to say that this is the best tennis I have ever played and I lost. My room for improvement is incredible."
Follow Helene Elliott on Twitter @helenenothelen
---
Get our high school sports newsletter
Prep Rally is devoted to the SoCal high school sports experience, bringing you scores, stories and a behind-the-scenes look at what makes prep sports so popular.
You may occasionally receive promotional content from the Los Angeles Times.