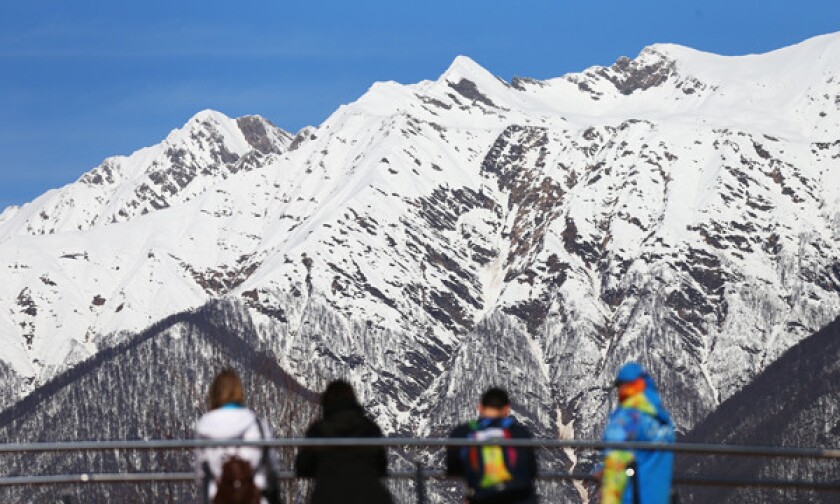 SOCHI, Russia — After taking a few practice runs down the halfpipe at the Sochi Olympics earlier this week, Hannah Teter had some concerns. To say the least.
"I couldn't do any of my tricks," the American snowboarder said. "It was just the worst pipe I'd ever ridden in my life."
Then the crew at Rosa Khutor Extreme Park scrambled to make fixes, smoothing a lumpy bottom and using a mixture of salt and water to harden the walls.
"A hundred million times better," Teter said before the women's final on Wednesday night. "I'm happy about it."
This has been a difficult week at a handful of venues in the Caucasus Mountains, where a sunny sky and unseasonably high temperatures have softened the snow and made ice on the sliding track something of a mystery.
Athletes have been forced to adjust their technique and equipment while officials have activated contingency plans to keep the competitions on schedule.
"Yeah, it's tricky," said Aleksandr Savilov, general manager at the extreme park. "But we're ready for this."
Weather challenges are no surprise in Sochi or the adjacent mountains — this is one of Russia's few regions with a subtropical climate. Warm, rainy days forced the cancellation of several international test events last winter.
The Russians prepared for the Games by installing a massive snow-making system and stockpiling snowfall beneath thermal blankets over the summer. They also got lucky with early winter storms that provided ample coverage.
But none of that could entirely counteract the nearly balmy weather that arrived here this week.
On Tuesday, the course at Laura Cross-Country Ski and Biathlon Center became problematic. Workers salted an uphill portion to keep it firm, but could not improve the turns.
"The first corner was super-sugary and slushy," said Heidi Widmer of Canada.
The conditions may have leveled the playing field in the women's sprint free event as pre-race favorites Kikkan Randall of the U.S. and Marit Bjoergen of Norway fell by the wayside, making room for lesser-known racers on the podium.
A spokeswoman for the Sochi organizing committee said that workers had begun using stockpiled snow at some venues. At the Sanki Sliding Center, U.S. skeleton racers were figuring out how to set up their sleds.
"It's warm, so sometimes there's a top layer on the ice, but they're really figuring out how to make hard ice underneath that," team member Katie Uhlaender said. "So it's deciding whether or not you want to cut down to that hard ice or stay on top."
The surface temperature for the women's luge final on Tuesday was about three degrees higher than ideal and officials had to stop the race at one point to repair the ice.
Still, Erin Hamlin of the U.S. took bronze and said that Sochi was much more difficult during an event last year.
"We really worked hard to have things ready for any condition," she said. "The ice maintained well, so I was really happy."
On Wednesday, a spokesman for the International Olympic Committee insisted that it was "a little bit premature" to be worrying about the weather.
"It doesn't seem to be an issue," Mark Adams said.
But at the Rosa Khutor Alpine Center, the women's downhill racers felt as if they were skiing two courses — hard and fast on top, slow and treacherous at the bottom.
"The snow is too soft," bronze medalist Lara Gut of Switzerland said of the lower portion. "It's easier to make mistakes there."
And Nordic combined athletes were still dealing with unusual conditions.
"This is like a nice summer day in Trondheim, Norway," said Magnus Hovdal Moan. "But, frankly, I would prefer if it was a bit colder."
To some degree, winter athletes are accustomed to variable conditions and some of the competitors at these Games have found that warm weather suits them.
"It was softer and it was a little bit easier than yesterday," Ivica Kostelic of Croatia said after the men's super combined training. "I have a good feeling."
At the extreme park, workers treated the halfpipe and ran dry ice through pipes under the aerial jumps, where competition will begin Friday.
Kaitlyn Farrington of the U.S. won the women's halfpipe with teammate Kelly Clark finishing third. Defending champion Torah Bright of Australia took second and Teter was fourth.
Though the forecast is calling for potential snowfall over the weekend, temperatures could remain high for at least another couple of days.
"Of course we would like to have cold weather," Savilov said. But, he added, "The chief of the course is managing these things … it's under control."
Twitter: @LATimesWharton
Times staff writer Chris Dufresne and Chicago Tribune writer Stacy St. Clair contributed to this report.
---