Stan Smith will be forever connected to tennis through his shoe brand and the legendary Arthur Ashe
Reporting from wimbledon, england —
For millions of people around the world, the name Stan Smith is on the tip of their tongues — even if some don't know who he is.
His face is there, too, printed on the tongue of every pair of Adidas Stan Smith shoes, for decades the king of all tennis sneakers.
"It's still strange to see that," Smith said of his tiny mustachioed visage. "Most people who buy them don't know who I am. You've got young boys and girls wearing them, women that are mothers at age 40, older men wearing them. It's just very popular in Asia, England, Spain, France probably the most."
Smith is sitting on the patio of a stately, three-story home he's renting on Church Road, the closest residence to Gate 1 of the All England Lawn Tennis Club. Just over the ivy-covered wall are the grass courts that played such a critical role in his rise to tennis stardom.
He beat the combustible Ilie Nastase for a Wimbledon singles title in 1972, and he and former USC teammate Bob Lutz dominated the storied tournament in doubles, winning in 1972, '74, '80 and '81. Smith and Lutz are the only tandem to have won U.S. championships on four different surfaces — grass, clay, hard and indoor.
Smith was a close friend of the late Arthur Ashe, the UCLA legend whose name graces the main stadium court at Flushing Meadows, N.Y., home of the U.S. Open. Ashe, who contracted HIV from a blood transfusion he received during heart-bypass surgery, died in 1993. Among his long list of accomplishments both as a tennis player and social activist, he was the only black man to win singles titles at Wimbledon, the U.S. Open and the Australian Open.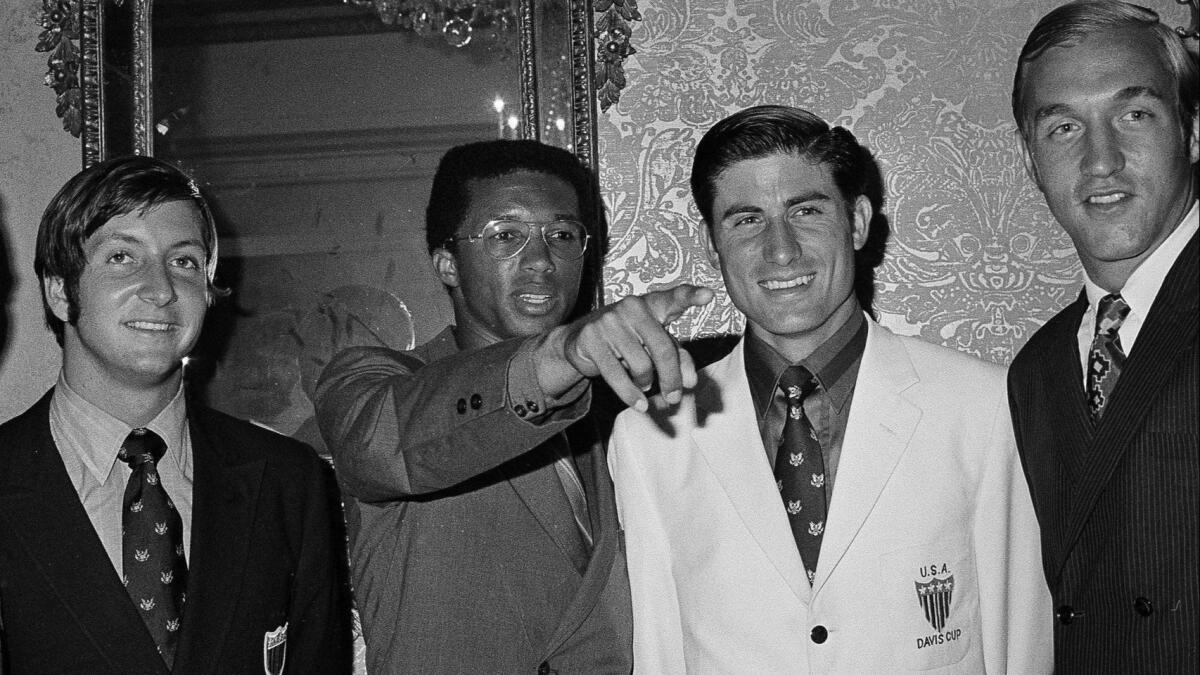 Ashe was four years older than Smith, but the two became close friends traveling the world as Davis Cup teammates and rising professionals.
"Arthur always had his nose in a magazine," Smith recalled. "Not so much books, but always in magazines and newspapers. His favorite T-shirt was `Citizen of the World' and it was very appropriate."
Ashe had a wit as sharp as his groundstrokes.
"When we went to Africa, I was the other guy who played against him in all these exhibitions," recalled Smith, who was ranked No. 1 in the U.S. at the time, two spots ahead of Ashe.
"They would introduce him as Arthur Ashe, No. 1 player in the U.S., No. 1 in the world, one of the greatest players to ever play the game … and Stan Smith, his opponent."
After a while, that started to chafe Smith, and he eventually groused about his billing.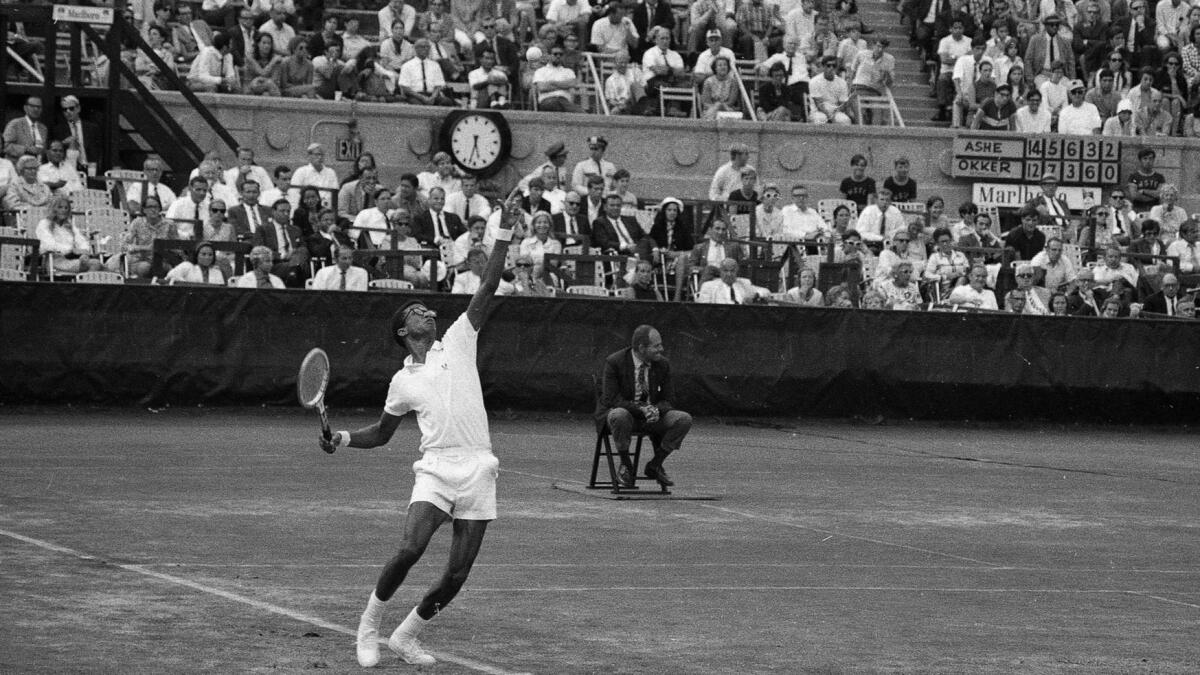 "Arthur came up to me and said, 'I'm sorry about that. If we do a tour of Alabama, I'll carry your rackets for you,'" Smith said. "He was in tune with everything."
It was the empathy of Ashe that Smith remembers most. For instance, when Smith lost to him in the first round of the Australian Open, Ashe didn't gloat — instead, he sat down and wrote Smith a letter of encouragement. Then, there was everything that happened off the court.
"He did more in the last three years of his life than most people do in their whole life," Smith said. "He was supporting the heart foundation, cancer foundation, AIDS foundation. He wrote the trilogy of the black athlete, three huge volumes. He was always doing something."
Smith has a book of his own coming out around the U.S. Open, and naturally, it has a well-worn sneaker on the cover. It's called, "Stan Smith: Some People Think I'm a Shoe."
"It's a book about the shoe and about my career," said Smith, a father of four and grandfather of 13 who lives in Hilton Head, S.C. "I wanted to document the shoe. It's been pretty well received over the years."
That's an understatement. In 1988, the ubiquitous Stan Smiths made the Guinness Book of World Records for the most pairs sold — approximately 22 million — and that number climbed in the 1990s when Adidas released the Stan Smith II and retro Stan Smith 80s. The most common ones are uncomplicated, with clean white leather and a touch of green on the back.
"Hugh Grant turned around last year in the [Wimbledon] royal box and said, `First girl I ever kissed, I was wearing your shoes,'" he said. "Another guy said he met this girl when he was wearing my shoes. It was so meaningful that they both wore the shoes for their wedding seven years later.
"It started off as a tennis shoe. Now it's a fashion shoe."
Smith has roughly 70 pairs of size 13s, including the ones he wore this week — a tie-dyed swirl of purple and gray, designed by musician Pharrell Williams, who was a big part of the Adidas relaunch of the shoe in 2014.
Smith, whose name and picture were attached to the shoes in 1972, hasn't played a big role in designing them. It was his suggestion, though, to put a notch in the tongue for the laces to go through, and to shape the heel to better protect the Achilles tendon.
His favorite pair are cardinal and black, an homage to USC. His old Bruin buddy Ashe might have a two-word description for that pair: foot fault.
Follow Sam Farmer on Twitter @LATimesfarmer
Get our high school sports newsletter
Prep Rally is devoted to the SoCal high school sports experience, bringing you scores, stories and a behind-the-scenes look at what makes prep sports so popular.
You may occasionally receive promotional content from the Los Angeles Times.