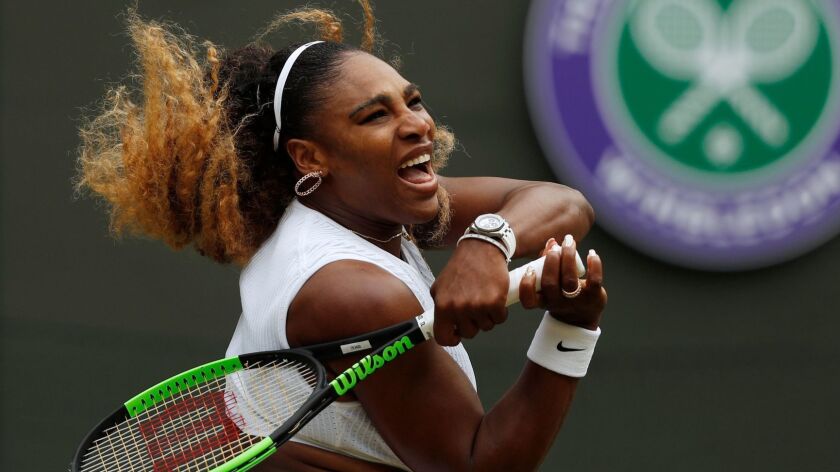 Reporting from wimbledon, england —
Fresh faces, unfamiliar names, they made the first week of Wimbledon especially interesting.
Now, back to our regularly scheduled legends.
Serena Williams, Roger Federer and Rafael Nadal — 17 Wimbledon singles titles among them — each won in straight sets Saturday to advance to the fourth round, tilting the tennis world back onto its axis heading into the second week.
So far, 15-year-old sensation Coco Gauff has cranked up the intrigue here like a teenager bumping up the volume. Time for a return to sanity.
"Getting to the top is often fun; you have nothing to lose, especially if you've never been there," said seven-time Wimbledon singles champion Williams, 37, when asked about the hunger she felt as a rising star. "It's like a great climb.
"Sustaining that for years and years takes a lot of work, a ton of work. You don't want to fall because you know what it feels like to be at the top… I know how it feels, how you want to stay there, how you want to get back there."
This marked the record 60th time in her illustrious career that Williams has reached the second week of a major championship. She had been tied with the legendary Martina Navratilova at 59.
Sign up for our daily sports newsletter »
Federer and Nadal aren't the only remaining stars in the men's constellation. Four-time winner Novak Djokovic, the men's defending champion, also will be in the mix when play resumes Monday, thanks to his third-round victory Friday.
One of those three — Federer, Djokovic or Nadal — has won Wimbledon every year since 2003, except when Andy Murray won in 2013 and '16.
"Honestly, what we achieved in the Grand Slams, in tennis in general during the last 14, 15 years is something special," Nadal said.
Federer set a Wimbledon record by reaching the round of 16 for the 17th time, doing so with a 7-5, 6-2, 7-6 (4) victory over Lucas Pouille.
What's more, Federer became the first player, male or female, to win 350 Grand Slam matches.
"I don't know how many years I have left," he said, "but I'm having a lot of fun out there."
Williams, who is just behind him at 340 such wins, made light work of Germany's Julia Goerges, 6-3, 6-4, needing only a single break of service in each set to finish in a swift one hour, 12 minutes.
Next up for Williams is Spain's Carla Suarez Navarro, but prognosticators can't help but look ahead to a potential showdown with No. 1-ranked Ashleigh Barty of Australia in the semifinals.
"I've always, from the day I played her in Australia, had a tremendous amount of respect for her game," Williams said, entertaining that possibility. "I just thought she's a beautiful player. She has great technique. I love that. I'm really a technical player. I like when people have a beautiful game and they do the right techniques. It's so right up my alley."
Likewise, Williams praised Gauff, the youngest woman to win a Wimbledon match since Jennifer Capriati — then a younger 15 — in 1991.
"I think she's doing everything great," Williams said of Gauff, who will play former No. 1 Simona Halep on Monday with a spot in the quarterfinals at stake. "Big fan, actually. I'm so excited for her. Love her family. Gosh, I couldn't be more proud."
There are two Americans left in the men's draw, and one is guaranteed to advance to the quarterfinals for the fourth year in a row. That's because Tennys Sandgren of Gallatin, Tenn., and Thousand Oaks High graduate Sam Querrey will face each other.
Meanwhile, Japan's Kei Nishikori defeated Steve Johnson, 6-4, 6-3, 6-2, improving to 5-0 against the former USC star.
Follow Sam Farmer on Twitter @LATimesfarmer
---