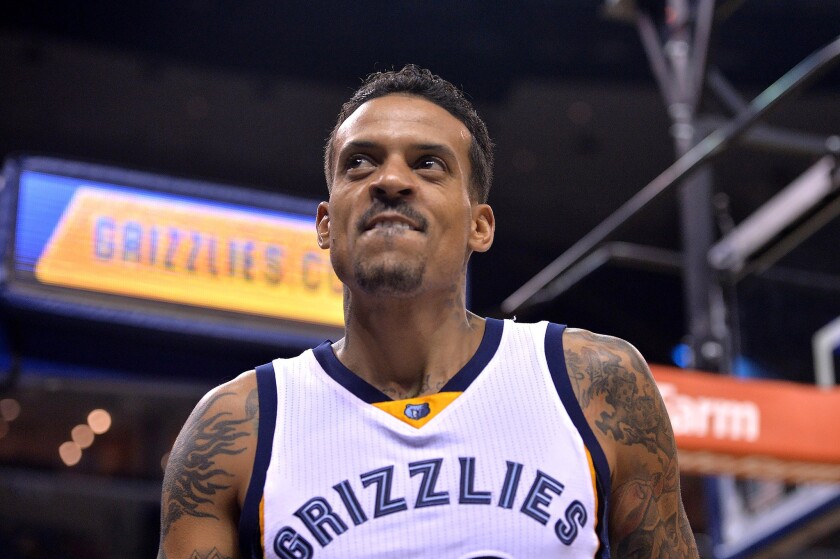 After three seasons of playing with someone who tweeted a racial epithet, verbally confronted the mother of an opposing player and seemed on the verge of going berserk at any given moment, the Clippers will get to experience the flip side of Matt Barnes.
He will try to annoy them.
Barnes will take the Staples Center court Monday night as a member of the Memphis Grizzlies after the Clippers traded the veteran small forward in June to the Charlotte Hornets, who quickly flipped him to the Grizzlies.
The move gave credence to Barnes' recent contention that Clippers Coach Doc Rivers "couldn't wait to get rid of me," though Barnes softened his stance in a subsequent Instagram post.
"I have nothing but gratitude & appreciation for the franchise that I had a 'small part' in help [sic] turning around!" Barnes wrote. "I did say, 'I can't wait to play the Clippers & Doc Rivers' because I am a competitor."
Barnes also asserted that reports of him driving from Santa Barbara to Los Angeles during training camp to confront New York Knicks Coach Derek Fisher about Fisher's relationship with Barnes' former wife were similarly overblown. League officials have said they are still investigating the incident.
Barnes solidified his reputation as a beloved teammate vilified by everyone else during his most recent stint with the Clippers, who also drafted him out of UCLA in the second round in 2003.
He was routinely among the league leaders in technical fouls and caused a social media stir two years ago when he used a racial epithet in a tweet he sent out after being ejected from a game against Oklahoma City.
"I love my teammates like family," Barnes tweeted, "but I'm DONE standing up for these … All this … does is cost me money."
Barnes also threatened Phoenix Suns owner Robert Sarver last season after Sarver instructed his former player not to speak to Suns fans and confronted the mother of Houston Rockets guard James Harden during a playoff game last spring as part of a verbal exchange.
Through it all, Barnes maintained no shortage of character witnesses among his teammates.
"I love Matt," Clippers center DeAndre Jordan said Saturday. "Matt's like a brother to me but for 48 minutes on Monday, I'll hate Matt. I'm pretty sure if you ask him, he'll say the same thing."
Barnes essentially did upon joining Memphis, saying at his introductory news conference he had warned Jordan that he was "going to foul the bleep out of you when we play." He has averaged 6.6 points and 3.3 rebounds in 21.4 minutes per game with the Grizzlies, all while coming off the bench.
Sorry, but …
Yes, the league acknowledged Sunday that goaltending should have been called on Houston's Dwight Howard when he touched the ball near the rim on Blake Griffin's shot with 17 seconds left the previous day.
No, there's nothing that can be done about it.
The play was not reviewable because no goaltending call was made. Officials reviewed who sent the ball out of bounds on the play but could do nothing about a non-call that, had it been made, would have tied the score during the Rockets' eventual 109-105 victory.
"That's textbook goaltending," Griffin said afterward, "but they can't go back and look at it if there wasn't an actual call on that goaltend or not goaltend, whatever you want to call it."
UP NEXT

CLIPPERS VS. MEMPHIS GRIZZLIES
When: Monday, 7:30 p.m. PST.
Where: Staples Center.
On the air: TV: Prime; Radio: 980, 1330.
Records: Grizzlies 3-4; Clippers 4-2.
Record vs. Grizzlies (2014-15): 2-2.
Update: Clippers point guard Chris Paul is listed as doubtful because of a strained right groin, meaning Austin Rivers probably will make a second consecutive start. Back-to-back losses have left the Clippers 2 1/2 games behind Pacific Division-leading Golden State in a season that's 1 1/2 weeks old, but that's the nature of playing in the brutally tough Western Conference. This will be the final game of a trip in which Memphis has lost three of four games, including the 50-point defeat against the Warriors that prompted a message from the Clippers' official Twitter account with the hashtag "#didntloseby50" after the Clippers lost to the Warriors by a comparatively slim four points two days later.
Twitter: @latbbolch
---