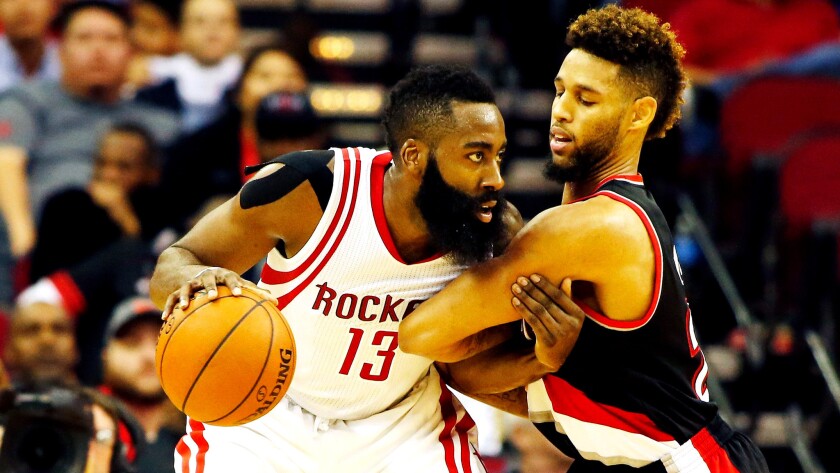 James Harden scored 45 points, including all nine for Houston in overtime, and the Rockets beat the visiting Portland Trail Blazers, 108-103, on Wednesday night after firing Kevin McHale earlier in the day.
Corey Brewer made an off-balance three-point shot to force overtime and Harden took over from there, finishing with 11 assists, eight rebounds and five steals as the Rockets capped off an emotional day at the Toyota Center.
It almost ended with a fifth straight loss before Brewer made his shot with 0.9 seconds remaining in regulation to tie the score at 99.
Playing just hours after McHale was fired, the Rockets played much of the game with sloppy mistakes and dreadful shooting. Interim Coach J.B. Bickerstaff, son of longtime NBA coach Bernie Bickerstaff, served in his first game as head coach.
The Trail Blazers dropped their seventh straight, their worst losing streak since closing 2012-13 on a 13-game skid. Portland entered the fourth quarter with a 15-point lead.
at Oklahoma City 110, New Orleans 103: Russell Westbrook had 43 points, nine rebounds and eight assists, and the Thunder recovered from a slow start to beat the Pelicans, who suited up only nine players because of injuries. New Orleans' Anthony Davis missed the game with a shoulder injury.
Indiana 112, at Philadelphia 85: Paul George scored 34 points and C.J. Miles added 20 to lead the Pacers over the 76ers, who dropped to 0-12 this season and lost their 22nd in a row overall. Philadelphia is within five losses of matching last season's franchise-worst start and is six defeats away from tying the NBA record, set by the 2009 Nets, for longest losing streak to begin a season. The 76ers open a six-game trip Friday in Charlotte.
at San Antonio 109, Denver 98: Tony Parker scored a season-high 25 points and the Spurs never trailed in winning their sixth in a row. Kawhi Leonard added 20 points for San Antonio, which is undefeated in five home games.
Dallas 106, at Boston 102: Dirk Nowitzki scored 23 points, Wesley Matthews had 18 and the Mavericks erased an 18-point, first-half deficit to win their fifth game in a row. Dallas trailed 89-82 with just under eight minutes to play before going on a 14-2 run. Isaiah Thomas scored 18 points for the Celtics, who had won three in a row.
Chicago 103, at Phoenix 97: Jimmy Butler scored a season-high 32 points and the Bulls made it four wins in a row.
at Atlanta 103, Sacramento 97: Paul Millsap scored 23 points, including a running one-hander with 15.7 seconds remaining to the help the Hawks hold off the Kings.
at Charlotte 116, Brooklyn 111: Nicolas Batum had 24 points and eight assists to help the Hornets win for the sixth time in nine games. Al Jefferson and Kemba Walker each had 18 points. Thaddeus Young had 27 points on 11-for-17 shooting for the Nets.
at Orlando 104, Minnesota 101 (OT): Evan Fournier scored 26 points and hit a three-point shot with 3.1 seconds left in overtime to lift the Magic over the Timberwolves, who got 28 points from Andrew Wiggins.
at Utah 93, Toronto 89: Rodney Hood scored 16 points and the Jazz used an 11-2 run midway through the fourth quarter to take the lead.
---