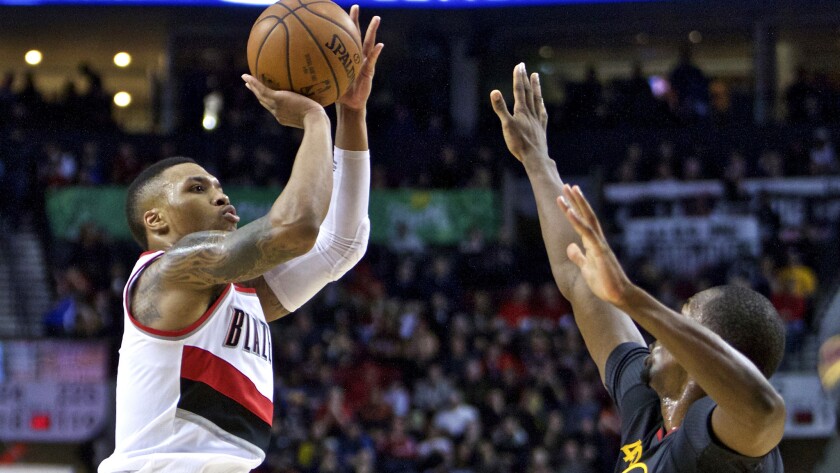 Damian Lillard scored a career-high 51 points and had seven assists and six steals Friday night to lead the Portland Trail Blazers to a stunningly dominant 137-105 win over the Golden State Warriors in Portland, Ore.
The defeat, only the fifth in 53 games this season, snapped the Warriors' 11-game winning streak. The Trail Blazers (28-27) have won four straight and nine of 10 to move above .500 for the first time since they were 3-2 on Nov. 4.
Stephen Curry led the Warriors with 31 points and five assists for the Warriors, who committed 13 turnovers in the third quarter against Portland's stifling defense.
Indiana 101, at Oklahoma City 98: Monta Ellis scored 27 points, Paul George had 22 plus 10 assists, and the Pacers cooled off the Thunder. Kevin Durant scored 31 and Russell Westbrook had 23 points and a career-high 18 assists for Oklahoma City, which had won 14 of 16.
at Chicago 116, Toronto 106: Doug McDermott had a career-high 30 points and the injury depleted Bulls snapped a five-game losing streak, winning for just the fifth time in 20 games.
Miami 115, at Atlanta 111: Luol Deng scored a season-high 30 points as the Heat won without All-Stars Dwyane Wade and Chris Bosh, both injured, and center Hassan Whiteside, who was suspended.
at Brooklyn 109, New York 98: Brook Lopez scored 33 points and the Nets handed the Knicks their seventh straight loss, the last two under interim Coach Kurt Rambis.
at Orlando 110, Dallas 104 (OT): Victor Oladipo had a career-high 14 rebounds and scored 17 points, including the three-pointer that put the Magic ahead for good in overtime.
At Utah 111, Boston 93: All five starters scored in double figures for the Jazz, led by Derrick Favors' 23 points and 10 rebounds and Gordon Hayward's 22 points.
at Washington 98, Detroit 86: John Wall had 22 points and Markieff Morris, acquired from Phoenix a day earlier, scored six in his Wizards debut against the Pistons and his twin brother Marcus.
Houston 116, at Phoenix 100: James Harden had 27 points, 10 rebounds and seven assists, and the Rockets handed the Suns their 10th straight loss and 25th in 27 games.
at Memphis 109, Minnesota 104: Mike Conley had 25 points and seven assists, and Vince Carter scored a season-high 15 to lift the Grizzlies.
at Sacramento 116, Denver 110: DeMarcus Cousins' 37 points and 20 rebounds pushed the Kings past the Nuggets.
Charlotte 98, at Milwaukee 95: Kemba Walker scored 25 points and Cody Zeller had a season-high 23 for the Hornets.
at New Orleans 121, Philadelphia 114: Anthony Davis scored 18 of his 34 points in the first quarter for the Pelicans.
---