NBA All-Star game draft: LeBron selects Kevin Durant first, Giannis takes Stephen Curry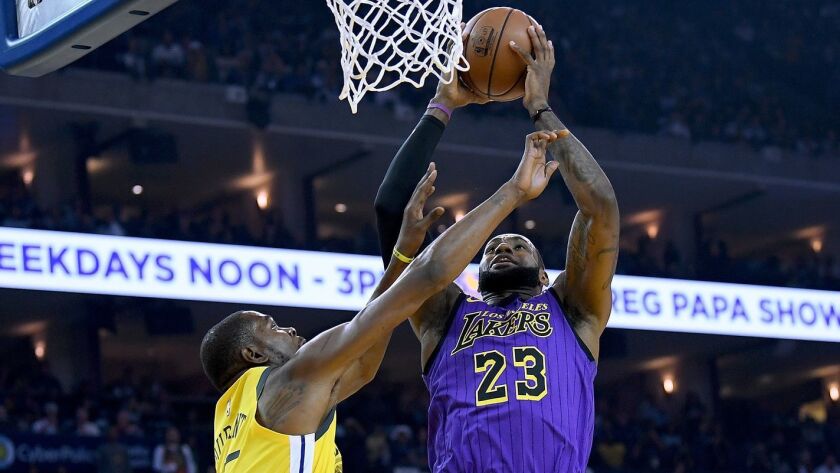 Lakers All-Star and team captain LeBron James had the first pick of the NBA All-Star draft and selected Golden State Warriors forward Kevin Durant.
When it was time to select the reserves, he did not miss his chance to take New Orleans Pelicans forward Anthony Davis, who the Lakers tried to acquire at the NBA trade deadline with an offer of six players and two first-round draft picks. New Orleans said it wasn't enough.
When asked by TNT host Ernie Johnson if he was sure he wanted Davis as a teammate, James replied, "I'm very sure of that."
"Isn't that tampering?" rival captain and Milwaukee Bucks All-Star Giannis Antetokounmpo asked.
James and Antetokounmpo were awarded the team captain honors for being the top vote-getters in each conference. They drafted rosters from the pool of players voted into the game as starters and selected as reserves from each conference, making their selections regardless of conference affiliation.
The All-Star game will be played Feb. 17 at Charlotte, N.C. It will be broadcast on TNT. Tipoff is 5:15 p.m.
Antetokounmpo had the second pick among starters and chose Warriors guard Stephen Curry.
James then took Boston Celtics guard and former Cleveland Cavaliers teammate Kyrie Irving second, followed by Toronto Raptors forward Kawhi Leonard and Houston Rockets guard James Harden to round out his starters.
Antetokounmpo picked Philadelphia 76ers center Joel Embiid second, followed by Oklahoma City Thunder forward Paul George and Charlotte Hornets guard Kemba Walker to complete his starting unit.
Sign up for our daily sports newsletter »
When it was time to select the reserves, Antetokounmpo picked first and selected Bucks teammate Khris Middleton, followed by Denver Nuggets center Nikola Jokic, 76ers guard Ben Simmons, Detroit Pistons forward Blake Griffin, Brooklyn Nets guard D'Angelo Russell, Orlando Magic center Nikola Vucevic and Toronto Raptors guard Kyle Lowry.
After James took Davis as his first reserve, he then selected Golden State guard Klay Thompson, Portland Trail Blazers guard Damian Lillard, Oklahoma City guard Russell Westbrook, San Antonio Spurs forward LaMarcus Aldridge, Minnesota Timberwolves center Karl-Anthony Towns and Washington Wizards guard Bradley Beal.
The final two selections were made among honorary players and future Hall of Famers Dirk Nowitzki and Dwyane Wade, who were chosen for the game by NBA Commissioner Adam Silver.
James had the first pick and tried to pull a fast one.
"Everyone in the world knows who I'm going with and I'm going with Dirk," said James, who continued after letting out a laugh. "I'm going with my buddy, Dwyane Wade."
Before the show was over Thursday, James suggested a trade that Antetokounmpo agreed to. James sent Westbrook to Antetokounmpo for Simmons.
Twitter: @BA_Turner
---
Get the latest on L.A.'s teams in the daily Sports Report newsletter.
You may occasionally receive promotional content from the Los Angeles Times.