Column: Jimmy Butler and Kawhi Leonard are in similar situations, but with one big difference
Reporting from Toronto —
Kawhi Leonard and Jimmy Butler began Wednesday night standing next to each other, on opposite sides of the mid-court line in the moments before the opening tip.
They're not mirror images, though there are similarities. They're two of the best in the NBA at impacting games on offense and defense, they're both All-Stars and they're both headed for free agency after this season.
The line on the center of the court? It's way too thin. The differences between Leonard and Butler early this season would be better illustrated with a moat, with the sun shining on the Toronto Raptors and storm clouds covering Butler's Minnesota Timberwolves.
One is on a team that's scattered and inconsistent, too talented to be scuffling the same way it did last season. The other is playing tremendous basketball for a team off to as good of a start as possible.
Butler, who requested a trade and skipped most of the preseason, is wearing a uniform he seems to not want to be in and on his way to his next stop. Leonard is leasing with an option to buy, trying out the Raptors before making his big decision next summer.
Both could choose the Clippers — they've been linked in rumors and reports — and would instantly push them back up the Western Conference hierarchy, with Leonard maybe even making them contenders.
But neither is saying the future is weighing heavy on his mind.
"I don't think about anything other than playing basketball," Butler told the Los Angeles Times before Wednesday's game. "Some things are out of my control. And, that's one of them. I go out there and go to war with my guys, at the end of the day, and you're trying to win. I love to compete. I love to show that I can hang with the best of them. So, that's all I focus in on."
Butler appeared to be on the verge of being dealt to Miami before the Heat balked at the increasing trade demands, and after Wednesday's loss in Toronto, reports of an offer from Houston (four future first-round draft picks) surfaced, signaling another round of talks.
Before the Rockets report, people around the Timberwolves were at least a little hopeful that some of the noise that surrounded the team was beginning to quiet down. Asked about Butler and distractions that come with a player wanting out, coach Tom Thibodeau, who is also the president of basketball operations, was predictably uninterested in going into great detail.
"You focus on today — who's here and who we're playing — and that's what we're doing," he said. "That's what we have to do. That's the challenge of the NBA. Every team goes through different things. We don't want to get wrapped up in stuff that happened yesterday or what's coming tomorrow. Lock into today."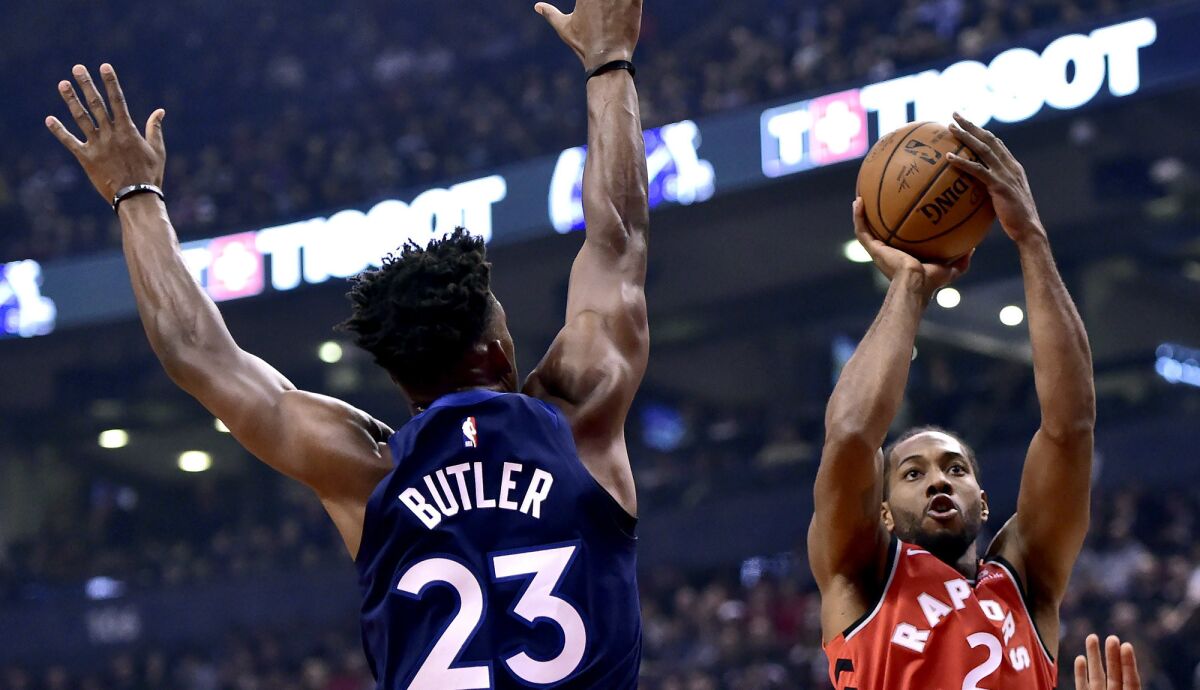 On the court, though, the Timberwolves (2-4) looked anything but locked in. Karl-Anthony Towns was lethargic Wednesday and Butler didn't take over, instead putting in 23 points on an efficient 13 shots.
Butler tried to quash any talk about broken chemistry with his teammates, even if there's compelling on-court evidence to the contrary.
"Everybody likes to make a big deal out of, really nothing," he said before the game. "They don't know what goes on in the locker room. We like playing with one another. We like being around one another. I think that everybody just wants to make a big deal. They want us to worry. They want something to go wrong."
If there are mixed messages coming out of the Minnesota locker room, the messaging is much clearer with Toronto, which is 6-0. While some of the scars from the trade of DeMar DeRozan, a beloved figure in the city and organization, haven't fully healed, the Raptors' hot start has everyone smiling, even the famously inexpressive Leonard.
After beating Butler and the Timberwolves with a masterful performance (35 points and a jaw-dropping steal on a bounce pass), Leonard joked about some of the changes that have come from living in a different country, like adjusting from miles to kilometers on a car's speedometer.
He said he's enjoying his new home — good news for the Raptors, who gambled by bringing in Leonard with only one season left on his contract.
"It's basically like being in New York," he told the Los Angeles Times. "I'm enjoying the city so far, but I have a lot I'd like to venture off and see still."
Although it's different, so was San Antonio, and anywhere else would be too, outside of his native Southern California.
"I've been playing this my whole life. It's a big life adjustment. You're in a different country. You're not used to some of the things or the cities out here. But, really, it's the same thing as when you're in the United States," Leonard said. "You get drafted to a team, sometimes you get lucky and are able to play in your hometown or stay in the same state, but it's new for everybody else, all rookies."
After missing almost all of last season because of a quadriceps injury, the handling of which played a significant role in his split with the Spurs, Leonard's shaken off any rust. Like Butler, he knows his future is in the forefront of a lot of minds.
"I'm competitive. I always look at what's in front of me, not those future plans as much," he said. "You try to plan as much as you can, but right now, I'm just taking each day at a time and just playing the game. I'm not worried about it."
That's the message the Raptors tried to express to their fans with a pregame video before the second game of the season. In the video, the narrator told fans not to fret about whether Leonard, like Raptors stars of the past, would leave, to instead focus on what could be the best season in organization history and a player who could be the best the team has ever had.
The Raptors bet on Leonard, that they could win him over with their culture, their city, their organization. And the early returns are encouraging.
"It's still basketball," Leonard said.
Butler used almost the same phrase — "It's just basketball" — when talking about the uncertainty surrounding his future.
For the players, it might be just that. For the teams deciding to make a deal or the ones waiting for the summer, it's so much more.
It's the future of their franchise.
Twitter: @DanWoikeSports
---
Get our high school sports newsletter
Prep Rally is devoted to the SoCal high school sports experience, bringing you scores, stories and a behind-the-scenes look at what makes prep sports so popular.
You may occasionally receive promotional content from the Los Angeles Times.