NBA draft: Zion Williamson is a sure bet to be league's next big star
Reporting from New York —
Sixty names were called during the 2019 NBA draft on Thursday night, names from all over the world. Some were called sooner than expected. Some were called later. And none rang out louder, longer and more impactful than when commissioner Adam Silver said "Zion Williamson."
Over the course of the night, the No. 1 overall pick showed that he's not too young for the spotlight, that he's more than hype. He's heart, too.
After moving across the stage, Williamson stood next to his mother, Sharonda, tears filling in the corner of his eyes, some sliding down his cheeks. He, officially, will be with the New Orleans Pelicans next season. The emotion of it all was too much. As his eyes got red, she placed a hand on the center of his massive back.
You might think the NBA has seen something like this before — a man this big, this wide, this strong, this charismatic moving so quick and jumping so high. Maybe it reminds you of UNLV legend Larry Johnson. Maybe you see Blake Griffin. Maybe it's Charles Barkley.
But if you look closer, if you dive deep into the cache of YouTube and Instagram videos that made Williamson a star long before Thursday night, long before he was the country's best college basketball player last season at Duke, you see an anomaly.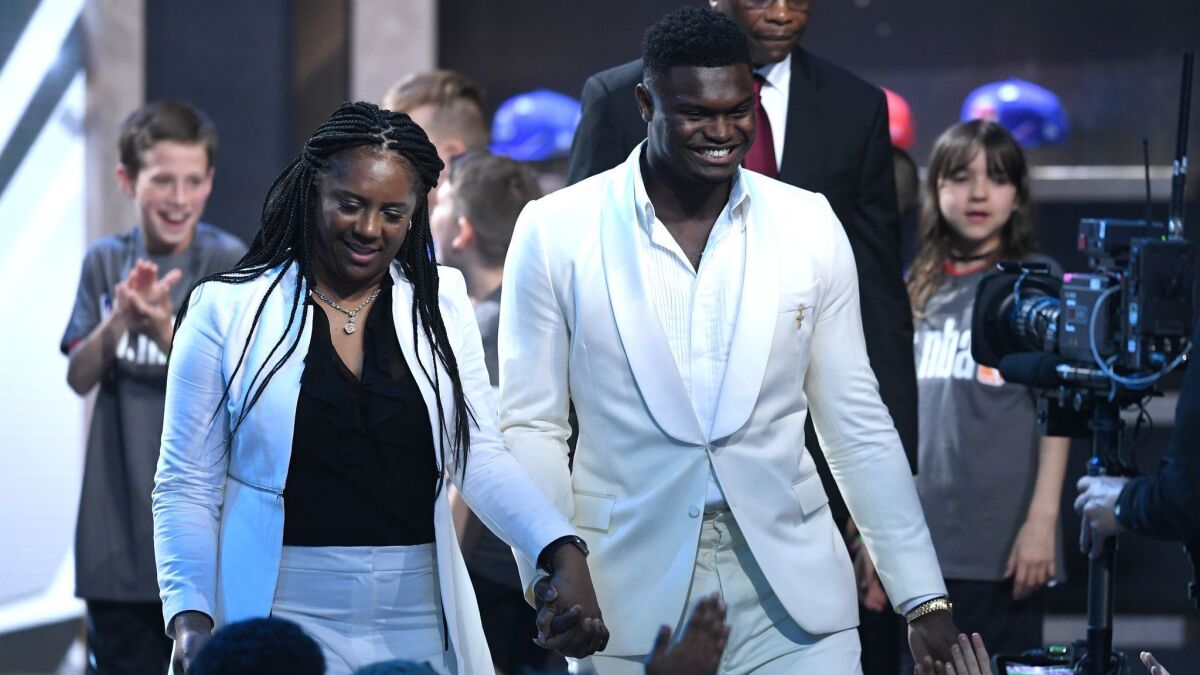 You can watch him throw down between-the-leg dunks in games like they're layups, you can find the footage of him jogging his way into 360 slams, bouncing between defenders like a point guard instead of a bulldozer.
You can watch him throw a football 70 yards. You can find stories about him hitting a baseball 450 feet. Any athletic feat can be attributed to him and still be believable.
Zion Williamson isn't Charles Barkley. He's Bo Jackson.
"I don't think it's a feeling I can really describe. You know, as a little kid you say you want to go to the NBA. People basically say, 'you've got to have a plan B because the chances of doing it is just little to none.'
"For me to be selected No. 1, I mean, I can't dream it no better than that."
Williamson reacted to being taken by the Pelicans like it wasn't the certainty it actually was. The second they won the NBA's Draft Lottery, that was happening.
But Williamson's humility on the biggest night of his life was genuine. He said he didn't really know the NBA was a possibility until the college coaches came to his South Carolina home. And he didn't think it could happen this quick — until those coaches all told him that he'd only be on campus for a few months.
"I'm thinking to myself, 'I don't know about that.' I'll probably be there like two, three, four years, who knows?" Williamson said. "And then I met Duke and Coach K, just telling me that I can keep up the hard work, then I can leave after this year. It's different. Coach K — top five figure in basketball — telling me I can go pro after one year, I mean, what other motivation do you need?"
He's here now with the feeling that no expectations are too high or are too unreasonable.
And if Williamson is a sure thing — and even the sure things at the draft aren't actually sure things — it was one of the only certainties of the night.
An hour before Williamson's name got called, the floor in front of the draft stage was only partially filled, the future of the NBA mostly sitting alone with their eyes glued to their phones.
The Lakers pick that went to the Pelicans? It belonged to the Hawks now. The Suns' No. 6 pick? That was headed to Minneapolis.
By the end of the night, Ja Morant and USC's Kevin Porter Jr. would be first-round picks players, but for now, they were just on the ride, two guys talking about what was happening all around them.
"You see all these trades, bro?" Morant asked Porter, a huge grin on his face.
Picks moved between teams like the ball in a perfect Warriors' possession, never staying too long in one place. There were 15 trades involving first-round picks in time between the lottery and Thursday night, with four first-rounders being dealt twice.
But while the teams shuffled around, the draft boards didn't move too much. Ja Morant and RJ Barrett went second and third, as expected. De'Andre Hunter was fourth with a pick that started with the Lakers and went to New Orleans in the Anthony Davis deal.
"I mean, my heart was beating in my chest. I was so nervous," Hunter said. "Once I heard my name called, it's hard to explain. I just wanted to hug my family."
Sign up for our daily sports newsletter »
The first big curveball came at No. 11 when the Phoenix Suns, who traded down from No. 6, took North Carolina's Cameron Johnson. Orlando shook things up again at No. 16 by taking Chuma Okeke after the Auburn star tore his ACL during the NCAA tournament.
The surprises meant other players dropped. Porter had to wait until the last pick of the first round to hear his name called — he'll end up in Cleveland. Bol Bol, who was expected to be a top-five pick before the college season began, slid all the way into the middle of the second round before he was taken 44th by Miami, later being dealt to Denver. UCLA's Jaylen Hands was taken 56th by the Brooklyn Nets.
While those rises and falls define so many drafts, this was Williamson's night, the crowd erupting every time he poked his head out from backstage.
"I feel like people remember winners," Williamson said.
And people are going to remember him.
Twitter: @DanWoikeSports
---
Get our high school sports newsletter
Prep Rally is devoted to the SoCal high school sports experience, bringing you scores, stories and a behind-the-scenes look at what makes prep sports so popular.
You may occasionally receive promotional content from the Los Angeles Times.