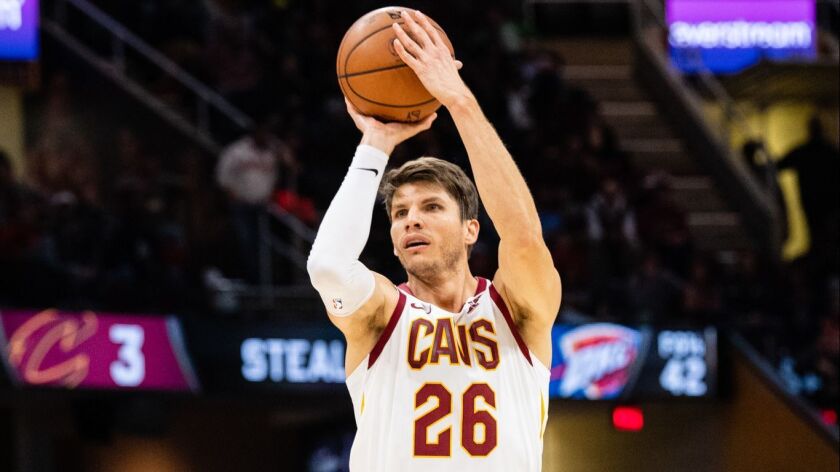 A person familiar with the deal says the Cleveland Cavaliers have agreed to trade veteran forward Kyle Korver to the Utah Jazz.
Korver, one of the best long-distance shooters in NBA history, is going to the Jazz in exchange for two future second-round draft picks, said the person who spoke Wednesday to The Associated Press on condition of anonymity because the swap has to be approved by the NBA. The trade might not become official until Thursday.
ESPN first reported the swap.
The 37-year-old Korver is going back to Utah, where he played from 2007-10. He became expendable this season in Cleveland as the Cavs are in rebuilding mode after losing LeBron James as a free agent and are acquiring assets.
Cleveland is just 4-15 entering Wednesday's game at Oklahoma City.
Korver joined the Cavs in 2017, coming over in a trade from Atlanta.
Bulls' Valentine has season-ending ankle surgery
The Chicago Bulls say guard Denzel Valentine had season-ending surgery to stabilize his left ankle.
The Bulls announced Wednesday they expect Valentine to return to full basketball activities in about six months. The surgery was performed by Dr. Robert Anderson in Green Bay, Wisconsin.
The No. 14 pick in the 2016 draft, Valentine was initially diagnosed with a moderate sprain after he was hurt in practice in September. He had surgery on that ankle in May 2017. Valentine averaged 10.2 points last year, his second.
Lauri Markkanen (elbow) has been sidelined all season. Bobby Portis (right knee) has played in four games and Kris Dunn (left knee) has appeared in one.
Suns waive point guard Isaiah Canaan
The Phoenix Suns have waived guard Isaiah Canaan.
Canaan appeared in 19 games, 15 as a starter at point guard this season, but his playing time diminished as Devin Booker took over the starting point guard spot lately.
Canaan is in his eighth NBA season. He has played for Houston, Philadelphia, Chicago, Houston and Phoenix, averaging 8.4 points per game in his career. His season was cut short a year ago by a gruesome ankle injury.
Phoenix did not make any corresponding roster move after waiving Canaan on Wednesday.
---