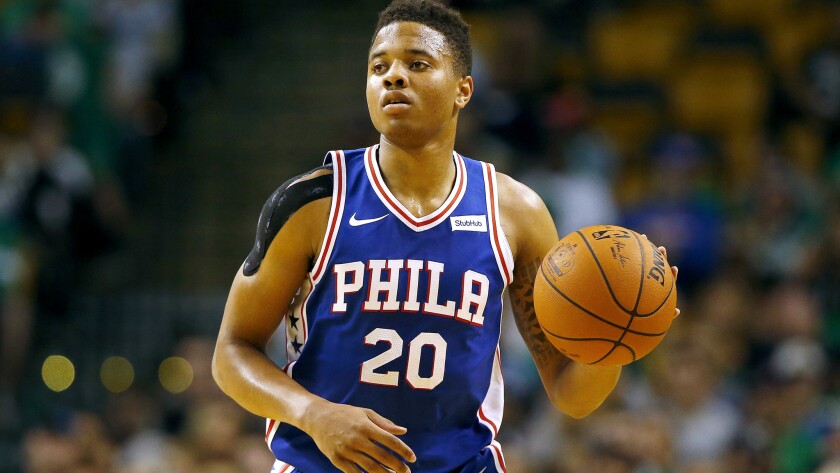 Philadelphia 76ers rookie guard Markelle Fultz will miss the next three games because of soreness in his right shoulder.
Fultz, the No. 1 pick in the 2017 NBA draft, has had problems with his shoulder all season that have greatly affected his free-throw mechanics. Fultz's form has been widely mocked as his shots clanked off the backboard.
"I think that we all understand there were some things going on," coach Brett Brown said. "I feel like it's a time where we can take a deep breath and help move him forward in a cleaner way."
Fultz is shooting 33%, 50% from the free-throw line and has not attempted a three-point shot, all as a reserve.
"I watched hundreds and hundreds of his shots," Brown said. "I get so excited because you see so clearly why he was the first player chosen. The kid is a baller. He can really play."
The 76ers traded the No. 3 overall pick and a future first-round pick to the Boston Celtics for the No. 1 pick with the intention of drafting Fultz. Team president Bryan Colangelo said there had been "no medical reason" not to play Fultz this season and the shoulder had no structural damage.
Fultz will miss Wednesday's game against the Houston Rockets and road games Saturday at Dallas and Monday at Houston.
The 6-foot-4 guard out of Houston is the latest in a string of 76ers' first-round picks who missed time with injuries, joining Ben Simmons, Joel Embiid and Nerlens Noel in recent years.
"At some point, you've got to know your body can no longer go through certain things," Embiid said.
The Sixers gave Fultz a cortisone injection this month and said he will be evaluated again on Tuesday.
Etc.
Cleveland Cavaliers guard Dwyane Wade has a bruised left knee and won't play Wednesday night against the Brooklyn Nets. Wade came off the bench and scored 11 points in 19 minutes in Tuesday's win over the Bulls. It was Wade's first game with Cleveland's second unit, and the 35-year-old added four assists and three rebounds as the Cavaliers' reserves cut into Chicago's early 14-point lead. … Tony Parker is taking another step toward returning to the San Antonio lineup. The Spurs' point guard, who hasn't played since rupturing a tendon in his left quadriceps during last season's Western Conference semifinals, practiced Wednesday in San Antonio with the team's G League affiliate. It is unclear how many times Parker will practice with Austin. The Spurs, who formally assigned Parker to Austin on Wednesday, say he will work out with the G-League club again Friday. …
Minnesota Timberwolves shooting guard Jimmy Butler will miss his second straight game because of an upper respiratory infection. The team announced the decision before playing at Detroit on Wednesday. He sat out on Tuesday at home against Indiana, which blew out the Timberwolves 130-107. … The New Orleans Pelicans are adding a sponsorship patch to their jersey. The club says in an announcement made Wednesday that it has reached a jersey sponsorship deal with Louisiana food and seasoning company Zatarain's, starting this season. The club says as part of the deal, Zatarain's will donate meals to the Second Harvest Food Bank charity for every Pelicans dunk this season.
The Los Angeles Dodgers in the 2017 World Series
On Now
Video: Kenley Jansen, Cody Bellinger, Rich Hill talk about losing Game 7
1:59
On Now
Video: Analysis: Dodgers lose Game 7 and the World Series
11:43
On Now
Video: Yu Darvish talks about using his slider for Game 7
1:34
On Now
Video: Kenley Jansen and others talk about winning Game 6
1:58
On Now
Video: Analyzing the Dodgers Game 6 win
7:26
On Now
Video: Clayton Kershaw on starting Game 5 of the World Series
1:57
On Now
Video: Dave Roberts Talks Rich Hill and Kenley Jansen pitching in Game 6
1:57
On Now
Video: Dave Roberts talks preparing for Game 7
1:26
On Now
Video: Here it is, Game 7, and Bill Plaschke knows who wins
2:22
On Now
Video: Rich Hill talks about Game 6 of the World Series
1:48
---