The NBA in 2014: Donald Sterling exits, Steve Ballmer arrives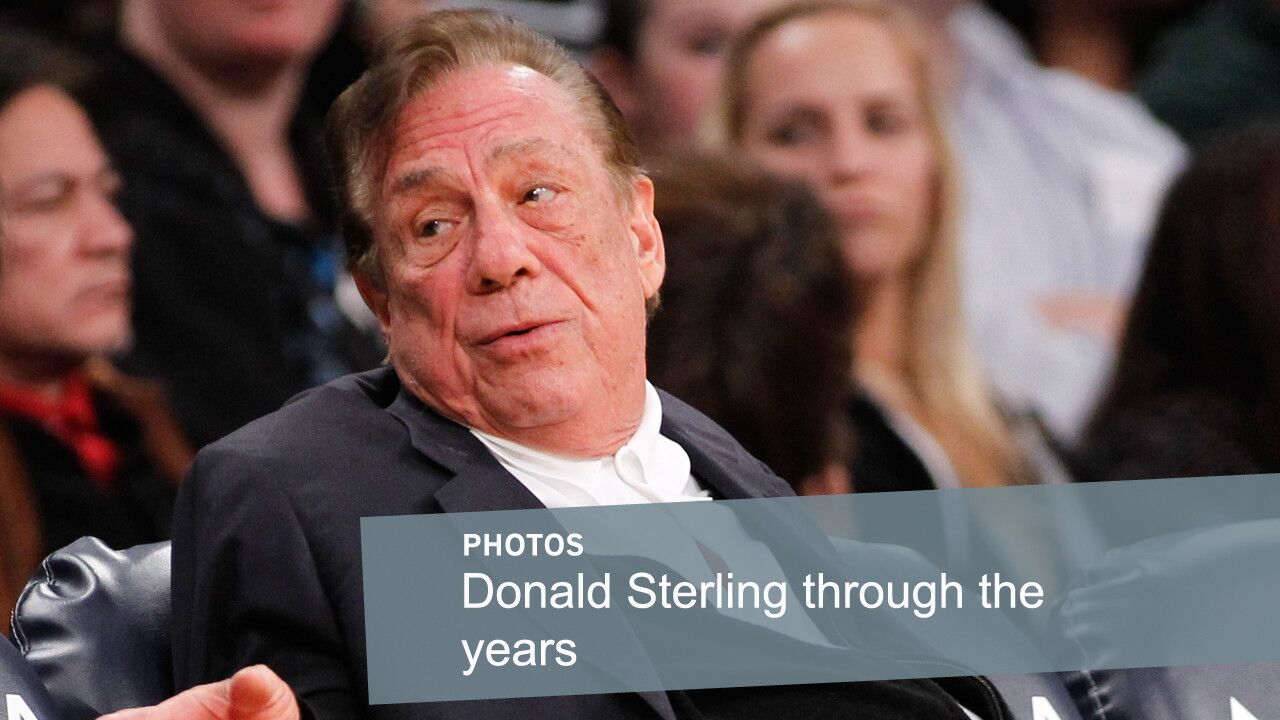 Former Clippers owner Donald Sterling gestures while attending a game between the Clippers and Lakers in December 2011. Sterling lost his legal fight to prevent the sale of the Clippers after remarks he made about blacks led to a lifetime ban from the NBA.
(Danny Moloshok / Associated Press)
Donald Sterling speaks to reporters during a 1981 news conference to announce he had purchased the San Diego Clippers. Sterling purchased the franchise for $13.5 million and moved the team to Los Angeles in 1984.
(Lenny Ignelzi / Associated Press)
Donald Sterling smiles during a 1981 news conference introducing him as the new owner of the San Diego Clippers. Sterling bought the team for $13.5 million and moved the franchise to Los Angeles in 1984.
(John McDonough / Los Angeles Times)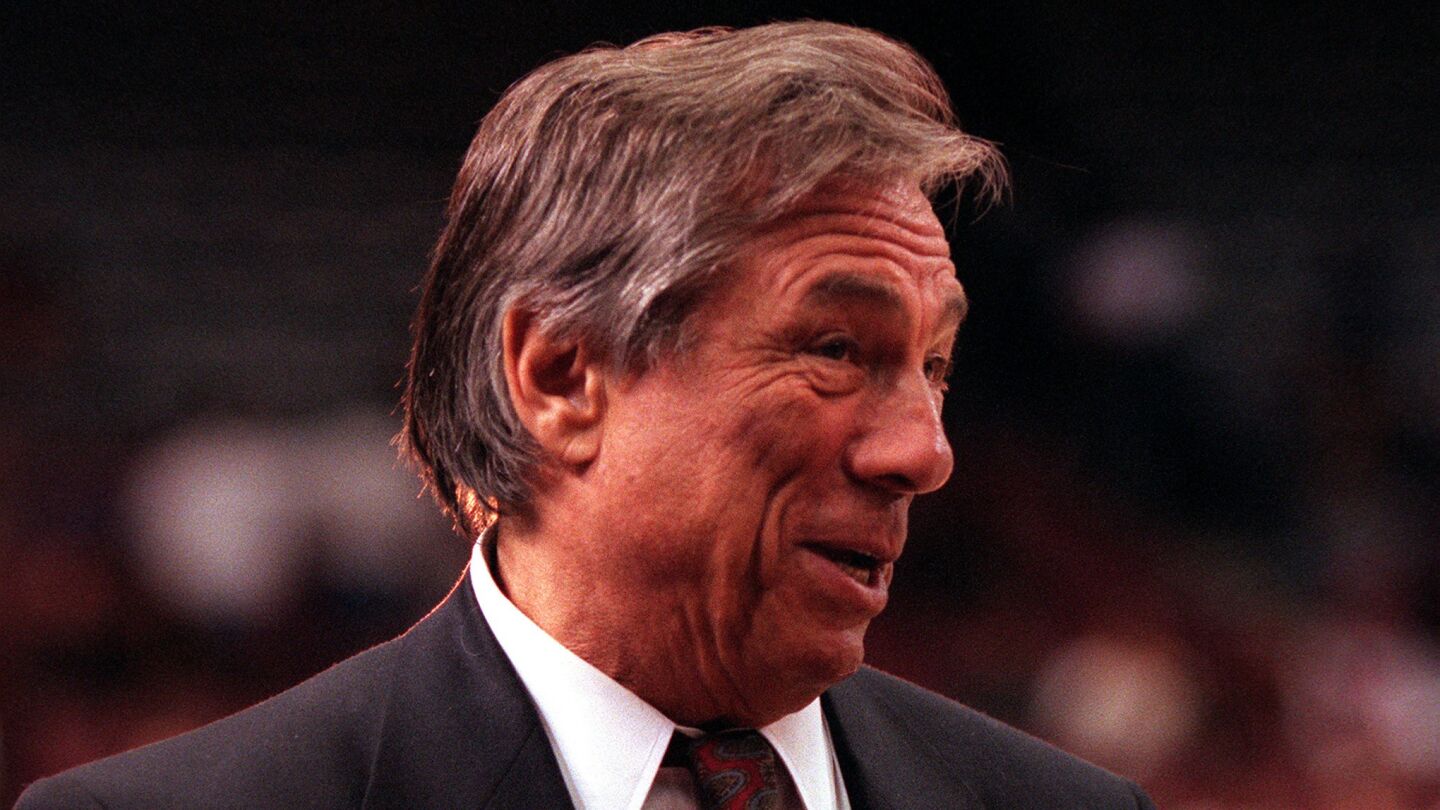 Clippers owner Donald Sterling attends a game at the Los Angeles Sports Arena in 1997.
(Anacleto Rapping / Los Angeles Times)
Donald Sterling attends the "California Gold Star Awards" dinner gala and auction at the Disneyland Hotel in April 2003.
(Robert Mora / Getty Images)
Clippers owner Donald Sterling waves while sitting next his wife, Shelly, during a playoff game between the Clippers and Phoenix Suns at Staples Center in May 2006.
(Lori Shepler / Los Angeles Times)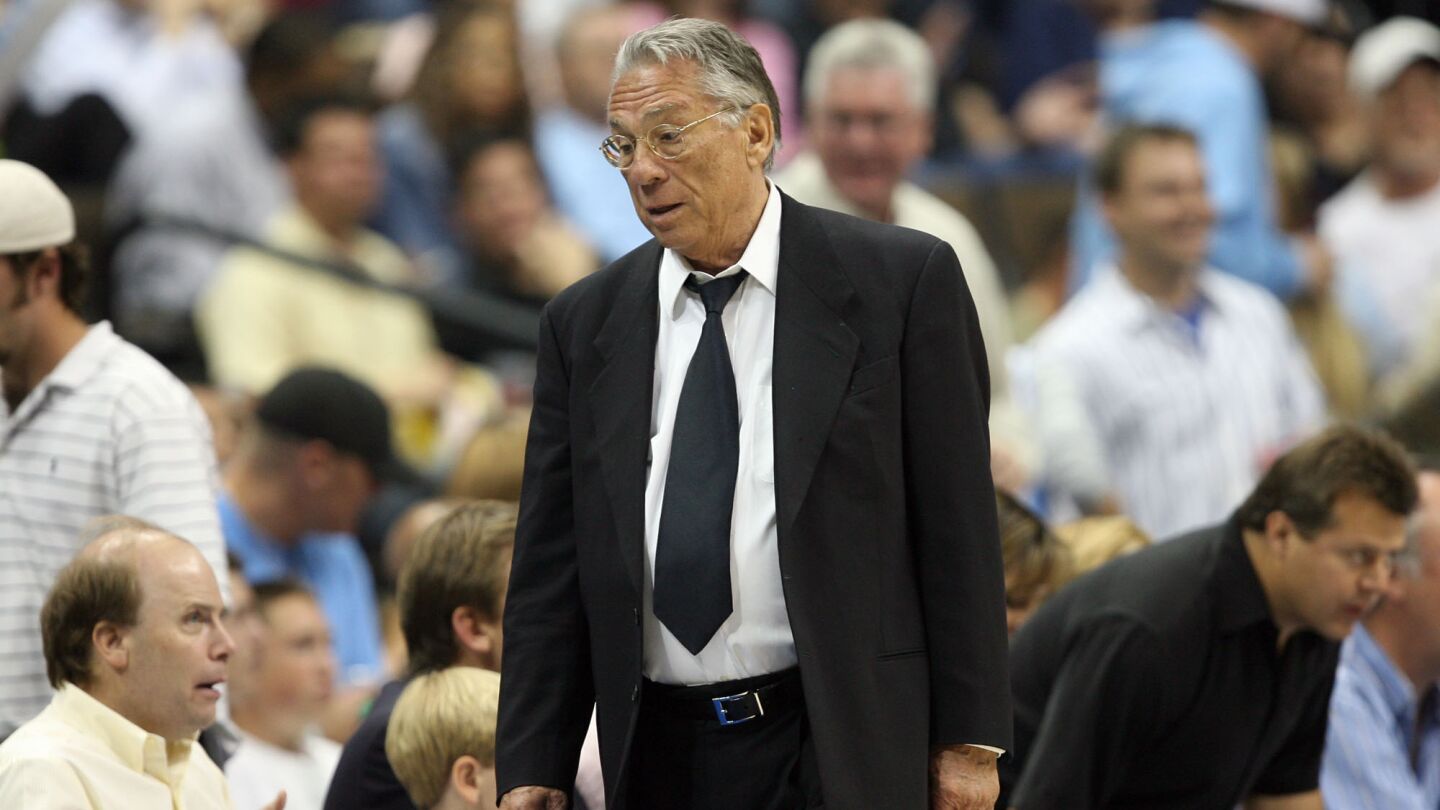 Clippers owner Donald Sterling looks on during a game against the Denver Nuggets at Staples Center in 2006.
(David Zalubowski / Associated Press)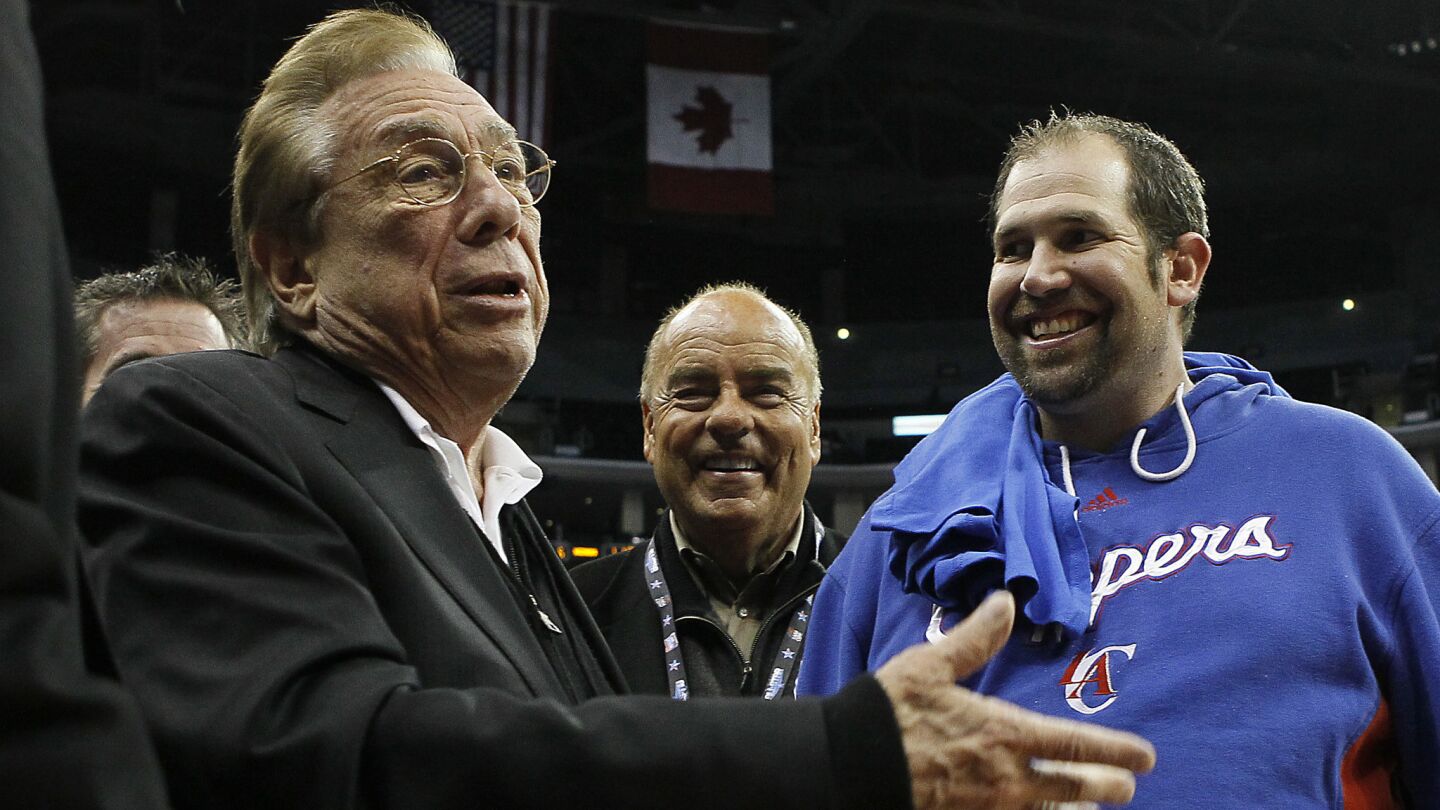 Clippers owner Donald Sterling greets Iraq War veteran Greg Valentini during halftime of a game between the Clippers and Washington Wizards in March 2011.
(Robert Gauthier / Los Angeles Times)
Clippers owners Donald Sterling and Shelly Sterling attend a charity event in Malibu in August 2009.
(Michael Bezjian / WireImage)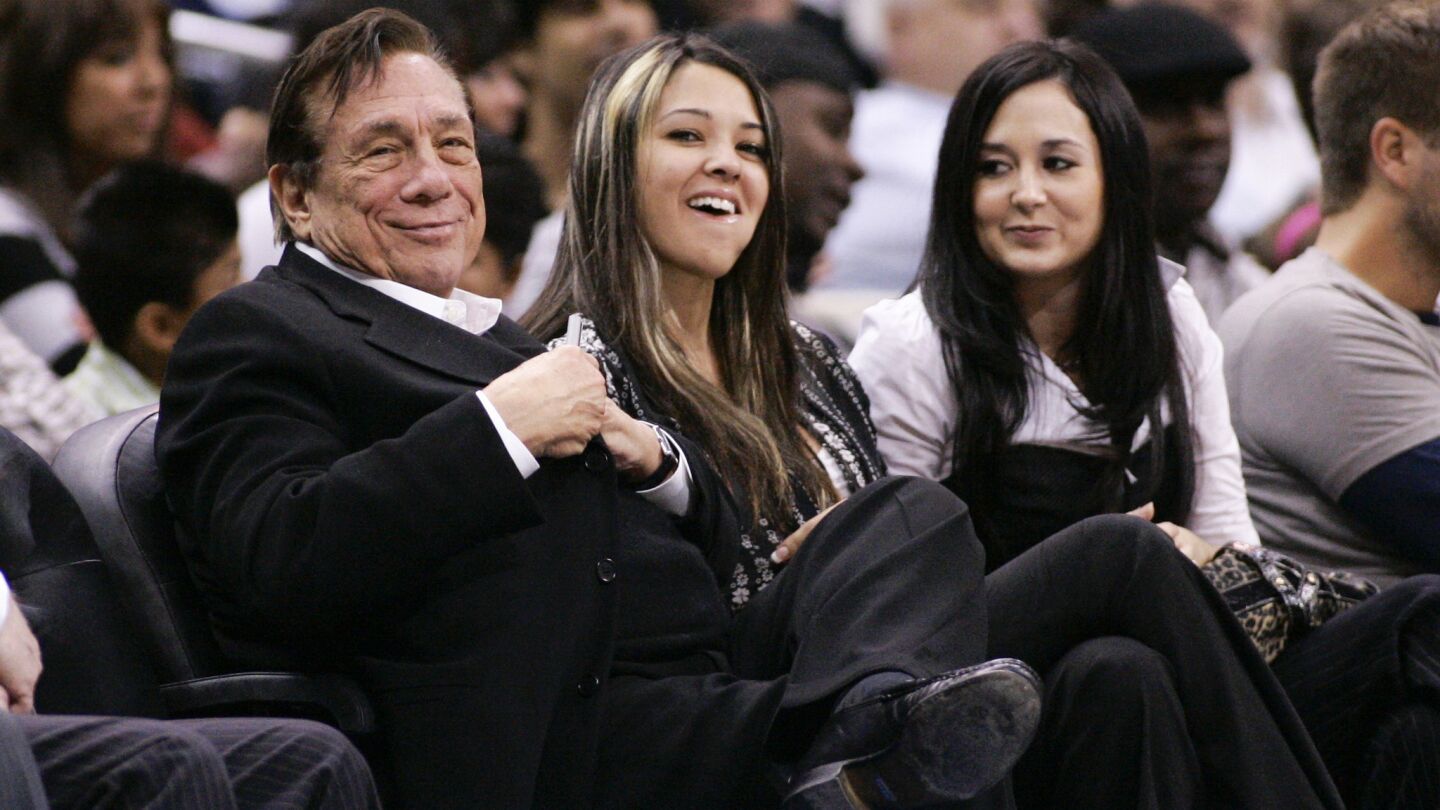 Clippers owner Donald Sterling smiles while sitting courtside during a game against the San Antonio Spurs in 2009 at Staples Center.
(Danny Moloshok / Associated Press)
Clippers owner Donald Sterling sits next to friend V. Stiviano during a preseason game between the Clippers and Lakers in December 2010.
(Danny Moloshok / Associated Press)
Clippers owner Donald Sterling watches his team play during an October 2010 game at Staples Center.
(Mark J. Terrill / Associated Press)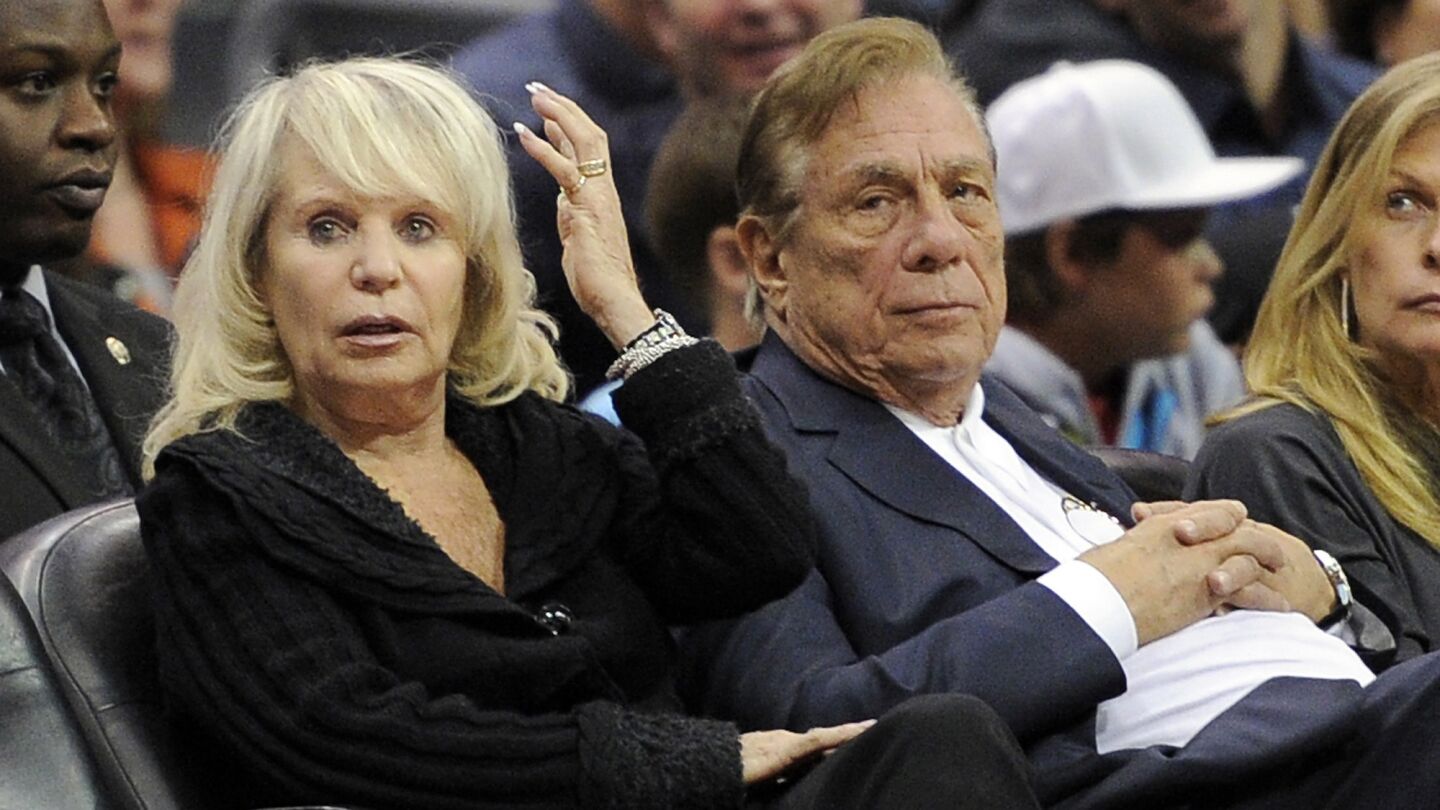 Clippers owners Shelly and Donald Sterling attend a game against the Detroit Pistons in November 2010.
(Mark J. Terrill / Associated Press)
A review of the NBA in the year 2014.
The highs
• Waving goodbye to "The Donald." Months of chaos commenced with the text message "Let the games began" aimed at Clippers owner Donald Sterling by V. Stiviano, his estranged companion who surreptitiously recorded him making disparaging comments about blacks. The ordeal ended with the less grammatically challenged headline "Ballmer's Purchase of Clippers Is Approved." A court had confirmed Steve Ballmer's right to purchase the team for a record $2 billion from Donald and Shelly Sterling.
• Kawhi Leonard wins NBA Finals MVP. San Antonio beating Miami on basketball's biggest stage was partly an L.A. story. The kid from Moreno Valley who was not recruited by UCLA erected his own pyramid of success, hoisting the Finals' most-valuable-player trophy after averaging 23.7 points and 9.3 rebounds while shooting 68.6% over the Spurs' final three games. Even more amazing was the perpetually stoic Leonard's cracking a smile afterward.
• LeBron James takes his talents … back to Cleveland. Ebenezer Scrooge would have teared up reading James' heartfelt letter explaining his decision to return to his home state. Those two championships James won in his four years in Miami had nothing on the emotional pull of northeast Ohio. "It's where I walked," James wrote, with an assist from Sports Illustrated's Lee Jenkins. "It's where I ran. It's where I cried. It's where I bled. It holds a special place in my heart." Sniff, sniff.
• Ballmer makes a hard-core introduction. It was part Tony Robbins seminar, part spiritual revival and wholly entertaining. Ballmer exchanged fist bumps and high-fives with fans during a welcome rally at Staples Center in which he set the (voluble) tone for his ownership. The former Microsoft executive then turned over control of the scoreboard by allowing fans to select highlights from their mobile devices during timeouts in games. His team isn't bad, either.
• Adam Silver banned Sterling and pushed out Atlanta Hawks owner Bruce Levenson over racially unsavory remarks. He extended the All-Star break and is reportedly considering condensing the preseason in a move that would reduce the number of back-to-back games during the regular season. It's been all warm fuzzies for the executive who will need to tap into that reservoir of goodwill if players opt out of the collective bargaining agreement as expected during the summer of 2017.
The lows
• The revival of the Clippers Curse. The Clippers had a seven-point lead with 49 seconds to go and one of the game's top closers in Chris Paul, needing only to avoid one of the worst collapses in NBA playoff history to beat Oklahoma City in Game 5 of the Western Conference semifinals. They couldn't do it. Oklahoma City's Kevin Durant made a three-pointer and a layup. Paul committed two turnovers and fouled Russell Westbrook on a three-point attempt. Referee Tony Brothers made a controversial out-of-bounds ruling in the Thunder's favor. The Clippers' season didn't officially end for two more days, but it was essentially over after their 105-104 meltdown.
• See you next fall, Kobe Bryant. A lost season became lost and boring when the Lakers announced in March that their last superstar was done for the season because of lingering discomfort from a fractured knee. Bryant finished the 2013-14 season having played in only six games because of the knee injury and a previously torn Achilles' tendon, though he uttered a few sarcastic, if not prophetic, words in one of his final sessions of the season with reporters: "Oh, yeah, let's just play next year and let's just suck again. No. Absolutely not." Well, actually …
• Lakers strike out again in free agency. Does anyone detect a pattern here? Dwight Howard left when the Lakers begged him in 1,000-point type to stay. Carmelo Anthony walked the red carpet in New York after being shown a fictional movie trailer of him living in Los Angeles. LeBron James soared into Cleveland after a Lakers contingent flew to meet his representatives in Ohio. The Chicago Bulls offered Pau Gasol less moolah than the Lakers and he accepted. Those championship trophies sitting in the window of the Lakers' practice facility have become like the stopped clock in Miss Havisham's house, distant reminders of an era when things ticked.
• "There was no role for him." They are six words that could live in Lakers infamy, Jeanie Buss' explanation of why beau Phil Jackson became the New York Knicks' president instead of assuming a similar front-office role with the Lakers. The problem with those words is that they ring hollow under the Lakers' power structure. Jeanie is at the top of the organizational flow chart, meaning she could have created a role for Jackson if she so desired.
• Dunk this. It seemed impossible, making All-Star weekend even more forgettable, but the NBA managed to do it with its new dunk contest rules. To recap: It was a team competition involving sequences known as the freestyle and battle rounds, but John Wall was declared the winner in fan voting. Say what?
---
Get our high school sports newsletter
Prep Rally is devoted to the SoCal high school sports experience, bringing you scores, stories and a behind-the-scenes look at what makes prep sports so popular.
You may occasionally receive promotional content from the Los Angeles Times.