Column: For Trae Young and others, NBA's Summer League can be an indicator of ability as well as a mirage
Reporting from Las Vegas —
The casinos that litter the streets of Las Vegas are homes to absolutes. Either the dice say "4" and "3" or they don't. The roulette wheel stops with the ball landing in a red or black space (or, if I'm betting, the green). You win the hand or you lose it, the chips either stay with you or they run for the house.
But in those shadows on UNLV's campus, things get murky for a few weeks in the summer.
The NBA's Summer League is a showcase that previews what recent draftees may be as professionals, and at the same time, it can be nothing more than a desert mirage, with the ramifications disappearing as soon as teams head home.
One of the few opinions you can find shared by scouts and executives in the stands is that the on-court product during the summer isn't wildly conducive to making any concrete statements about the prospects on the court.
Take, for instance, Atlanta guard Trae Young, whose early performances in the Utah Summer League and in Las Vegas left people trying to figure out just how big of a mistake the Hawks made in trading for him instead of keeping Luka Doncic, whom they sent to Dallas after picking him No. 3 to acquire Young and a future first-round draft pick.
Doncic didn't play in Las Vegas — he didn't sign his contract until Tuesday — but by not being here, he didn't have the chance to underperform like Young.
In his first four games in Utah and Vegas, the 6-foot-2 Young averaged 11.8 points on 24.2% shooting (16 of 66) from the field and 17.6% (six of 34) from three-point range. These aren't exactly "next Steph Curry" numbers.
"Atrocious shot selection," one Western Conference scout said. "Just too small," another added.
But still, there was some optimism about the No. 5 overall pick, especially after he led the Hawks to wins over Chicago and Indiana, averaging 23.5 points and 6.5 assists while shooting a combined 14 of 33 (42.4%) from the field, including nine of 20 from long range.
Young is a dynamic passer, though, and some believe better decision-making will come with more time on the court.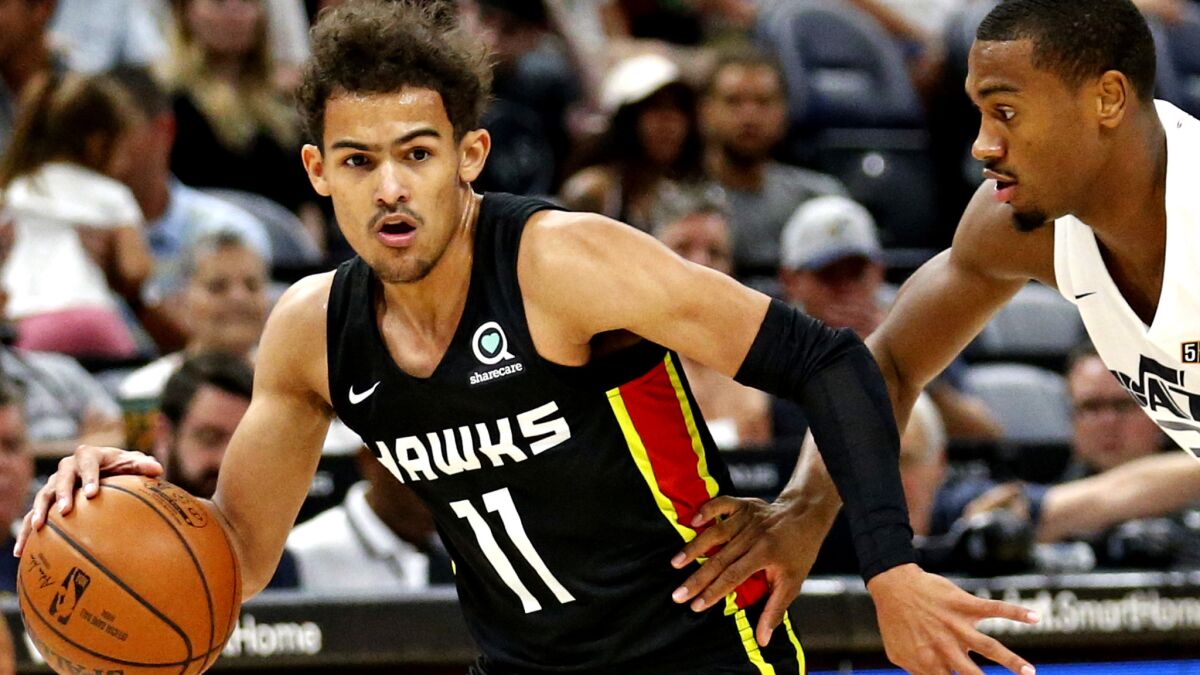 At his best, Young's a dynamic scorer capable of pulling up and hitting three-pointers from way beyond the arc, forcing opponents to stretch their defenses to impossible lengths, setting up express lanes to the basket.
At his worst, he's a streaky, inconsistent, bad-shot-taking, ball-dominant guard who passes much better than he does anything else.
Here's what else scouts, coaches and executives — who spoke off the record because they can't speak publicly about the players — were saying about some of the top-line prospects in Las Vegas:
Phoenix center DeAndre Ayton
The top overall pick has looked like the most physically dominant rookie from the 2018 class, with size, strength and agility that's been unmatched in Las Vegas. The big question still remains about the 7-foot, 260-pounder's ability to defend effectively in the NBA, and that won't be answered until Ayton goes up against more seasoned players in the regular season.
Sacramento forward Marvin Bagley III
For a player known for his offensive abilities, the 6-foot-11 Bagley struggled in Sacramento's California Classic before playing OK in his matchup against Ayton. Bagley is young, but coming out of Las Vegas, there were rumblings that he might not have been the best Duke big man in this draft.
Memphis forward Jaren Jackson Jr.
After shooting the ball really well in Utah, the 6-11 Jackson slowed in Las Vegas. His profile as a stretch big man who can protect the rim and hit three-point shots hasn't changed this summer. There's still a lot of room for growth.
Orlando center Mohamed Bamba
The most impressive play from the 7-foot Bamba in Las Vegas might've happened in his game against Phoenix on Monday night, with the ball finding its way to Ayton in the post. Ayton bumped into the defender, and as soon as he realized it was Bamba, he immediately passed the ball out. Defensively, he'll make an impact right away. Offensively, he's got work to do.
Chicago center Wendell Carter Jr.
An unofficial polling of scouts, executives and coaches determined Carter is one of the two most impressive players in Las Vegas. Before the draft, the 6-11 Carter earned some Al Horford comparisons, and he's looked the part this summer. He's an excellent defender, a good shooter and a cerebral player — a skill that stands out in the loose up-and-down style of Summer League.
New York forward Kevin Knox
If Carter wasn't your favorite rookie in Las Vegas, Knox was. No other rookie scored more points in the pre-tournament stage in Las Vegas than the 6-9 Knox, a player who was very high on a lot of team's draft boards, including the Clippers.
Clippers guard Shai Gilgeous-Alexander
Knox's teammate at Kentucky, the 6-6 Gilgeous-Alexander has gotten better each game for the Clippers in Vegas — a really good sign. He's a sneaky scorer who left scouts impressed with how "smooth" he looked running the offense. There were more than a handful of people in Vegas who felt he could end up being the best point guard taken in 2018.
Other observations
Utah guard Grayson Allen (6-5) has been as advertised — a total irritant who makes smart plays on the court when he's not making annoying ones. He'll help the Jazz sooner than later. … New Orleans guard Trevon Bluiett (6-6) has been the most impressive undrafted player in Las Vegas, shooting his way onto everyone's radar after a strong career at Xavier. … Las Vegas isn't just for rookies. Second-year players such as Atlanta forward-center John Collins (6-10) and Lakers guard Josh Hart (6-4) have looked more advanced than their younger competition and have been among the best all-around players this summer.
Twitter: @DanWoikeSports
---
Get our high school sports newsletter
Prep Rally is devoted to the SoCal high school sports experience, bringing you scores, stories and a behind-the-scenes look at what makes prep sports so popular.
You may occasionally receive promotional content from the Los Angeles Times.