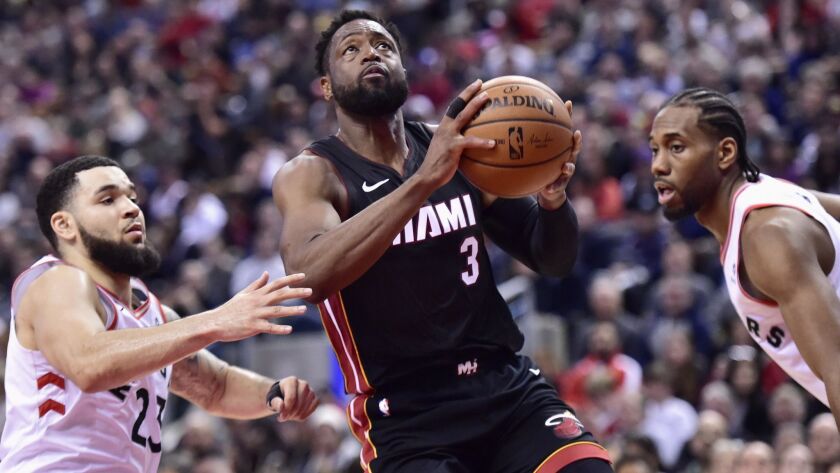 Pascal Siakam had 23 points and 10 rebounds, Kawhi Leonard scored 22 points and the Toronto Raptors beat Miami 117-109 in overtime on Sunday, further denting the Heat's fading playoff hopes.
Norman Powell matched his season high with 23 points, Danny Green scored seven of his 21 points in overtime and OG Anunoby had 12 as Toronto won its fourth straight over the Heat.
Dwyane Wade scored 21 points and James Johnson had 18 for the Heat, who have lost a season-high four straight.
Miami could have guaranteed a postseason berth by winning its final three games — the Heat host Philadelphia on Tuesday and close the regular season at Brooklyn the following day. Miami was in position to be eliminated later Sunday if Orlando defeated Boston and Brooklyn beat Indiana.
Dion Waiters scored 17 points, Justise Winslow had 15 and Hassan Whiteside 14.
Miami had the ball in the frontcourt with the score tied 103-103 and 10 seconds left in the fourth quarter. Official Eric Lewis blew the whistle and the Heat players started running into position, but Dion Waiters hadn't yet been given the ball for the inbounds pass.
Confused, the Heat ended up with a broken play at the buzzer. James Johnson missed a jump shot and Bam Adebayo grabbed the rebound and made a layup, but it came right after the buzzer and didn't count.
Sign up for our daily sports newsletter »
Heat coach Erik Spoelstra said the explanation he received from the officials for the early whistle included "nothing that was coherent or makes sense."
"You blow the whistle when you hand the ball to somebody when they're out of bounds, not before," Spoelstra said. "That got us moving, into motion, before that. The it was just sideways from there.
"It's very disappointing that that play was allowed to continue," he said. "From our vantage point, that was a botched play. You just set it again. That happens a million times during the course of an NBA season."
Miami lost its season-high fourth in a row.
The Heat could have guaranteed a postseason berth by winning their final three games — they host Philadelphia on Tuesday and close the regular season at Brooklyn the following day.
at Houston 149, Phoenix 113: James Harden scored 30 points in just three quarters as Houston broke its NBA record by making 27 3-pointers in a win over Phoenix.
Eric Gordon led the 3-point brigade by tying a career high with eight, Harden added five, P.J. Tucker had four and Danuel House three.
Gary Clark tied the record with a little over three minutes to play and Houston missed the next four before Austin Rivers broke it with 1:09 remaining. The Rockets have made 26 twice this season with the last time coming Tuesday at Sacramento.
Jamal Crawford had 27 points off the bench for the Suns with rising stars Devin Booker and Kelly Oubre out for the season with injuries.
San Antonio 112, at Cleveland 90: LaMarcus Aldridge had 18 points and 13 rebounds as the San Antonio Spurs, who are in a three-team scramble to determine playoff seeding in the Western Conference, extended Cleveland's losing streak to nine games.
The Spurs came into the day in eighth place, which would mean an early matchup with defending champion Golden State. However, the Spurs can still move ahead of Oklahoma City and the Los Angeles Clippers as they own tiebreakers with both teams.
DeMar DeRozan and Patty Mills added 14 points apiece for the balanced Spurs, who turned back every Cleveland challenge in the second half. Mills made three three-pointers in a two-minute span early in the fourth quarter to end any chances of the Cavs rallying.
Rookie Collin Sexton and Brandon Knight scored 16 each for Cleveland, and the Cavs celebrated the upcoming retirement of forward Channing Frye throughout the game.
Oklahoma City 132, Minnesota 126: Russell Westbrook had 27 points, 10 rebounds and 15 assists to help Oklahoma City remain a half-game ahead of San Antonio for seventh place in the Western Conference.
Paul George also scored 27 points and Dennis Schroder had 14 of his 21 in the fourth quarter for the Thunder.
Karl-Anthony Towns led Minnesota with 35 points, while Andrew Wiggins scored 24 and Dario Saric added 23. Tyus Jones scored 10 points and tied his career high with 13 assists.
Charlotte 104, at Detroit 91: Kemba Walker scored 20 of his 31 points in the first half to help the Hornets build a big lead and win its third consecutive game. Charlotte (38-42) is still clinging to its chances of rallying for a playoff spot in the Eastern Conference.
The Pistons (39-41) have lost four in a row to possibly plummet from being a sixth-seeded team to missing the postseason for a third consecutive year and the ninth time in a decade.
Orlando 116, at Boston 108: Terrence Ross had 26 points, Nikola Vucevic added 25 points and 12 rebounds and Orlando clinched its first playoff berth in seven years.
Evan Fournier added 24 points for Orlando, which last made the postseason during the 2011-12 season. The Magic also got their first regular-season sweep over Boston since 1996-97.
Even with the loss, the Celtics clinched at least the fourth seed and home-court advantage in the first round of the playoffs when Brooklyn beat Indiana. Kyrie Irving had 23 points for Boston. Al Horford finished with 18 points and Gordon Hayward added 16 off the bench.
Brooklyn 108, at Indiana 96: D'Angelo Russell scored 20 points and Joe Harris added 19, leading Brooklyn back into the NBA playoffs for the first time in four years.
The Nets moved into position to clinch when Miami lost in overtime at Toronto earlier in the day. It's also the first time since 2014-15 the Nets have not posted a losing record.
Domantas Sabonis finished with 17 points and 12 rebounds to lead the Pacers. Thaddeus Young scored 16 in a game coach Nate McMillan promised to closely monitor the minutes his players logged.
---