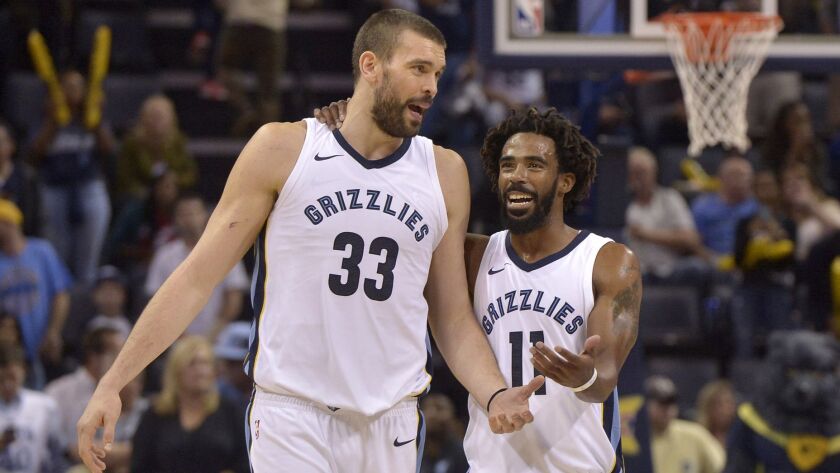 The Toronto Raptors have acquired center Marc Gasol in a trade with Memphis that has center Jonas Valanciunias headed to the Grizzlies, according to a person who spoke on condition of anonymity because the NBA has not held the trade call.
ESPN, which first reported the deal, also said Toronto would send guard CJ Miles and forward Delon Wright to Memphis.
It is a power move for Toronto, as it looks to improve its roster as it vies with Philadelphia and Milwaukee, among others, in the Eastern Conference. The 76ers and Bucks have also made major moves as the trade deadline nears, with Philly landing Tobias Harris and Milwaukee getting Nikola Mirotic.
The NBA trade deadline was noon PST Thursday. A look at the players who are reportedly being traded:
On the move Thursday
James Ennis, F, Houston traded to Philadelphia for draft considerations.
Markele Fultz, G, Philadelphia traded to Orlando for G Jonathan Simmons and a 2020 first-round draft pick. The 76ers get a second-round pick.
Shelvin Mack, G, Memphis traded to Atlanta for G Tyler Dorsey.
Nikola Mirotic, F, New Orleans traded to Milwaukee as part of a three-team deal that sends the Milwaukee C Jason Smith and F Stanley Johnson to New Orleans.
Nick Stauskas, F, and Wade Baldwin IV, G, Houston traded to Indiana for unknown compensation. Stauskas and Baldwin have gone from Portland, to Cleveland to Houston already this week.
Caleb Swanigan, F, Portland traded to Sacramento for F Skal Labissiere.
On the move Wednesday
Ryan Anderson, F, Phoenix traded to Miami for G Tyler Johnson and G Wayne Ellington.
Harrison Barnes, F, Dallas traded to Sacramento for F Justin Jackson and F Zach Randolph.
Stanley Johnson, F, Detroit traded to Milwaukee for C Thon Maker.
Otto Porter Jr., F, Washington traded to Chicago for F Jabari Parker and F Bobby Portis.
Iman Shumpert, G, Sacramento traded to Houston as part of a three-team trade that includes G Brandon Knight and F Marquese Chriss going to Cleveland and G Alec Burks being sent to Sacramento.
Associated Press and internet report contributed to this article.
---