Golden State's Draymond Green is the current king of NBA trash-talking
"I called game. Game!"
It's impossible to forget one of Paul Pierce's most boastful trash-talking lines, after his fallaway buzzer-beater pushed the Washington Wizards past the Atlanta Hawks during an Eastern Conference playoff game last season.
But even though Pierce is legendary for talking throughout his 18-year NBA career, he wasn't considered the best when The Times conducted a poll on the best trash-talkers in the league.
Golden State's talented young power forward Draymond Green wears the trash-talking crown these days, at least according to the 24 NBA coaches, assistants and players who took part in an anonymous poll.
The votes were spread out across the board. Some voters said trash-talking is a lost art because the NBA has frowned upon the constant yapping and because so many of the players on different teams are friends.
Anyway, here are the top five trash-talkers in the NBA:
1. Warriors forward Green, who received eight votes.
2. Clippers forward Pierce, close behind with seven votes.
3. Minnesota forward Kevin Garnett, with five votes.
4. Clippers guard Chris Paul, four votes.
5. Oklahoma City guard Russell Westbrook, three votes.
"Paul Pierce is the best, but the NBA took away trash-talking," said an older Western Conference player. "So there really ain't no good trash-talkers… A lot of players today are scared to initiate the verbal confrontation of trash-talking to say, 'We're going to win the championship this year.' But among the young guys, Draymond is good."
Green is known to talk trash, not only for himself, but on behalf of his teammates, particularly Stephen Curry.
"Last year, he was talking a gang of trash to Chris Paul," a Western Conference head coach said. "He said, 'Steph used to be intimidated by you. But you know what? Those days are over. He's busting your ass every time we see you.'
"And then it wasn't three minutes after that when Steph had that move on the baseline where he put CP in the 'Matrix,' had Chris falling all over the place on the court. Draymond even talks trash in practice to his teammates."
An assistant coach on a West team said: "I feel like trash-talking is a dying tactic in the NBA, but Draymond is one of the best. He's sharp with it.
"He's an intelligent trash-talker. He doesn't just say random, dumb things. And it works. To me, the effective trash-talkers are the ones who can talk people out of their game and Draymond does it all the time."
When Pierce was asked during his postgame interview whether he had called bank on his jumper that hit the backboard and went in for the Wizards' victory over the Hawks, he uttered his famous "game" line and walked away without answering any other questions.
"When Paul played for the Wizards and they were up by one point and [Denver's] Kenneth Faried had two free throws to win, Paul yelled, '60 million dollars! I don't see it with this guy,'" said an Eastern Conference player. Pierce's verbal jab referred to Faried's contract extension from the Nuggets. "He missed both free throws."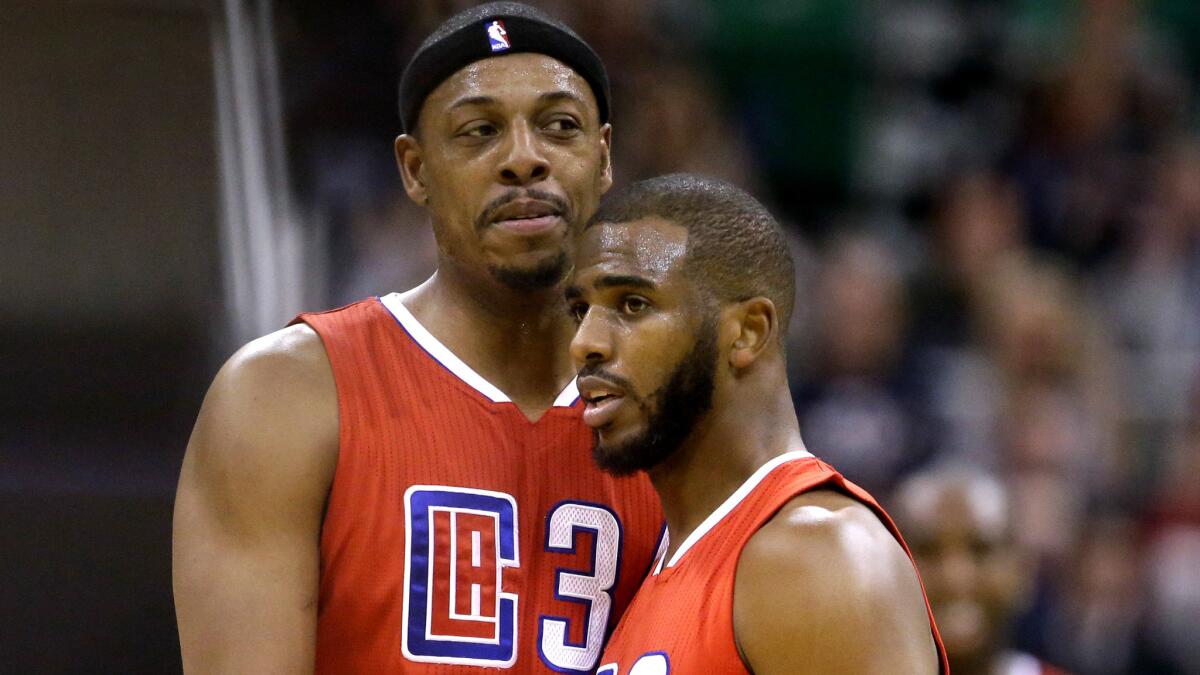 "When [Pierce] was in Boston and it was my rookie year, he walked over to me while I was stretching before the game and was like, 'You're about to get this work done on you, young fella,'" a West player said. "I'm thinking, 'Yo, the game hasn't even started yet.'"
"Sometimes during a game and [Pierce] was guarding someone, he'd turn his back and said, 'Go ahead and shoot that ball. You can't hit that,'" an East player said. "He does that to younger guys or guys he doesn't respect."
Garnett, a 15-time All-Star, made the list based on his past glory days when he was known to talk so much trash on the court.
"He's got no bite now," an older West player said about Garnett, who is 39 and playing on a not-so-good Timberwolves team. "Right now, he doesn't have any substance behind him. But I do remember his telling me my defense stinks, my whole game stinks."
"It was fun listening to him talk to himself and talk to the basket before games, getting in guys faces and saying I don't know what," said another West player. "He just talked."
Join the conversation on Facebook >>
In Chris Paul's case, the veteran point guard is renowned for being an incessant talker with referees.
"CP rubs people the wrong way," said an East player, who spent most of his career playing in the West. "CP is a great dude, but he naturally rubs refs the wrong way the way he talks to them, the way he spins the basketball towards them, the ball flings to the other side [of the court]. Even when he gets the call, he'll point to the other ref and say, 'Why didn't you call it? That was your side.' So as an opposing player, he just gets on your nerves."
"[Paul] does it more so to the referees, and it's effective," a West assistant coach said. "He knows when to talk trash and then he's smart enough to use that. Like if he's complaining about they just called an illegal pick on Blake [Griffin] or somebody and he's trash-talking the refs … Then the next time down on defense, he'll run into a screen, knowing the ref is aware of him taking a fall, and get the call. To me, that's a good trash-talker. He knows what he's doing."
As for Westbrook, he's one of the elite talents in the NBA and thinks he can score on anybody. It's the antics by Westbrook that landed him on the trash-talking list, particularly because of the way he looks at players after he scores.
"Russ will make a three-pointer and he'll put his hands out like he is holstering a gun," a West player said. "He'll dunk and scream and look at you like, 'Dude, I just dunked on your whole team.' He doesn't talk a lot, but he looks at you like you're nothing."
Twitter: @BA_Turner
ALSO
Remembering the night Kobe Bryant scored 81 points
Coaches Byron Scott and Gregg Popovich have a friendship like fine wine
Josh Smith's time with Clippers ends as he is traded back to the Rockets
Get our high school sports newsletter
Prep Rally is devoted to the SoCal high school sports experience, bringing you scores, stories and a behind-the-scenes look at what makes prep sports so popular.
You may occasionally receive promotional content from the Los Angeles Times.